Pfizer Brazil Volunteers Day Sends
Colleagues Into Communities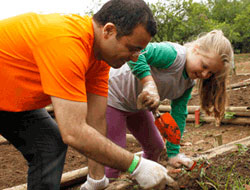 A total of 150 Pfizer Brazil colleagues recently participated in the second annual Pfizer Volunteers Day, spending their workday with low-income senior citizens and socially at-risk children in local communities near the company's São Paulo offices.
A planning committee set up volunteer activities at three institutions where colleagues could choose to volunteer. At two learning institutions for at-risk children, colleagues spent the day helping the children painting, planting vegetables in a garden and interacting with trained dogs. At a retirement home for low-income seniors, colleagues played games with the residents and helped decorate the home for the holidays.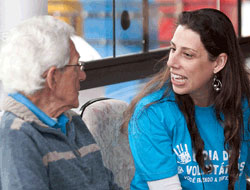 The initiative is part of Pfizer Brazil's Volunteers Program, through which nearly 300 colleagues participated in 2011, benefiting more than 1,300 people.
"The Pfizer Volunteers Program represents our commitment toward a more humane and healthier society," said Victor Mezei, Country Manager, Pfizer Brazil. "On this special day, we had the opportunity to exercise our solidarity and give our time and attention to people in need."