Pfizer Colleague
Reconnects With People, Service in Haiti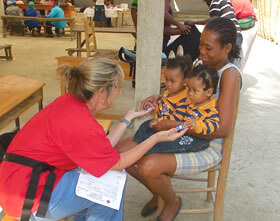 Looking to reconnect with what she describes as "what's really important in life — people and service," Pfizer colleague Maureen Dowds recently found both in Haiti.
Dowds, a Director in Pfizer's Specialty Care Business Unit and a trained nurse practitioner, recently spent a week in Haiti volunteering to provide medical care for patients.
With the support of her manager, Dowds traveled to Haiti through Heart to Heart International — a relief and development organization that specializes in volunteer action and global health initiatives. While there, she worked with a physician, two nurses and a translator in makeshift clinics around Port-au-Prince and Leogane, both of which were hit hard by the major earthquake in 2010. Dilapidated churches and trailers became exam rooms and a pharmacy. She provided medical services for patients still coping with injuries and conditions related to the earthquake such as malnutrition and malaria.
"The need there is so great," Dowds said. "At times it was frustrating because it was like putting a band-aid on a hemorrhage. We gave them basic medical care such as vitamins and hydration where a mother has no milk for her baby. Yet the people smile and say thank you as if you did so much for them and took their problems away. You see where drug discovery and access to health care and innovative drugs can make a difference and save peopleýs lives. And you see where so much more of that is needed."
A 'Country of Contrasts'
Dowds described Haiti as "a country of contrasts" with families still living in tents among garbage in the streets and muddy roads, but who carry themselves with pride and graciousness and children laugh and play in a world without toys or playgrounds. She added that in spite of poverty and disaster, "you see hope and resilience."
She said: "What was striking is that despite the hardship and destruction, the basic family unit and the simplicity of living is fundamentally what's important. I was lucky enough play a small part in this experience. There are a lot of people doing a lot of good things, trying to help and make a difference."
Dowds added that the experience was "a personal awakening" that brought "reflection and new perspective" to what is really important in her life and work every day.
"The opportunity really came at a time when I was looking for greater personal satisfaction," said Dowds. "It gave me the opportunity to use my nursing skills, connect me with patients again and to do something productive and good. I really did gain so much more than I gave."