Pfizer Colleagues
Charged Up Over Electric Cars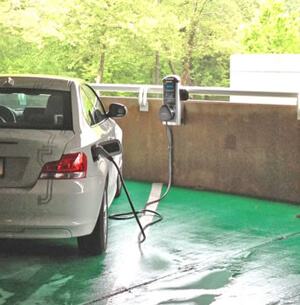 With the growing availability of electric-powered vehicles and hybrids, Pfizer is doing its part to ensure that colleagues at the company's Worldwide Research and Development facility in Groton, CT., are plugged into the latest electric car developments.
The company recently partnered with Groton Utilities, a local power supplier, and several area auto dealerships to host the first annual Electric Car Community Days to better acquaint colleagues with electric-powered vehicles and showcase on site battery charging stations.
The event, a first of its kind in Connecticut, was attended by more than 100 colleagues who had the opportunity to view a number electric-powered vehicles, all supplied by local dealers, as well as several permanent and portable battery charging stations in the facilityýs parking garage.
"Engineering has always recognized that part of the battle in reducing our impact is supporting community efforts and helping colleagues impact their energy consumption and costs," said Douglas Brush, Associate Director of Global Operations. "In this case, supporting Groton Utilities' efforts to promote more efficient transportation helps expose people to these technologies without the hassle that can come from visiting a dealership."
To date, three permanent battery charging stations are available for commuters in the Groton parking garage. Several portable charging stations were also displayed at the event.
While electric-powered vehicles offer an alternative to gasoline-powered automobiles many questions have been raised regarding the practicality of electric cars. Range and charging times are often cited as the most important consumer concerns, along with a lack of charging stations away from home.
However, expected advances in range and availability of charging stations would allow individuals to go to and from work and make a few side-trips, an improvement that Senior Scientist Dwynwen Desilver says would make her "buy [an electric car] in a heartbeat."
To meet the demand of electric car-driving colleagues, and encourage other forms of alternative transportation, CTrides, a commuting resource from the State of Connecticut Department of Transportation, was also on site to generate interest in car pools and their rewards program for people who walk.