Pfizer Foundation
Program Targets Female Smokers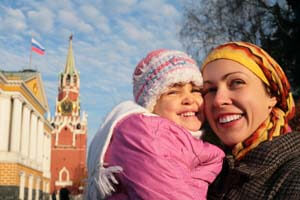 Health care providers in Russia will be given smoking
cessation training and materials to use in reaching
women, particularly those in their childbearing years.
A new Pfizer Foundation grant program supports smoking prevention and cessation efforts that specifically target women.
The initiative, "Faces of the Future," will provide funding for various smoking prevention and cessation activities in 10 nations.
Smoking is a growing problem in the developing world. Globally, an estimated 9 percent of women smoke and, left unchecked, the percentage could climb to as high as 20 percent by 2025, according to projections from various public health organizations.
Customized by country, the campaigns in the "Faces" initiative will use social media and educational materials to inform women about the health risks linked to smoking and enlist health care providers, cancer organizations and even celebrities to build awareness.
Through the program, trained health care providers will provide education on tobacco-related health issues, as well as smoking prevention and cessation information to their female patients. Acting as "messengers," local celebrities and student leaders will also be recruited to spread the word. In some markets, the focus will be on reaching future mothers. In Russia, medical providers will receive training and communications materials to use in reaching women in Siberia, particularly those in their childbearing years, along with teenagers and female health care workers. In Hungary, a curriculum will be developed for midwives and nurses.
Focusing on the 'Significantly Overlooked'
An antismoking campaign aimed directly at women is unusual because antitobacco programs and legislation typically do not address women's concerns, noted Anneka Norgren, Director, Corporate Responsibility and Executive Director, The Pfizer Foundation.
"The 'Faces of the Future' initiative is focused on an area that has been significantly overlooked — women and smoking," she said. "The program's focus is on education and prevention in a comprehensive way, from the prenatal stage through to adulthood. Our hope is that programs like those supported by 'Faces of the Future' will provide effective measures to curb smoking."
Each of the Pfizer markets participating in the campaign will contribute a 25-percent match to the Foundation's grants.
The "Faces of the Future" campaign is an offshoot of The Pfizer Foundation Global Health Partnerships program, which focused on oncology and tobacco control.