Pfizer Germany
All Charged Up Over Electric Car Trial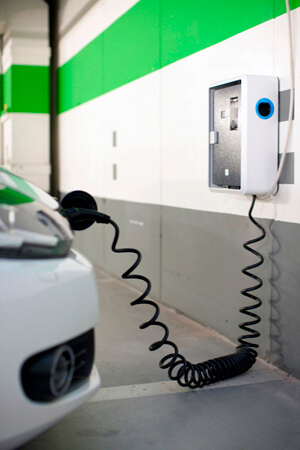 'Recharging' photo caption: A charging station in Pfizer's
underground parking lot is used to recharge the electric
vehicle in Pfizer's fleet trial.
Pfizer employees in Germany are on a roll in a nationwide trial of electric cars.
Staged by Volkswagen, the trial will help Pfizer Germany more fully leverage its vehicle fleet to achieve its sustainability goal of meeting 35 percent of its energy needs with renewable resources by 2012 and reducing vehicle carbon emissions by 5 percent per year.
Efficiency already figures prominently in the current fleet, which features climate-friendly vehicles like Volkswagen's Golf Blue-e-Motion. Nevertheless, employees jumped at the chance to take part in the trial earlier this year and participate in a six-month fleet test featuring Volkswagen's new electric-powered Golf Blue-e-Motion vehicles, which are scheduled to begin production in 2013.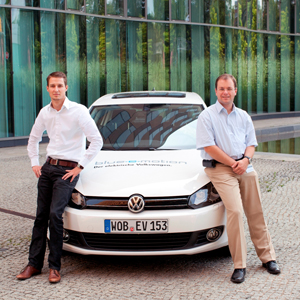 'Golf blue emotion' caption: Gunnar Fischer (l.) and
Markus Krause (r.) are piloting a new climate-friendly
vehicle as part of a nationwide fleet trial in Germany.
Colleagues who wanted to participate in the pilot were asked to submit an essay. An impartial panel then selected suitable candidates. In the end, Gunnar Fischer, a Sales and Marketing Sourcing Manager from Procurement, and Markus Krause, Demand Manager, Market Operations, got the nod.
Krause's experience as a seasoned volunteer fireman and his ability to handle emergency vehicles in extreme situations convinced the jury. Fischer scored points with an excellent accident-free driving record and a keen interest in electric mobility. In his essay, he discussed the image of electric cars and analyzed green marketing.
"The car has an artificially generated engine noise up to 40 km/h," Krause said during a recent test drive. "It's for pedestrians' safety so they can hear the vehicle approaching. Above 40 km/h there's enough sound generated by the tires and the wind."
Fischer added: "I feel like I'm floating when I'm motoring down a highway topped with 'whisper asphalt'."
Both Krause and Fischer work at Pfizer Germany's headquarters in Berlin, and are among 80 drivers nationwide who are test-driving preproduction models.
According to Volkswagen, the car can travel up to 150 km (93 miles) before it must be recharged. Fischer does not see this as a drawback.
"In my experience, this requires just a touch more planning," he said. "After all, how often do I actually drive more than 150 kilometers? Once this mental barrier is overcome, it soon becomes clear that 150 kilometers is more than enough for city driving." Volkswagen has installed a special charging station in Pfizer's subterranean parking lot. It takes the station just a few seconds to identify the vehicle, after which electricity begins to flow. Volkswagen has also provided a home charging cable that allows the Golf to be recharged using the standard household power supply. This takes about eight hours when the batteries are fully depleted.
Using an iPhone app, drivers can monitor key data, including the charging status, kilometers traveled and power consumption, at a glance, wherever they may be. The app also allows users to remotely control the vehicle's climate and precondition it to a comfortable temperature.