Pfizer Greece Colleague
Wins Gold in Games for Disabled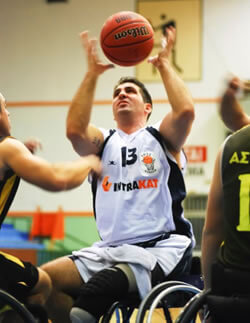 Panagiotis Saoulidis takes a shot
Four years after a tragic, life-threatening motorcycle accident that resulted in the loss of his leg, Pfizer Greece colleague Pangiotis Saoulidis has taken home a gold medal in the National Championship of the Pan-Hellenic Sports Federation for Persons with Disabilities (PSFPD).
Saoulidis, who has worked for nine years in the Eastern Macedonia region, participated in the men's javelin games of the track and field competition designed for athletes who have amputations, brain and spinal cord injuries and vision disabilities. He threw from standing position a distance of 26.64 meters (approximately 87 feet) to win the gold medal. This year marks the first time Saoulidis was involved in the championship.
A sports enthusiast and athlete, Saoulidis said he wanted to see how far he could push his abilities and show his family, friends and colleagues that in spite of life's obstacles anything is possible with patience and perseverance.
In a letter sent to his supervisor, Thanasis Kokkinis, and team following the win, Saoulidis wrote: "Everything is possible if we continue to believe in our strengths, and success is possible if we fight for it."
He also dedicated his medal and title to Pfizer, specifically his colleagues and supervisor who supported him following his motorcycle accident and throughout his recovery. His colleagues, who are not surprised by the win, have described Saoulidis as a person with great determination, strength and faith.
"Panagiotis is a role model for all of us, revealing the courage we all have within us to overcome adversity, and to gather strength and turn it into power," said Kokkinis. "Panagioti, we thank you for your tenacity and the strength of your soul; it is a dynamic which is reflected and returned to the entire team."
Saoulidis raises charitable support and awareness about the abilities of physically disabled people through his athleticism and as a player on the IRIS Kavala team of the Sports Associations of Disabled in the A1 Category of the national men's wheelchair basketball league. He also plans to compete every year in PSFPD's National Championship.
"The real handicap is to live an apathetic life instead of one that is active and lively. Life is about being present, wakeful and alert," said Saoulidis. "I hope to give courage to all my colleagues and to remind them that nothing is impossible ... as long as we adapt, believe in ourselves and never lose our values."