Pfizer, Hairdressers
Raise Heart Disease Awareness Among Women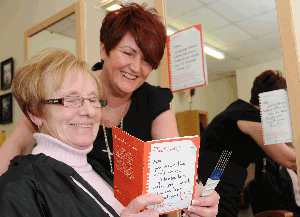 Hairdresser Sandra Thomas (r.) shows "From the Heart"
promotion material to client Joan Thompson (l.)
Pfizer's Primary Care Business Unit in the United Kingdom is increasing awareness of coronary heart disease among English women by enlisting a familiar presence - their hairdressers - to remind them of the importance of taking care of their health.
In collaboration with the Liverpool Heart and Chest Hospital, Pfizer launched the "From the Heart" campaign in Liverpool and the surrounding county of Merseyside, which has the lowest life expectancy in England. Heart disease and stroke are among the biggest killers of women over 40 in England.
According to Ann Balfour, a Senior Local Market Manager in Pfizer's Primary Care Business Unit, research showed that 80 percent of women over the age of 15 visit their salon regularly, and 90 percent of hairdressers said that clients talked about their health problems during appointments.
As a result, hairdressers were recruited and trained by a specialist nurse from the Liverpool Heart and Chest Hospital to give them confidence to talk about coronary heart disease. The hairdressers also received materials for their salons, including posters, mirror stickers, leaflets and branded appointment cards.
"Local research confirmed that hard-to-reach populations want health messages brought to them in their communities, so we came up with an innovative way to achieve this," said Matthew Burch, Local Account Manager, Primary Care Business Unit, noting that the campaign targets women over age 40 living in low-income areas. "[The campaign] directs women to visit their doctor or to have a health check if they have risk factors, or concerns about coronary heart disease."
Initial results have indicated that because of the campaign, 28 percent more women in the area are considering adopting a healthier lifestyle.