Pfizer Hosts
AIDS Memorial Quilt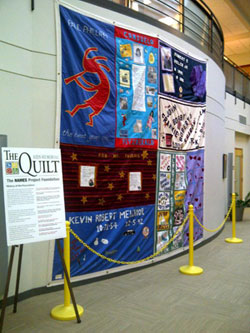 In recognition of World AIDS Day, which occurred on Dec. 1, Pfizer recently hosted at each of its Massachusetts and Connecticut sites a display of sections of the internationally celebrated AIDS Memorial Quilt, the 54-ton, handmade tapestry that stands as a memorial to more than 94,000 individuals lost to AIDS.
The AIDS Memorial Quilt began with a single 3 x 6 foot panel created in San Francisco in 1987. Today, the Quilt is comprised of more than 48,000 individual 3 x 6 foot panels, each one commemorating the life of someone who has died of AIDS. The panels come from every state in the U.S. and every corner of the globe, and they have been sewn by hundreds of thousands of friends and family members into an epic memorial, the largest known piece of ongoing community art in the world.
Sections of the Quilt are continuously on display across the country in schools, churches, community centers, businesses, corporations and a variety of other institutional settings. To date, more than 15 million people have seen the AIDS Memorial Quilt at tens of thousands of displays throughout the world.
The NAMES Project Foundation, an international organization established in 1987, is the custodian of the Quilt.
"We are thrilled to have the chance to share the AIDS Memorial Quilt with your community," Julie Rhoad, Executive Director of The NAMES Project Foundation explained. "These handmade blocks, created by friends and family, tell the stories of individuals who have lost their lives to AIDS. We bring you their stories in the hope of inspiring compassion, healing and personal responsibility. We thank Pfizer for hosting this event, and we invite you all out to see what wonderful art we have created together as a nation."
In a war against a disease that has no cure, the AIDS Memorial Quilt has become regarded by many as a potent tool in the effort to educate the general public on the lethal threat of AIDS. By revealing the humanity behind the statistics, the AIDS Memorial Quilt aims to represent the triumph of compassion over taboo, stigma and phobia, as well as inspire individuals to take direct responsibility for their own well-being and that of their family, friends and community.
People memorialized on the Quilt include: Peter Allen, entertainer; Arthur Ashe, tennis player; Michael Bennett, director/choreographer; Kimberly Bergalis, advocate for HIV testing of health care workers; Mel Boozer, African-American and gay civil rights activist; Arthur Bressan, Jr, filmmaker; Michael Callen, singer; Tina Chow, clothing designer; Roy Cohn, attorney; Brad Davis, actor; Eazy E, rap artist; Perry Ellis, fashion designer; Wayland Flowers (Madame), comedian; Michel Foucault, philosopher; Alison Gertz, AIDS activist; Halston, fashion designer; Keith Haring, artist; Rock Hudson, actor; Richard Hunt (Scooter. Janice, etc), muppeteer; Liberace, performer; Robert Mapplethorpe, photographer; Freddie Mercury, lead singer of the rock band Queen; Rudolf Nureyev, ballet dancer; Tim Richmond, NASCAR Winston Cup driver; Vito Russo, writer; Randy Shilts, author; Willi Smith, fashion designer; Sylvester, singer; Dr. Tom Waddell, Olympic athlete; Ryan White, AIDS Activist; Ricky Wilson, B-52's guitarist; Pedro Zamora, AIDS activist and star of MTV's "The Real World" series.
The Quilt display, which was on view at Pfizer's Massachusetts sites throughout November and early December, was organized by the Out Pfizer Employee Network (OPEN), the company's employee resource group for its lesbian, gay, bisexual and transgender colleagues and their straight supporters.