Pfizer is honored for support of
'Lifeline Express'
By Louise Cheung, PfizerWorld Correspondent Network
Company Recognized for Charitable Support in China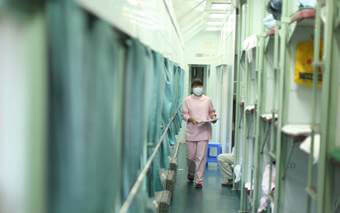 A nurse prepares an operating room on one of four trains that
travel through China to provide free cataract operations
Pfizer has been honored for its support of a Chinese foundation that provides free cataract operations to patients in China.
The company received the award recently from China's Ministry of Commerce (MOFCOM), Executive Committee of Foreign Investment Companies, for its support of the Chinese Foundation for Lifeline Express.
The foundation supports the operation of four custom-built hospital "eye trains" that provide free surgical treatment to cataract patients in poor, remote areas of mainland China. Over the past decade, eye trains have visited more than 27 provinces and cities and approximately 110,000 people have been cured.
In 2009, the Ministry of Health estimated that 1 million cataract patients remained untreated, and projected an increase of 500,000 new cases annually. At the same time, a growing number of younger citizens in remote areas are suffering from cataracts because of improper hygiene conditions and demanding physical labor.
Pfizer is one of nine multinational companies — and the only pharmaceutical company — to receive the award. Since 2003, Pfizer has supported various philanthropic projects conducted by Lifeline Express in China. To date, the company has provided more than 6.65 million RMB (or approximately $1 million in U.S.) in financial aid and artificial lenses to Lifeline.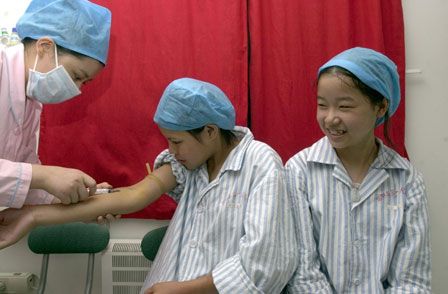 Patients having blood tests on board the Lifeline Express in China
"As the largest multinational pharmaceutical company in China, Pfizer is acting responsibly as a corporate citizen to contribute to serving more patients in China than ever before," said Helen Zhu, Director of Public Affairs and Policy, who accepted the award for the company. "This award is a reminder that there is still a lot we can do to work with the community for a healthier China."
Wu Xiaobing, Country Manager of Pfizer China, added: "All of us at Pfizer China are proud of the award and recognition from the MOFCOM. It reflects our tireless commitment to working across the market and dedicating our careers to helping others live longer and healthier lives. I am inspired and proud of our support toward helping communities we serve every day."