Pfizer Italy
Helps Kids 'Kick' Cancer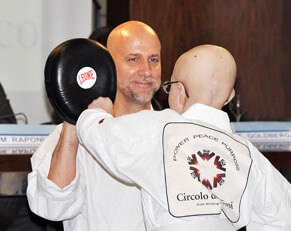 Pfizer Italy is supporting Kids Kicking Cancer, a nonprofit association that aims to help children diagnosed with cancer come to terms with their condition through martial arts training.
The nonprofit was founded more than 10 years ago by Rabbi Elimelech Goldberg, who was in Rome recently to support the launch of Kids Kicking Cancer Italia Onlus ("Italian Nonprofit"). The initiative is the first of its kind in Italy and was made possible with the support of Pfizer Italy.
The association's work focuses on addressing pediatric patients' emotional and mental attitudes about their condition. Children belonging to the Kids Kicking Cancer Italia team participate in martial arts lessons as a way to work out feelings of anger and fear that cancer patients typically experience. Other activities utilize breathing, relaxation and meditation exercises to help patients learn to better manage pain and successfully cope with the disease and the therapies they must undergo.
"It all began in New York, just over a year ago, when, together with my colleagues, I attended a presentation of Kids Kicking Cancer during a meeting in December 2010," said Fanny La Monica, Head of Communications, Pfizer Italy. "At that time we were developing another initiative, 'Viverla Tutta ("Living It All"),' which was designed to share and learn from the stories of persons who exhibited courage in dealing with the personal experience of their illness.
"My meeting with Rabbi Goldberg was highly significant because he demonstrated how it is possible to manage the disease with courage. It was at that moment that we decided this project should be made available to Italian children and it would have to become part of the Viverla Tutta initiative."
Click here to find more information about the Kids Kicking Cancer on Facebook.