Pfizer Kicks
Off Alzheimer's Awareness Month With D.C. Photo Exhibit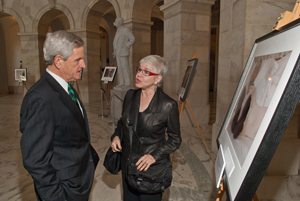 U.S. Rep. Baron Hill of Indiana (l.) with photographer
Judith Fox (r.)
November marks Alzheimer's Awareness Month in the U.S., a time dedicated to raising awareness of Alzheimer's disease and recognizing the role of the caregiver. As part of its ongoing commitment to fighting Alzheimer's, the company continues to partner with external organizations and recently sponsored an Alzheimer's-themed photography exhibition at the home of the U.S. Senate on Capitol Hill.
"Pfizer is committed to being a catalyst to bring about much needed change in how we address Alzheimerýs disease," said Ken Cole, Senior Vice President, Government Relations, at the launch of "Alzheimer's Disease: A Journey Through the Lens of a Caregiver," in Washington, D.C.
The exhibit was created by renowned photographer and Alzheimer's caregiver Judith Fox and chronicles her husband's journey with the disease, providing a rare glimpse into the experience of caring for a loved one with Alzheimer's. The exhibit was displayed for a week in the Russell Senate Rotunda.
"We hope that this photo exhibit gets people talking about the needs of Alzheimer's patients and their families — and about the things that need to be done to address those needs," Cole added.
Caregiver Initiative Nears First Anniversary
In December 2010, Pfizer launched an employer coalition, ReACT (Respect a Caregivers' Time), to promote workplace environments that support caregivers facing the challenges of juggling work and caregiving for an adult with a chronic age-related disease.
Since the launch, more than 20 organizations have joined ReACT, including Johnson & Johnson, Microsoft, Aetna and Mercer. ReACT seeks to increase awareness, understanding and action around issues faced by employee caregivers by:
Developing data and research to improve understanding and quantifying impact;
Identifying and sharing best practices; and
Showcasing employer successes.
The Alzheimer's Organization, a U.S. nonprofit, designated November as National Alzheimer's Disease Awareness Month to honor and support those living with Alzheimer's disease and express gratitude to the family members and caregivers who comfort those afflicted by this growing epidemic.
Nearly 5.4 million Americans — including one out of every eight seniors — are living with Alzheimer's, according to the Alzheimer's Association. The effects of Alzheimer's are also felt by family members, relatives and friends. In 2010, 15 million Americans served as unpaid caregivers, donating 17 billion hours of care to Alzheimer's patients, according to Alzheimer's Association figures.