Pfizer Launches
Safe Use of Medicines Book in Uganda, Senegal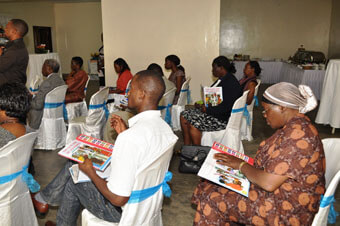 Pfizer has launched its new speaking book, Safe Use of Medicines, in Kampala, Uganda, and in a rural village outside of Dakar, Senegal, to encourage the safe and appropriate use of medicines, regardless of the user's level of education and literacy.
The speaking book is designed specifically for sub-Saharan Africa and requires no understanding of written words.
The book is available in both English and French for Anglophone and Francophone Africa and the recorded voices are local. It features a combination of colorful pictures, text and sound presenting readers with key messages in multiple formats. Readers can play back audio recordings that correspond to text on selected pages. Each page has a button to press to hear the text read out loud.
"Here at Pfizer West Africa we believe that everyone has the right to access health care information and look forward to seeing the effects of this book in the communities we visit," said Cheikh Ba, Country Manager, Pfizer West Africa. "By launching this book, we are going beyond the research, development and supply of medicine and making ourselves accountable to our patients."
Wide Range of Topics
The book covers 16 topics such as proper medicine storage, purchasing medicine safely and the importance of consultation with health care professionals.
"The speaking book is a simple and highly effective tool to combat one of the biggest health challenges Africa faces: not an individual disease, but the wider problem of health literacy," said Emma Andrews, Director, External Medical Affairs. "It is designed to be used by health care professionals and health workers within their communities. Pfizer is very proud to support speaking books and we believe that the broad range of topics in this our latest book makes it a relevant and important health tool to tackle some of the key health issues in the sub-Saharan Africa region."
Throughout the world, one in five adults is illiterate. According to the United Nations Educational, Scientific and Cultural Organization, two-thirds of those adults are women, who often are responsible for family health care. This research also shows that adults with low health literacy are at a greater disadvantage when health care is required and less able to navigate local health care systems.
"[This is a] noble initiative," said Regina Kamoga, Country Manager, The Community Health and Information Network, Uganda, and Board Member, International Alliance of Patients' Organizations. "As a patient advocate who comes and works in a country where health literacy is at its lowest, coupled with lack of access to appropriate information, I was more than privileged to be part of the launch of the speaking book. I know that this book will go a long way in empowering patients, thus enabling them to use their medication correctly and make informed decisions about their health and safety."