Pfizer Mexico Recognized
for Corporate Responsibility, Equality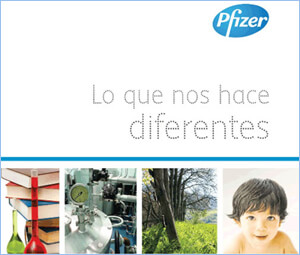 Pfizer Mexico was recently recognized for gender equality and social responsibility standards.
The company received the Certification on Gender Equality by the National Women's Institute in recognition of practices that promote gender equality, including access to job opportunities, training, professional development and participation in decision-making.
In addition, the certification recognized Pfizer's efforts to create an environment free of discrimination and harassment.
"Pfizer has always promoted gender equality throughout the organization. This certification is an example of the weight we give to these practices and reiterates our commitment to implement actions that transcend our immediate environment and impact our community in a positive way," said Aliza Chelminsky, Corporate Affairs Director, Pfizer Mexico.
A+ Report
Pfizer Mexico's latest corporate responsibility report, "What Makes Us Different," recently received an A+ rating — the maximum level — by the Global Reporting Initiative (GRI), a nonprofit organization that promotes economic, environmental and social sustainability for companies throughout the world.
This report compiles information on economic profitability, product safety, environmental protection, safety and security, respect for human rights and community well-being.
"The decision to report to the GRI not only reflects Pfizer Mexico's intention to be transparent and accountable to its stakeholders, but also the commitment to raise all Corporate Responsibility practices to international standards," Chelminsky said.