Pfizer Philippines Plant Recognized for
Energy Efficiency and Conservation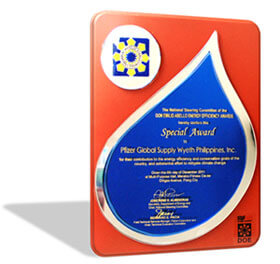 The Philippine Department of Energy has recognized Pfizer Global Supply's Canlubang Nutrition Plant for energy efficiency and conservation.
The facility was recently presented with the government's Don Emilio Abello Energy Efficiency Award, an annual award given to companies that have significantly reduced their energy usage and carbon dioxide emissions.
Despite a 31-percent increase in production output, the Canlubang plant reduced energy consumption in 2011 by an equivalent 338,704 liters of oil, which is equivalent to a 545-ton reduction in carbon dioxide emissions. The plant achieved the energy savings by implementing a number of energy efficiency and conservation measures.
A technical committee composed of representatives from selected private institutions and nongovernmental organizations visited participating manufacturing plants and buildings across the country, audited their energy reports and verified their actual energy performance.