Company Provides Helpful Answers at
Special Olympics Event
By Rick Chambers, PfizerWorld Correspondent Network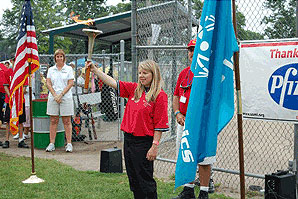 The opening ceremony at the Special Olympics
Michigan Summer Sports Classic in Kalamazoo
included the lighting of a torch.
Fans and families who turned out recently for the Special Olympics softball tournament in Kalamazoo, Mich., got more than a day at the ballpark. Many who struggle for access to health care found out how to get needed medicines through Pfizer Helpful Answers (PHA).
Special Olympics is an international organization that sponsors athletic competitions for people with intellectual disabilities. There are local, national and regional events in more than 150 countries.
Pfizer Kalamazoo is a long-time sponsor of the annual Summer Sports Classic, a tournament featuring teams from across Michigan. This year's event had 16 softball teams and 225 athletes, plus families and supporters. A number of Pfizer colleagues from Kalamazoo provided volunteer support.
According to Tom Dowdall, Development Manager for Special Olympics Michigan, people with intellectual disabilities often have more health problems, yet large numbers have difficulty getting insurance and care. That fact opened the door to a partnership with Pfizer Helpful Answers to provide information at the tournament. Pfizer Helpful Answers provides free and discounted Pfizer medications to eligible patients.
"It was a perfect fit with our mission," said Tashea Holdip, Coordinator, Pfizer Helpful Answers, who staffed the PHA booth in Kalamazoo. "Our goal is to help people who have no insurance, or not enough insurance, get their Pfizer medicines. We also provide information about other resources, such as other industry assistance programs that we partner with. Many of the people I spoke with in Kalamazoo were thrilled to hear about PHA and the help we provide." In one instance, a grateful woman left the information booth with PHA brochures in hand, then suddenly turned around and said, "I'm so glad Pfizer has this program!"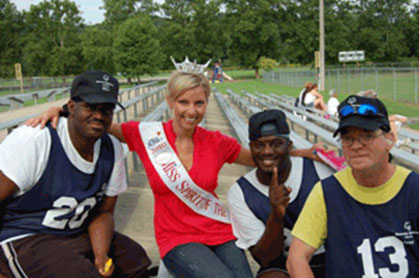 Miss Spirit of the State 2010, Kathryn Morton, with athletes at the Special
Olympics Michigan Summer Sports Classic in Kalamazoo.
During the Summer Sports Classic's opening ceremony, Lois Arnold, President and CEO of Special Olympics Michigan, presented a plaque honoring Pfizer for its support. She also recognized Linda Compton, a recently retired colleague from Pfizer Animal Health, who has been a tireless local volunteer.
"We greatly appreciate the financial and volunteer support we've received from Pfizer," Arnold said. "Their involvement, along with the information about Pfizer Helpful Answers, is important to helping Special Olympics athletes have rewarding, healthy lives." Terry Vuckovich, Senior Manager, Procurement, served as a volunteer at the tournament.
"My family and I have had the opportunity to volunteer at this event for a couple of years," she said. "We are impressed with how well it is organized and proud that Pfizer has sponsored it. We feel fortunate to be able to participate. It is such a good feeling to see how important this is to the participants and how much fun they are having - even though I can tell you there are some serious competitors on the teams!"
Rick Chambers is a Director with Worldwide Communications.