Pfizer's Pro Bono Work
Helps Keep Sea Life Healthy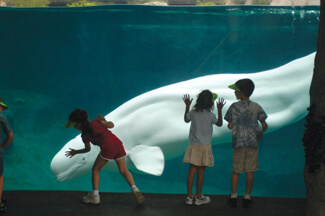 While helping to keep Mystic Aquarium's animals healthy,
Pfizer scientists are also gathering novel data on the
thyroid function of beluga whales.
Pro bono laboratory work being conducted for Mystic Aquarium in Connecticut by scientists within Pfizer Worldwide Research and Development is contributing to the well-being of all manner of aquatic life at the institution, from sea turtles and African penguins to Steller sea lions and beluga whales.
Led by Pfizer's Rich Giovanelli, Clinical Pathology Manager, Drug Safety Research and Development, a team in Groton, Conn., handles all clinical pathology testing for the aquarium's animal population. This comprises a battery of lab panels that examine kidney and liver function, electrolytes and blood counts to provide a complete picture of an animal's health.
"We do similar things to what a doctor's office would do during a routine physical," explained Giovanelli. "We are like an on-call laboratory for them. We provide either same-day or next-day results, so they're really happy about that."
Giovanelli's team in clinical pathology handles all of the laboratory work and analyses and works closely with Allison Tuttle, Staff Veterinarian and Director of Animal Care at the Mystic Aquarium and her staff.