Pfizer Supports
Early Detection of Glaucoma in Nigeria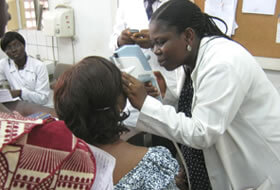 A patient receives a free glaucoma screening in
Nigeria.
Pfizer Nigeria, in collaboration with the Ophthalmological Society of Nigeria (OSN), has established the Glaucoma Patients Association for Lagos State, Nigeria, to encourage the prevention and treatment of glaucoma by supporting early detection of the disease.
The collaboration was announced recently as part of World Glaucoma Week activities in Lagos, Nigeria, where free glaucoma screenings were conducted by OSN and the Medical Clinic of the National Television Authority (NTA) at major hospitals. The week ended with a Health Walk for Sight event that attracted more than 800 participants, including colleagues and key partners from OSN, NTA, and the Medical Womenýs Association of Nigeria.
"Working in partnership with key stakeholders [is] crucial to the awareness and treatment of the disease," said Kodjo Soroh, Medical Director of Pfizer Nigeria and East Africa Region. "During the screening programs, a good number of glaucoma suspects were uncovered and this is not unusual. The disease progresses silently and the affected persons are often not aware — at least in its early stages — of having glaucoma, especially in the developing world."
The week, titled "Don't Let Glaucoma Darken Your Life," began with a live TV interview with Soroh, who is a physician, on the NTA, Africa's largest television network. The discussion focused on the prevalence of the disease and Pfizer's social investments in eye care.
Glaucoma is the second most-common cause of blindness worldwide according to a 2006 study in the British Journal of Ophthalmology. It is estimated that 4.5 million persons globally are blind due to glaucoma and that this number will rise to 11.2 million by 2020.