Pfizer Supports Patients
Affected by Rare Diseases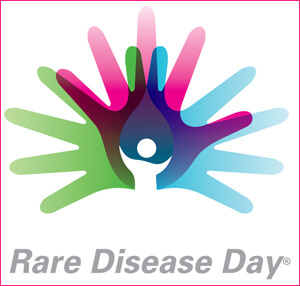 Feb. 29 marks the fifth annual international observance of Rare Disease Day, and Pfizer is joining with the National Organization for Rare Disorders (NORD) and a coalition of patient organizations, professional societies, government agencies, medical researchers, pharmaceutical companies and biotechnology companies to create awareness of rare diseases and their impact on patients.
Rare diseases are among the most serious of all illnesses and affect millions of patients and their caregivers around the world. Yet it is estimated that fewer than 5 percent of all rare diseases have approved treatments, representing a vast level of unmet patient need. Rare diseases are often debilitating, progressive and even life-threatening, and patients affected by these conditions frequently face challenges beyond access to treatment, such as low awareness among physicians, difficulty obtaining a diagnosis, isolation from other patients, and a lack of research on the horizon.
Pfizer is uniquely positioned to use its global resources to help educate on the challenges of living with a rare disease and the need for treatments. We will continue our efforts to raise awareness of rare diseases, aid in diagnosis, ensure access to treatments and advocate for supportive policy, regulatory and reimbursement environments.
"At Pfizer, we are striving to address these unmet medical needs by discovering, developing and delivering medicines for orphan diseases. Our focus on rare diseases builds on more than a decade of experience and 17 medicines approved for orphan indications in the U.S. to treat diseases, including hemophilia, acromegaly and rare cancers," said Geno Germano, President and General Manager, Specialty Care and Oncology, Pfizer Inc. "We applaud NORD and other patient organizations around the world that are providing resources and support for patients affected by these devastating illnesses, and are proud to participate in this important day."
Patients Share Their Stories of Living With a Rare Disease
Tyler has been swimming since age 2 1/2 and playing baseball since age 5. However since infancy he has also had severe hemophilia B, a rare bleeding disorder that affects approximately 3,900 patients in the U.S., and 22,900 patients worldwide.
Tyler's family has talked openly to him about his bleeding disorder and why he has needed a port for infusion since he was 2 years old.
"We don't want Tyler to live in fear," says Chris, Tyler's dad. "But at the same time, we want him to understand the consequences of what he can and cannot do."
As Chris tells it, "Education is power. The more [there are] people around Tyler who really understand what he's going through, the more we can help raise awareness down the line."
For more information about Rare Disease Day 2012 visit http://rarediseases.org/ or http://www.eurordis.org/.
To learn about local grassroots events taking place in your area, visit http://rarediseaseday.us/.