PhRMA Honors
Two Pfizer Colleagues As 'We Work for Health Champions'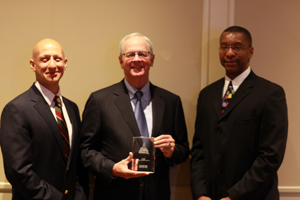 PhRMA "We Work for Health Champions" award winners
Hovik Gukasyan (l.) and Paul Bowles (r.) with Pfizer's
Ken Cole, Senior Vice President, Federal Government
Relations.
Two Pfizer colleagues in Worldwide Research & Development were named "We Work for Health Champions" by industry trade organization PhRMA (Pharmaceutical Research and Manufacturers of America). Now in its second year, the awards program was designed to recognize PhRMA member company employees who were exemplary advocates for the industry in 2011.
The Pfizer colleagues who were recognized were Paul Bowles, Scientist in PharmaTherapeutics Pharmaceutical Sciences (PTx Pharm Sci) Chemical R&D in Groton, and Hovik Gukasyan, Senior Principal Scientist, PTx Pharm Sci Drug Product Design in La Jolla. They were issued the awards at PhRMA's April 13 annual meeting in Boston.
Bowles was honored for his strong interest in legislative advocacy and significant contributions he has made in recent years nationally and in Connecticut. Last year he represented Pfizer in Washington D.C. as a Pfizer Science Ambassador, where he spoke with lawmakers to advocate for the American Inventors Act and legislation supporting Personalized Medicine. In Connecticut he has met with State Senators regarding a bill that would limit the extent and way that Pfizer and other pharmaceutical companies could communicate prescription information and corresponding marketing practices within the state. He has also been a regular visitor to schools and colleges across the region, sharing his views on potential pharmaceutical careers and providing demonstrations relating to the drug discovery and development process.
"Paul has been an outstanding advocate for Pfizer and the pharmaceutical industry over the past several years through legislative advocacy and community outreach," said Nick Thomson, Director in PTx Pharm Sci Chemical R&D and Bowle's manager. "His energy, enthusiasm and professionalism have been an enormous asset to Pfizer and have touched the lives of many in the local Connecticut area."
Gukasyan was recognized for his health advocacy efforts that include working with Pfizer's Public Affairs office in hosting and introducing VIPs, medical doctors and students to the profession of making medicine. As an active member of Pfizer's PAC, he promotes grassroots awareness on regulatory issues concerning the pharmaceutical industry and is also a lecturer on the faculty of the University of Southern California School of Pharmacy, and the University of California, San Diego's Department of Mechanical & Aerospace Engineering. He teaches courses on Medical Device Materials and Applications, Physical Pharmacy, and Regulatory Sciences to graduate and health professional students.
"Hovik is a great advocate for Pfizer and the industry through his efforts with Pfizer's Public Affairs office, participation in Pfizer's PAC, and through his many industrial and academic relationships," said his manager Brian Tobias, Associate Research Fellow, PTx Pharm Sci Drug Product Design. "He brings an enormous amount of energy and enthusiasm to advocating for Pfizer and the industry."
PhRMA is a trade organization that represents the country's leading pharmaceutical research and biotechnology companies and advocates for public policies that encourage discovery of important new medicines for patients by biopharmaceutical research companies.
We Work for Health is a grassroots initiative supported by PhRMA that unites health consumers, biopharmaceutical company employees, vendors, suppliers and other business, academic and community partners to demonstrate how these diverse groups are vital to the socioeconomic climate and provide shared benefits and a better quality of life to all.