The path that got Pfizer to where we are today wasn't easy. It took countless hours in the lab, leaps of faith from millions of patients in clinical trials and overcoming more than a few obstacles along the way.
The 54th Annual Meeting of the American Society of Clinical Oncology (ASCO) represents an exciting time for the cancer community. It's the largest scientific forum in oncology, where leading researchers convene, share the latest findings and ultimately look to expand our understanding of cancer. For Pfizer, it's an opportunity to demonstrate the progress we've made toward helping to address the challenges cancer poses for patients and physicians each day. This year, we will be featured in more than 40 abstracts, including company-sponsored and collaborative research studies, which include new insights into our portfolio of small molecules, immunotherapies, biomarker-driven medicines as well as biosimilars.
The ASCO meeting theme "Delivering Discoveries: Expanding the Reach of Precision Medicine" also aligns closely with our approach and represents what we strive for every day – putting the patient first.
Precision Gets Personal
What drives Pfizer researchers in their relentless pursuit? For our team, the answer is simple – it's the people.
Pfizer scientist and cancer researcher, Bob Abraham, watched as his father, a World War II veteran, lost his battle with non-small cell lung cancer. Though devastating, that loss inspires Bob – and his team of more than 400 scientists – in their quest to discover and research new anti-cancer agents. Bob says meeting patients – including Matt Hiznay who was treated with a drug Bob developed – motivates him to keep pushing towards a cure. Learn more about these two men and their bond.
Ted Johnson, a Pfizer medicinal chemist, lost his mother to colon cancer. At that time, he was finishing his postdoctoral studies and deciding between going into academics or industry. He ultimately decided to pursue a future in the pharmaceutical industry to apply his work to research for medicines that could help patients like his mom. Hear from more of our scientists on what drives them in their work below.
A Deeply Rooted History in Precision Medicine
What does precision medicine really mean to us? It means developing therapies that are as diverse as the cancer itself.
Just a few decades ago, most patients with the same stage and type of cancer were treated the same. Physicians relied on an armamentarium of surgery, chemotherapy, radiation or some combination of the three. The decision of which type of treatment patients received depended on the type of cancer, its size and whether it had spread.[i]
Fortunately, our understanding of the way cancer works, and our approach to research, has evolved. Cancer is a heterogenous disease, meaning although two patients may appear to have the same type of cancer, they may respond differently to treatments. Until recently, we didn't know why.1
Through decades of research, we now understand that genetics play a major role in the way patients respond to treatment. It transformed our approach and defined what we now call precision medicine – an approach to cancer treatment that allows doctors to select a treatment based on a genetic understanding of their disease.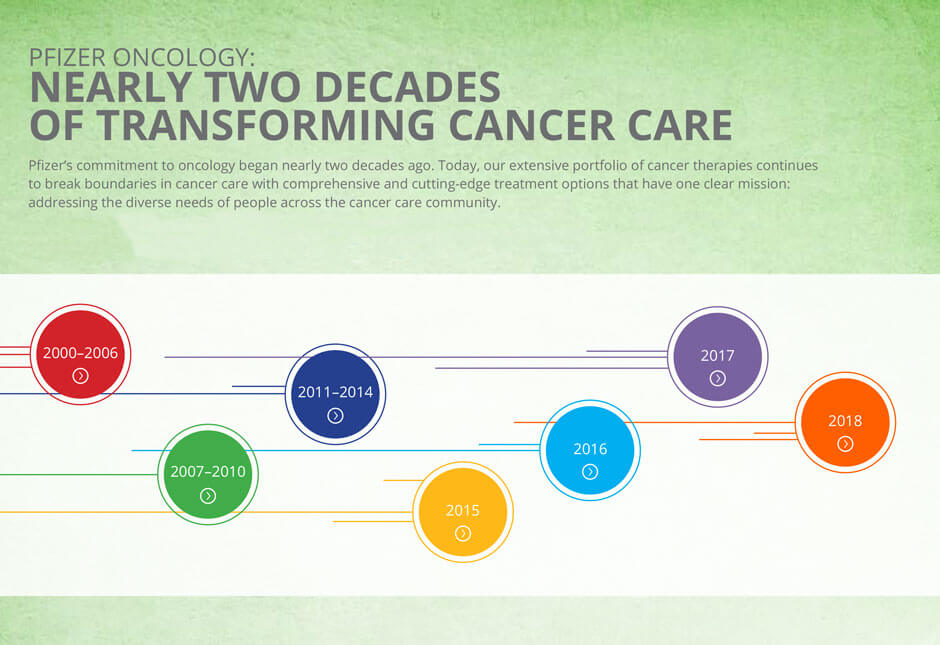 The research presented at ASCO represents the progress we've made since our start nearly two decades ago. Pfizer is proud to have brought one of the first cancer precision medicines to patients. And while many of these advancements have changed lives, we know there is much more to be done. While it won't be an easy road ahead, we're relentless in our pursuit to speed breakthroughs for people living with cancer.