This summer, Pfizer hosted a Girls Who Code program at our New York headquarters. Hundreds of young women from New York, New Jersey, and Connecticut applied to take part of the seven-week Summer Immersion Program, and 40 were selected to take part.
Programs like Girls Who Code are crucial in helping to address the gender gap in STEM by exposing girls to technology outside of their school environment.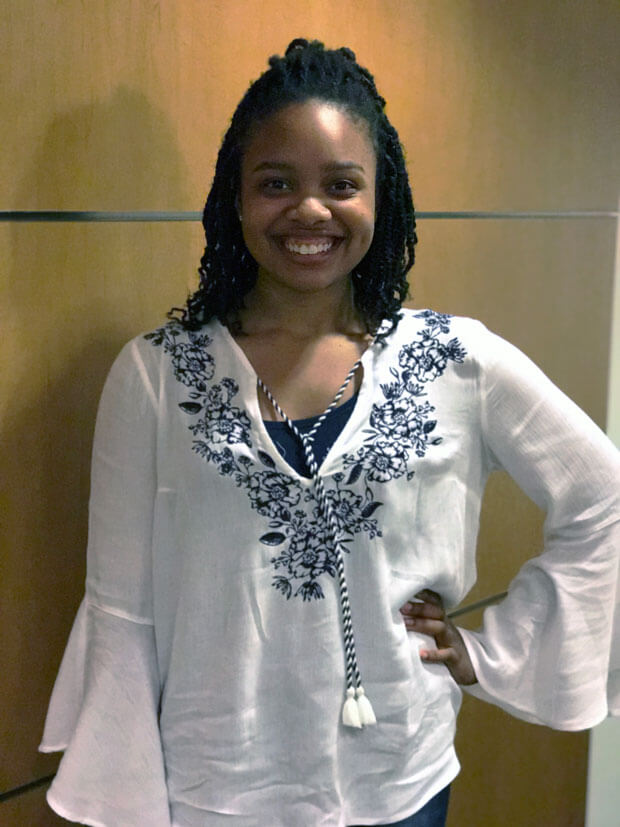 Tyler, 16, from Yonkers, N.Y., was one of the participants. She's a veteran of Girls Who Code, having participated in an afterschool program for the past two years.
One of Tyler's favorite hobbies is solving jigsaw puzzles, and she's been known to solve a 2,000-piece puzzle in less than a month. Aware of this passion, her older brother, a sophomore at the University of Massachusetts at Amherst, steered her towards Girls Who Code.
"From my work on puzzles, I knew I wanted to do some kind of engineering," Tyler said. "My brother found Girls Who Code and suggested I sign up. That was three years ago and I've been loving it ever since."
Puzzles are more than a creative outlet for Tyler. They help with her learning difference.
"I am dyslexic, so that's a major part of my life I'am trying to get through. I eventually would like to teach others about coping skills they can use to make things easier, and my goal is for coding to bring me there."
A number of programming languages are included in the Girls Who Code curriculum. "We're testing the waters to see which ones we like working in the most," Tyler said. "Our final project is where we can choose which one we would like to do."
Her final group project was a website for girls with curly hair, to show young women of color how fun it can be to style hair naturally.
As far as a career direction, Tyler is keeping her options open.
"My friends can't believe it, but I have very little aptitude for tech," she said. "Ask me a question about a smart phone, and odds are I won't know how to help you. But communications is a strength of mine, so I'd like to find a career that involves communications within computer science. Hearing all the Pfizer speakers at Girls Who Code helped show that there are different aspects of technology I can pursue as a career."
For other young women considering whether Girls Who Code is right for them, Tyler said, "Don't hesitate to take a risk, because I think one of the main reasons for gender gap is that boys are more likely to take risks. I would say just try it, and see where it takes you. It can be very intimidating in the beginning and it might seem hard, but as soon as you get the basics, it becomes easier and you'll see how quickly all the gates can open for you."