Report Amplifies Conversation
on Using Technology to Aid Healthy Aging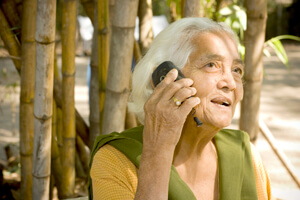 Pfizer recently issued a new report on the role mobile communications technology plays in addressing the needs of older people.
By 2015, there will be more people over the age of 65 than there are under the age of 5. The facts of this "silver tsunami" anchor the new "white paper," titled Using Mobile Technologies for Healthier Aging, which was produced in partnership with mHealth Alliance, an organization that champions the use of mobile technologies to improve health throughout the world. The report takes a look at the role of mobile communications technology in addressing the needs of senior citizens and in extending access to information and appropriate services to advance healthy and active aging.
Pfizer is taking a leading role in the discussion on living longer, better lives at any age following the launch of Get Old in June 2012.
As part of this effort, the company issued the report to amplify the worldwide conversation about healthy and active aging and to demonstrate how mobile technology can help people age better.
The white paper was presented during the recent fifth annual mHealth Summit, which was conducted in Washington, D.C. and featured emerging best practices in mobile health technology and implementation. mHealth is the term for the growing practice of using mobile devices to support medicine and public health. Pfizer's Center for Active and Healthy Ageing is committed to exploring the link between innovation in the mHealth space and healthy aging projects occurring across the organization. A critical element of mHealth and its importance to healthy aging involves the opportunity to help mitigate chronic diseases and their risk factors, the prevalence of which multiplies as people get older. mHealth can be instrumental in raising disease awareness, as a tool to increase medication compliance, and to detect and monitor disease progression.
"mHealth takes health care outside the doctor's office," said Eric Wicklund, Editor of the Healthcare Information and Management Society website, mHIMSS.org. "It enables the doctor to escape the boundaries of the office or examination room, gain instant access to clinical data and resources, and continue the conversation with the patient outside the office visit."
The summit drew 4,500 attendees, including payers, providers, pharmaceutical companies, entrepreneurs, and venture capital firms from 50 countries and attracted more than 350 domestic and international media representatives. Sessions highlighted the role mobile technology has in transforming health care delivery, research, business, and policy, both in the United States and internationally.
Key bloggers attended the event, including Armin Brott (@mrdad), who is also a well-known author, nationally syndicated columnist, and radio host.
"The summit was a real showcase for the exciting convergence between technology and health," said Brott. "The white paper issued jointly by Pfizer and the mHealth Alliance articulates exactly how mobile technologies can increase efficiencies in care management practices, promote healthier behaviors among aging populations, and improve patient outcomes."