Researchers Connect
With Autistic Children By Making Slime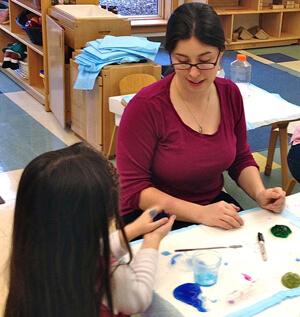 Scientist Sarah Neal (r.) from Pfizer's Neuroscience
Research Unit helps make slime in Groton.
Pfizer colleagues recently found a fun way to connect with children affected by autism spectrum disorders: by making "slime."
Members of Pfizer's Autism and Neurodevelopmental Disorders Lab volunteered to make slime as part of a respite, relaxation and information event at the Bright Horizons child care center in Groton, Conn. for local parents whose families are affected by autism. The activity uses slime kits developed as part of Pfizer's SMART (Science and Math Are Really Terrific) program, which the company launched in Groton in 1988 to provide science and math outreach to schools in the local community.
"Parents attended information sessions led by autism professionals, participated in yoga, got massages, or were able to relax, meet and network with each other, while children engaged in fun-filled activities, the most popular being our slime station," said Sharon O'Neill, Senior Associate Scientist and Outreach Coordinator for Pfizer's Autism and Neurodevelopmental Disorders Lab (part of the Neuroscience Research Unit).
For the slime making activity, kids put on safety glasses and gloves and combined special ingredients — nontoxic polyvinyl alcohol (found in eye drops) and borax (a detergent) — with a drop of their favorite shade of food coloring to create a unique bucket of slime.
"We spent time playing, exploring and discussing the properties of slime and how a scientist would test these properties using experimental methods and record them in laboratory notebooks," said Daniel Smith, Senior Principal Scientist, Autism and Neurodevelopmental Disorders Lab. "A quote from one of our participating children sums up the event: 'This is the best day of my life — I love slime!' "
Susan Corrice and Christy McElroy, Neighborhood Representatives from "Children First Groton," wrote a letter to the team following the event to express their appreciation: "Thank you so much for donating your time and expertise. The event was very successful, but it would not have been without you taking such expert care of the children while they made slime and experimented with it. You were very generous to step forward on your day off to help out the families!"
Speaking for the other volunteers, O'Neill said, "It is a privilege to meet those whose quality of life we aim to improve through medications discovery and development."