Russian Colleagues Volunteer Their Time to Prepare
New Children's Clinical Center
By Marina Oplachko, PfizerWorld Correspondent Network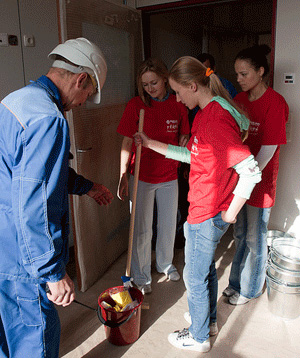 In Moscow, colleagues Natalia Salomatina,
Olga Pavlovich and Ekaterina Eliseeva lend a hand
cleaning a new children's clinical center in Moscow.
More than 40 Russian colleagues, together with friends and relatives, spent a recent Saturday cleaning a newly constructed children's clinical center in Moscow and getting it ready for occupancy.
The voluntary effort, which was initiated by "Podari zhizn," a Russian charity, served as a preliminary scrub of the Federal Scientific and Clinical Center of Children's Hematology, Oncology and Immunology in Moscow.
When complete, the new building will provide the most advanced treatments for children with oncological and other severe diseases, further the development and implementation of cutting–edge treatment methods and help enhance the skills of children's doctors throughout the country.
The center is expected to begin operating next summer. However, newly built pavilions on the site needed a thorough cleaning before the installation of the furniture and equipment could begin. A specialized service will complete a second cleaning prior to the opening.
"Pfizer colleagues are well aware of the problem of children's oncological and other diseases, and the severity of the treatment process," said Anna Samokhvalova, Manager, Strategic Partnerships, Patient Advocacy and Corporate Social Responsibility. "Every one of us wants to make a personal contribution to help launch the new center as soon as possible, and thus help children to combat
their diseases."