Horsing Around: Spanish Camp Aids
Children With Disabilities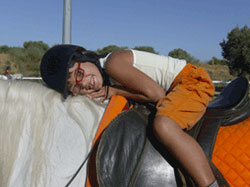 Colleagues' children with disabilities
attended a horse-assisted therapy summer
camp in Spain
Recognizing that many non-traditional therapies for children with disabilities are often not covered by health insurance plans, the Human Resources department of Pfizer Spain three years ago decided to help alleviate this burden on parents by paying for eligible children of colleagues to attend a horse-assisted therapy summer camp in Madrid. Now in its third year and increasing in popularity, the benefit has been extended to a second location of the camp, La Fundación Caballo Amigo, in Seville.
La Fundación Caballo Amigo benefits children aged 5 – 15 with physical and mental disabilities. Each camp is two weeks long for five-and-a-half hours each day; 15 children of Pfizer colleagues participated in each camp this year. On a typical day at camp, children ride the horses for two hours and share responsibilities for cleaning and bathing them. They also participate in a variety of activities including art, music and games, based on their social, mental and emotional capabilities.
Equestrian trainers contend that the rhythmic movement of riding a horse helps in the treatment and rehabilitation of people affected by different movement disorders. Similarly, developing a relationship with the horse and helping to take care of it helps build self-esteem, as well as improve sensory and cognitive disorders.
"The children really enjoy themselves, and my family and I are really thankful to Pfizer for this initiative that benefits children from the medical and the social point of view," said Rafael de Andrés, District Manager, Specialty Care Business Unit, Pfizer Spain, whose 14-year-old daughter, Paloma, participated in the Madrid camp this year.
In order for their children to be eligible for the camp, colleagues must be registered in Pfizer Spain's "Pfizer Family Plan," which is designed to aid colleagues with family members who have a disability with additional therapy programs that are not covered by their health insurance plans.