Two Pfizer
Colleagues Among 'Top 50 Asian Americans in Business'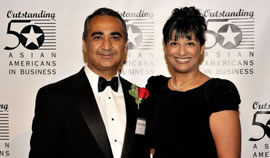 Award winners Bob Miglani and Ami Shah
Two Pfizer colleagues were recognized by the Asian American Business Development Center (AABDC) as among the 2012 "Outstanding 50 Asian Americans in Business." Ami Shah, Medical Director in Worldwide Safety and Strategy, Safety Surveillance and Risk Management, and Bob Miglani, Senior Director of External Medical Affairs, received their awards at a dinner held June 19 in Manhattan.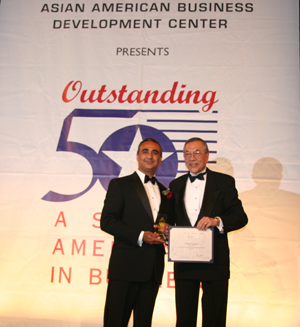 Bob Miglani receives his award from John Wang, CEO of
the Asian American Business Development Center.
Shah and Miglani were recognized for their exemplary contributions to the Asian-American community. Both are active in promoting the interests of Asian Indian health care workers in the United States, primarily through the American Association of Physicians of Indian Origin (AAPI), the largest and fastest-growing ethnic medical association in the United States. In addition, Shah continues to see patients in need in her community and also holds several leadership positions in various medical organizations. Miglani works on youth empowerment as one of the founders of the Albert Schweitzer Leadership for Life Program. Miglani is also the author of "Treat Your Customers," a compendium of business lessons drawn from his work in his family's Dairy Queen store in central New Jersey.
"I am thrilled to see Bob and Ami honored for their work here at Pfizer and on behalf of the people we serve, everywhere. My congratulations to them, and to their families," commented Freda Lewis-Hall, Executive Vice President, Chief Medical Officer and head of Pfizer's Worldwide Diversity Leadership Council.
The AABDC was established in New York City in 1994 to assist businesses in the Greater New York region and promote recognition of the contributions of Asian-American business leaders. To support this mission, the Center began its Top 50 Awards in 2001.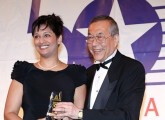 Ami Shah and John Wang
Former Transportation Secretary Norman Mineta, one of the few Americans to ever serve in the Cabinets of two Presidents from different parties, was the featured guest of honor. Speaking to the awardees and their friends and families, he noted the importance of mentoring and reminded them that "as you climb the ladder of success, reach down and pull another worthy person along with you."
Interviews with Shah and Miglani were broadcast Sunday, June 24 and Monday, June 25 on TV Asia, the largest media for Indian Americans in America, on its community roundup program.