November is National Diabetes Awareness Month, an opportunity to recognize one of the most serious, complex and growing public health burdens worldwide – and its link to cardiovascular disease.
In 2017, 425 million people worldwide have diabetes, and this number is expected to rise to 629 million by 2045 – meaning an astounding one in 10 adults will be living with the disease. In the U.S., diabetes impacts approximately 30 million people, and it was the seventh leading cause of death in 2015.
Diabetes is a chronic and generally progressive disease that is characterized by high blood sugar levels, and without appropriate management, can lead to serious complications including kidney problems, blindness and amputation. In the U.S., about one third of adults with diabetes are not currently at their blood sugar goal, a reminder of the tremendous need for new therapeutic options to help those with diabetes to better manage their condition, as well as support and education to help them manage their treatment regimen.
One of the biggest threats for people living with diabetes is cardiovascular disease. Diabetes itself is a risk factor for developing cardiovascular disease, and its complications, including heart attack and stroke, remain the number one cause of death in people with diabetes. Furthermore, adults with diabetes are two to four times more likely to die from heart disease than adults without diabetes. Additional research in this area is critical in order to reduce this burden, advance patient care and improve outcomes.
In our early discovery efforts, Pfizer is focused on emerging areas of research in metabolic disorders, including metabolic-related cardiovascular complications, energy balance in chronic disease, type 2 diabetes/hyperinsulinemia and non-alcoholic fatty liver disease/non-alcoholic steatohepatitis (NAFLD/NASH).
Pfizer is also proud to support independent research to identify new approaches to treat and prevent cardiovascular disease in people living with diabetes, such as the American Diabetes Association's New England Cardiovascular-Metabolic Fellowship Awards. These two-year fellowships provide support for studies focused on improving understanding of the treatment and prevention of cardiovascular disease in people with diabetes.
"Pfizer is committed to supporting the development of the next generation of diabetes researchers as well as advancing our understanding of the connection between cardiovascular disease and diabetes, a growing burden and area of significant unmet patient need," said Morris J. Birnbaum, M.D., Ph.D., senior vice president and chief scientific officer, Internal Medicine Research Unit, Pfizer Inc. "We are proud to work in cooperation with the American Diabetes Association to support these promising scientists in their exciting studies, and look forward to learning how the findings may help contribute to the development of new approaches to treat and prevent cardiovascular disease in people living with diabetes."
In recognition of National Diabetes Month, learn more about the link between diabetes and cardiovascular disease: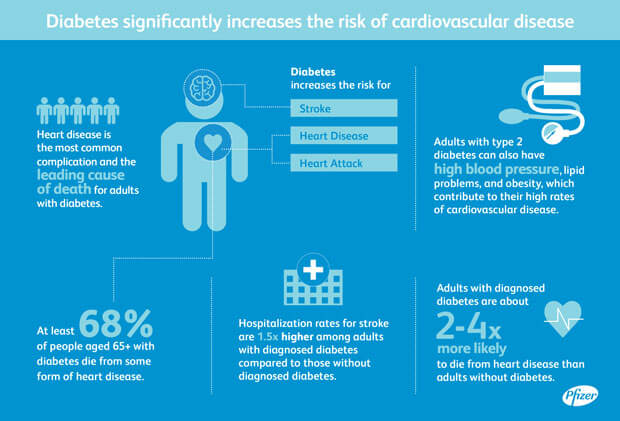 To read more about the American Diabetes Association New England Cardiovascular-Metabolic Fellowship Award winners, click here: http://www.diabetes.org/newsroom/press-releases/2017/american-diabetes-pfizer-new-england-cardiovascular-metabolic-fellowship-recipients.html