Venezuelan Colleagues
Lose Nearly 'Half a Ton' in 'Healthy' Challenge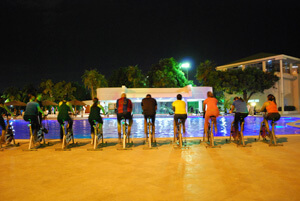 Pfizer Venezuela colleagues exercise together as part
of a healthy lifestyle competition that attracted 337
participants in total.
Colleagues enrolled in a healthy lifestyle competition conducted by Pfizer Venezuela successfully lowered their collective weight by nearly half a ton.
With an aim of improving their health, Pfizer Venezuela colleagues recently completed "El Reto es Estar bien" ("The Challenge Is Being Healthy"), a team competition conducted by Pfizer Venezuela's Medical Division in which participants registered individual and group health goals to be reached within six months. By the end of the competition, the program's 337 participants lowered their collective weight by a total of approximately 897 pounds (407 kilograms).
"We carried out a study of cardiovascular risk and realized that for a colleague population as young as ours — the average age in Pfizer Venezuela is 37 — we had a significant percentage of colleagues at high cardiovascular risk, as a result of several risk factors," explained Ariadna Rodrýguez, Medical Director, Pfizer Venezuela.
Cardiovascular diseases are the leading cause of death in Venezuela, noted Rodrýguez. Health authorities have established that every 15 minutes a Venezuelan suffers a heart attack, and cardiovascular diseases also have an economic, social, psychological, family and labor impact due to work absenteeism and disability.
"However, early identification and appropriate control of cardiovascular risk factors significantly reduce the risk of a coronary event," Rodríguez added.
'Achieving a Good State of Health'
The purpose of the El Reto es Estar bien program was to encourage a healthier lifestyle, including the reduction of cardiovascular risk, by incorporating healthy nutrition, engaging in physical activity at least three times a week and participating in special activities organized by the company.
Throughout the six months of the program, activities such as hiking, soccer, aerobics and dance therapy were conducted, and colleagues were also encouraged to involve their families as well.
"The idea of the Challenge is to help our colleagues and their families because we know that therapeutic changes in lifestyle are the basis for achieving a good state of health," Rodríguez said. "Those changes can be the most difficult to make."
Three teams of Medical Sales Representatives were the winners in the group competition. In the individual category, the winners were Victor Moreno, Director, Business Technology; Rafael Herrera, District Manager; and Helder Pirela, Sales Representative.
Moreno lost approximately 37 pounds (17 kilograms) during the program, an accomplishment he credits to a better diet and increased exercise. He also raised his levels of HDL, also known as "good cholesterol," thereby reducing his cardiovascular risk.
"The Challenge was a great motivation for me," Moreno said. "It helped me to identify the problem and to take charge of my health, and the nice thing was that my children accompanied me on the way. They got the bug and managed to lose weight too."
Positive Results
The biggest challenge for the Medical team conducting the competition was to achieve large-scale participation and adherence to the competition's guidelines on components such as healthy eating and exercise, said Rodríguez.
But the competition led to a sevenfold increase in the number of colleagues participating in the company's health plan, while adherence grew by more than 50 percent.
Sixty-six percent of the program's participants showed positive changes in relation to their initial score on the Framingham scale, a risk-assessment tool used to predict a person's chances of having a heart attack. Analysis of colleagues categorized as being at "high cardiovascular risk" showed that 56 percent achieved significant control over their risk factors in six months, shifting them to the "moderate risk" category.
In relation to risk factors, 83 percent of the colleagues initially categorized as "pre-hypertensive" managed to reach optimal blood pressure figures as a result of the changes in their lifestyles. Among program participants diagnosed with high blood pressure for the first time, 88 percent currently receive treatment and appropriate blood pressure control.
"That represents a significant achievement considering that hypertension is an asymptomatic condition," said Rodríguez.