Young Scientists
Honored in Switzerland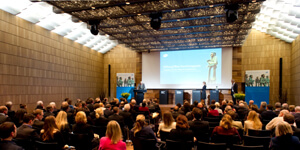 The Pfizer Research Prize Foundation in Switzerland recently awarded an annual prize for cutting-edge research to nine young scientists.
The Pfizer Research Prize, one of the most prestigious for medical research in that country, has been awarded annually since 1992 by the Foundation to young scientists who have made outstanding and pioneering contributions in basic or clinical research at Swiss research institutes or hospitals.
Each year, scientists of any nationality who are under 45 years of age and conduct research in the fields of cardiovascular medicine, infectious diseases, neurological sciences and diseases of the nervous system, oncology, urology, nephrology, rheumatology and immunology, compete for the prize. This year's honorees were from France, Germany, Italy, Spain, and Russia, as well as Switzerland.
Including this year's winners, the prize has honored 237 young scientists since the award program's launch.
"We are proud of our longstanding commitment and are convinced of its value in encouraging young scientists and promoting Switzerland as a center of research," said Pfizer Foundation Board Member Ralph Studer, Mid-Size Markets Director, Pfizer Primary Care Europe, and Country Lead, Pfizer Switzerland.