The Antigen Podcast: Season 1
Season 1 of The Antigen is an eight-part audio-documentary style podcast about the scientific, cultural, and political elements of vaccination. We start with the basic science, review vaccine history, explore the many facets of their global impact – and the public sentiment about vaccines around the world. Listeners will hear from leading experts about the past, present, and future of this important innovation, as well as people whose families have been impacted by vaccine-preventable diseases.
The latest season of The Antigen evolves the conversation around COVID-19 in a four-part mini-series. Now more than ever, we want to provide factual, science-based information in a digestible format as well as shed light on the critical role Pfizer is playing during this unprecedented situation. We will look back at past pandemics, discuss efforts across the industry to research potential coronavirus vaccines and treatments, and look ahead to life after a crisis.
Host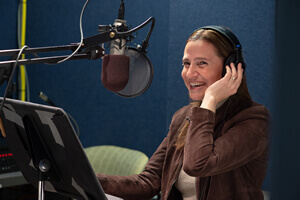 Season 1 of The Antigen is hosted by Yasmeen Agosti, MD FAAP. Yasmeen is a pediatrician and a Global Medical Lead, Viral Vaccines at Pfizer. She is a Ph.D. candidate in Clinical Microbiology and Infectious Diseases at the University of Witwatersrand. Yasmeen trained as a general pediatrician in Philadelphia and, later, conducted clinical research on respiratory syncytial virus in South Africa as part of her doctoral studies. She joined Pfizer in 2017. Learn more about her background and current work at Pfizer.
*Guests have not been compensated for their participation on this podcast.
For additional information about Pfizer, please see our filings with the U.S. Securities and Exchange Commission, including the information provided in the sections captioned "Risk Factors" and "Forward-Looking Information and Factors That May Affect Future Results".