The Antigen Podcast Episode 7: Innovations in the Vaccine Landscape
Innovation can mean different things to different people. When it comes to vaccine innovation, we're really talking about two things: creating new vaccines that we need or improving something about the ones we currently have. In this episode, we'll cover a few examples of vaccine innovation, from vaccine design to delivery. Host Yasmeen Agosti speaks to Anna Mouser of Wellcome Trust, Naa Adorkor Yawson of Zipline, Alison Witkoff of the IRC, Prof. David Salisbury of Chatham House , Dr. Peter Palese of Mount Sinai, and Dr. James Gulley of the NIH.
See the full transcript for Episode 7 here
Episode Guests
Episode References
Season 1 Host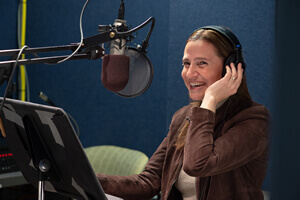 Season 1 of The Antigen is hosted by Yasmeen Agosti, MD FAAP. Yasmeen is a pediatrician and a Global Medical Lead, Viral Vaccines at Pfizer. She is a Ph.D. candidate in Clinical Microbiology and Infectious Diseases at the University of Witwatersrand. Yasmeen trained as a general pediatrician in Philadelphia and, later, conducted clinical research on respiratory syncytial virus in South Africa as part of her doctoral studies. She joined Pfizer in 2017. Learn more about her background and current work at Pfizer.
*Guests have not been compensated for their participation on this podcast.