Barry Winiker started his career at the Museum of Modern Art in New York City in the 1970s helping to mount exhibits with some of the world's most celebrated contemporary artists.
Today, as Pfizer's Global Curator, Winiker brings that same passion to his role, organizing art shows throughout the year in the New York headquarters, as well as educating employees and the community about the intersections between art, science and innovation.  To Winiker, creating and appreciating art draws upon similar core values as being a scientist. "You need to be creative, innovative and thinking 'what's the next thing,' and to be open to new ideas," he says. "We find even that people who look at art can make better doctors, because they know how to look carefully at problems," he adds.
"Creativity in all of us."
A highlight of the annual exhibition calendar is the Pfizer Colleague Art show, which in its 15th year, features 38 works of art¬ – from oil paintings to embroidery– created by 19 Pfizer employees across a wide range of business units. "It's a chance to show the other side of employees' lives," says Winiker. "There is creativity in all of us. People are not one-dimensional."
Whether it's photographs from the coastline of Italy or an oil painting of an artist's favorite objects — a colorful coffee mug and a novel —  these works highlight how artists, like scientists, do indeed hold the world in awe.
Marta Banach (Business Technology) has taken drawing classes at the Art Students League of New York for nearly five years. Her graphite pencil on paper drawings of a flower vase and a middle-aged woman, are so closely observed that they come to life as sketches on a page.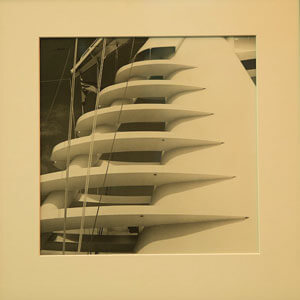 In Sara Wood's (Discovery Services) photograph "The Boss," she captures a fleeting moment of a midnight- black cat staring indignantly into her camera lens. "I love it when an image captures a compelling expression (on a human or any other animal), and makes you wonder what they're thinking," writes Wood in her artist's statement with the piece.
And Winiker, who moonlights as a professional photographer, features one of his geometric black-and-white images of a cruise ship's funnel. "I love the repetition of forms and shape," says Winiker, who in his spare time travels the world with his camera, specializing in cruise ship photography. "Where there is water I can be there," he adds.
Reaching All Employees
As Global Curator, Winiker has an opportunity to collaborate with all of Pfizer's business units, as well as colleague resource groups. Last year, he partnered with the Out Pfizer Employee Network (OPEN), to organize a show in collaboration with the One Archives Foundation, highlighting gay leaders through history. 
On a recent afternoon, Winiker strode the corridors of Pfizer's New York headquarters, greeting employees from various business units and roles in the company.
He points with pride to the recent extended labels he added to Pfizer's collection of emerging artists, to help educate employees and visitors about what inspires the creators.  He delights in the tours he gives to employees, helping them appreciate the modern stained-glass ceiling inspired by life-sciences images (by Brian Clarke, 1996-1997) that extends across the New York headquarters' lobby. And the full-length metal-mosaic mural in the front lobby (by Nikos Bel-Jon, 1961), which chronicles the history of medical sciences.
Most of all, he knows he is doing his job when colleagues are inspired to learn more about art. A Pfizer executive recently told him that after viewing prints by artist Elizabeth Blackadder, he wanted to go find more of her work in the building. "It's a delight to know not only that our labels were working, but that our employees were really into it," says Winiker.