Do you know anyone with a rare disease? If you do, you understand how scary it can be given the limited treatment options for many diseases, lack of information and gap in care. We are on a mission to change this.
We understand that every scientific advancement counts when it comes to bringing new medicines to those in need. At Pfizer Rare Disease, we focus on the smaller patient populations, but aspire for big impact. We strive to fundamentally transform what it means to live with a rare disease. Pfizer Rare Disease merges pioneering science with a deep understanding of the underlying disease pathology to deliver innovative treatments. This allows us to lead the way in developing a new generation of breakthrough treatments across all modalities – small molecule, large molecule/monoclonal antibodies (mAbs), and gene therapies – to unlock the promise of science for the millions with rare diseases for whom the current standard of care falls short.
Innovation at Pfizer extends beyond research and development of new medicines. We know the healthcare systems of today were not built for the breakthroughs of tomorrow. That's why we're working with our partners across the healthcare continuum to ensure that potentially transformative treatments are accessible to patients. This work includes leading collaborative efforts with payers and other healthcare partners to develop and test new ways of paying for innovative medicines, that can help balance patient access with sustainability for healthcare systems.
Over the next decade, the goal of Rare Disease Day, founded by the European Organization for Rare Diseases (EURORDIS), is increased equity for people living with a rare disease and their families. Equity means social opportunity, equitable access to health and social care, diagnosis and treatment (learn more by downloading the Rare Disease Day Equity Factsheet).
We are amplifying the Rare Disease Day call to action for people impacted by rare diseases because we believe they deserve equal opportunities in scientific advancements, family, work, social life and healthcare. At Pfizer Rare Disease, we have provided critical treatments to patients with rare diseases for more than thirty years and will continue to strive to find breakthroughs that change patients' lives.
See below to learn more about who Pfizer Rare Disease is and how we're supporting the rare disease community.
Our Rare Disease Heroes
Inspired by the message from the rare disease community that 'Rare is Many, Rare is Strong, Rare is Proud', we asked some of our rare disease heroes – what does 'rare' mean to you?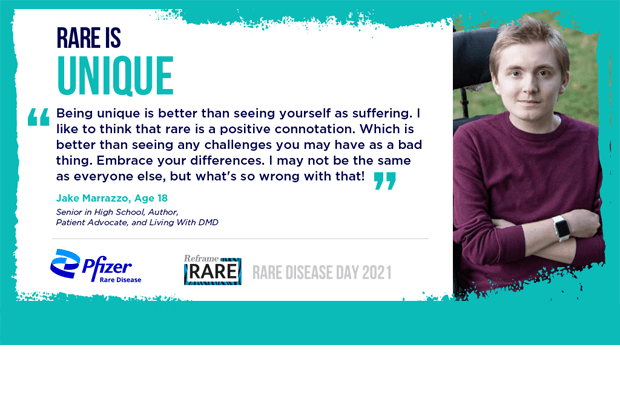 About Pfizer Rare Disease
Pfizer Employees Are Committed to the Rare Disease Community
Science Behind Pfizer Rare Disease
At Pfizer, our current industry-leading portfolio spans four therapeutic areas, including 1) rare hematology, 2) rare endocrine/metabolic, 3) rare neurology and 4) rare cardiology.