Pfizer Pearl River site continuing legacy of innovation
Scientists at the Pfizer site in Pearl River, New York are working diligently to develop new vaccines and cancer therapies. The research and development work being done at the site today is continuing a century of innovation that has had life-changing impact around the world, from immunizing children against deadly infectious diseases to developing potential breakthrough therapies for leukemia. The site hosts a vast majority of Pfizer Vaccine Research and Development activities, and is also home to Oncology Research & Development's Targeted Therapeutics Discovery and Oncology Target Discovery activities as well as a Target Sciences & Technologies center.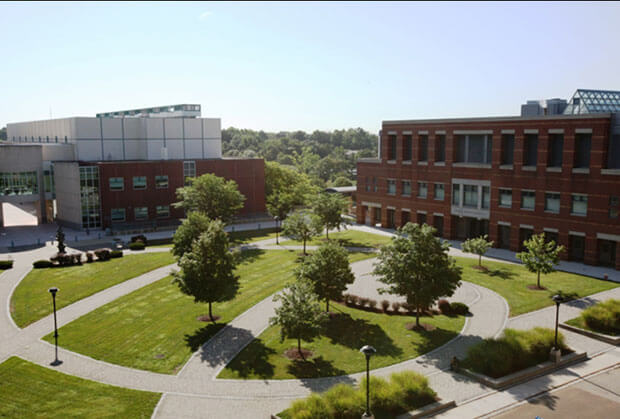 Aerial view of Pfizer Pearl River site
Pfizer's Vaccine Research and Development organization in Pearl River develops first-in-class and best-in-class vaccines against life-compromising diseases of major public health importance that impact all ages and geographies. Vaccine R&D is a fully integrated research and development organization with responsibilities from the early-idea stage through process and clinical development, product registration and post-marketing commitments.
Vaccine scientists are currently engaged in a number of research and development projects. These include developing the next generation vaccine to protect against additional disease-causing serotypes of pneumococcal bacteria. Pneumococcal disease is a leading cause of vaccine-preventable deaths worldwide and encompasses a complex group of illnesses, including pneumonia, bacteremia/sepsis and meningitis, according to the World Health Organization and Centers for Disease Control and Prevention.
Other Pearl River Vaccine R&D projects are aimed at protecting against hospital-acquired infections, including those caused by Staphylococcus aureus (S. aureus) and Clostridium difficile, the latter a pathogen described as an "urgent threat" by the Centers for Disease Control. Both pathogens represent a major unmet medical need and are associated with significant patient morbidity and mortality. Routine uses of antibiotics and other anti-microbials have pushed these bacteria to develop resistance to a number of these treatments. The successful development of vaccines to protect against these pathogens has the potential to address this unmet medical need and will help in fighting antimicrobial resistance.
Pearl River scientists are also focused on working to research and develop vaccines that could provide protection against neonatal infections such as those caused by Group B streptococcus, and respiratory syncytial virus (RSV), dangerous pathogens that cause serious infections in newborns and also the elderly. Nearly 700,000 newborns die each year due to infections causing pneumonia, sepsis, and tetanus, according to a Get Science article published earlier this year, which also stated that many more are hospitalized and suffer long-term complications from infections.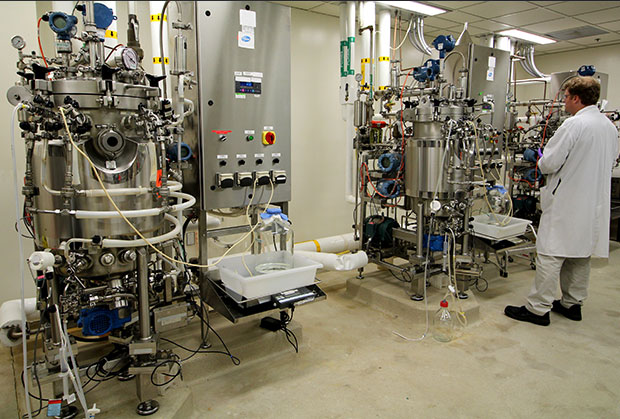 Fermentation tanks in Vaccine R&D Early Bioprocess Development Laboratory
"RSV, for example, is responsible for nearly 200,000 infant deaths annually in developing countries and is the leading cause of infant hospitalization in the developed world," said Kena Swanson, Senior Principal Scientist at Pfizer's Pearl River site.
"Maternal vaccines have the potential to prevent devastating infant diseases for which treatment is very limited or non-existent for people in large parts of the world," stated Ed Buurman, Director of Bacterial Vaccines and Technology in Pearl River. "New maternal vaccines have the potential to significantly impact the health of millions of babies."
"In recent years, maternal immunization has steadily gained acceptance as an approach to impact life-threatening infections for the most vulnerable newborn infants," said Annaliesa Anderson, Vice President and Chief Scientific Officer of Bacterial Vaccines at the Pearl River site.
A recent Kaiser Permanente study of nearly 150,000 babies in California found that maternal vaccination is highly effective in protecting infants against whooping cough in the first two months of life.
"Data and analyses like these show that scientific openness and acceptance and policy changes can provide new opportunities to potentially prevent life-threatening infections in babies" said Kathrin Jansen, Senior Vice President and Head of Vaccine R&D.
"It is very gratifying that with our more recent research and development activities in maternal immunization, we are now at the forefront in the development of vaccines that may result in protecting the most vulnerable members of society, newborn infants," continued Jansen. "We're proud to have entered clinical trials with maternal vaccine candidate against Group B Streptococcus and Respiratory Syncytial Virus."
"Together with our Pear River colleagues, I am thrilled to be able to continue the strong and lasting scientific legacy of the Pearl River site. Over the last two decades we have been building on this legacy through the development of a robust portfolio of life-saving vaccines and cancer therapies," said Jansen.
Filling operations in Pearl River, circa 1910-20
Cancer Research at Pfizer Pearl River
Oncology Research & Development is focused on creating targeted therapies, including bispecific antibodies, immunotherapies and nanoparticles targeting tumor, immune and stromal cells. Oncology scientists in Pearl River also have deep expertise in functional genomics, chemogenomics and proteomics. They are applying their knowledge to identify novel first-in-class cancer targets and therapies that might be combined with existing Oncology assets and for modulation of the anti-cancer immune system.
Scientists in Pearl River are part of a broader Pfizer effort to develop oncology treatments that are as diverse as cancer itself, with a sharp focus on the most disruptive advances in science and guided by the urgency to help patients receive the next wave of life-changing cancer medicines.
These scientists are uncovering new approaches to attack cancer cells directly and more effectively. With recent clinical success in immunotherapy reshaping the field of oncology, the prospects for more durable and even curative responses to many cancers may be on the horizon.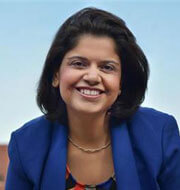 "At Pfizer Oncology R&D in Pearl River we are passionate about discovering, investigating and developing transformative therapies for the treatment of cancer," Puja Sapra, Vice President and Chief Scientific Officer – Targeted Therapeutics Discovery, commented. "We aspire to pioneer the next generation of immuno-oncology agents with the potential to produce durable responses and even cures in certain patient populations.
"We are advancing the frontiers of cancer biology with a 'toolbox' of differentiated technologies and targeted cancer therapies that aim to selectively attack cancer cells while sparing normal healthy tissues. We are using genomic, chemo genomic and proteomic approaches to identify novel first-in-class cancer targets and therapies."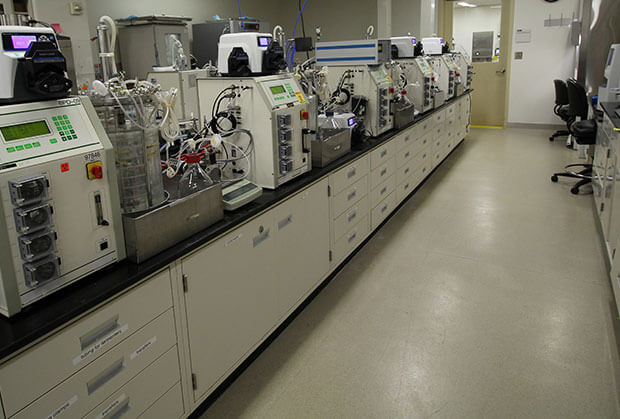 Oncology laboratory in Pearl River
Target Sciences & Technologies recently added a Functional Genomics Center in Pearl River. This Center is utilizing leading edge technologies to explore gene function and identify novel drug targets across several non-oncology disease areas. The Center is leveraging expertise and resources developed by Oncology Research & Development in Pearl River.
An attractive place to work and live
Among the long-standing allures of the Pearl River site are its Lower Hudson Valley location and proximity to New York City and New Jersey. The site is situated in Rockland County less than 30 miles from midtown Manhattan, which is home to Pfizer's global headquarters. The new Tappan Zee Bridge (also known as the Mario Cuomo Bridge) and George Washington Bridge are easily accessible from Pearl River, as is the Garden State Parkway in New Jersey, from where the Jersey Shore can be reached.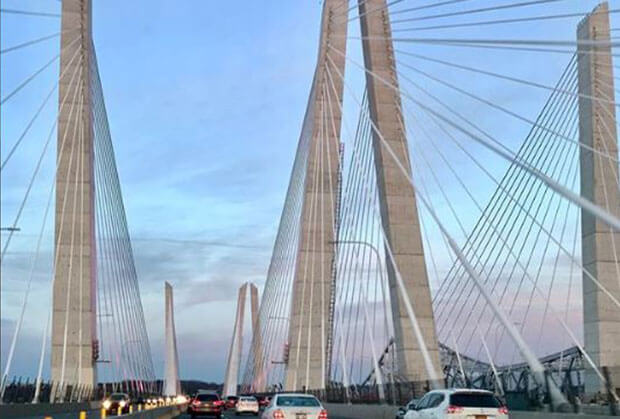 Crossing the Hudson River on the new Tappan Zee Bridge (also known as the Mario Cuomo Bridge)
The New York State Thruway, which leads motorists to the Catskills and Adirondack Mountains, is also only a couple of miles away. This infrastructure, along with the many established communities in the area, enables scientists and other Pearl River colleagues to enjoy the quality of life advantages of working and living in the New York/New Jersey area.
"Our beautiful physical and cultural environment has attracted an exceptionally well-educated and diverse workforce," stated Al Samuels, President and Chief Executive Officer of the Rockland Business Association.
Well over half of Rockland County's 328,000 residents have received formal education beyond high school, according to data published by The Nielsen Co. in 2016. The average household income in the county is well above the state average.
"Rockland boasts over 30 percent of its land dedicated to open space, including acreage that is part of Harriman State Park. Rockland is also home to many historic sites dating back to the Revolutionary War. This diverse array of natural scenery, shopping and history provides a quality of life that makes relocation attractive," Samuels stated.
Pearl River, known as "The Town of Friendly People," "boasts a welcoming downtown with a great mix of restaurants and shops," according to the 2016-17 Rockland Business Association directory and guide, which also states the "small-town feel of Pearl River is enhanced by many neighborhoods of well-kept homes that surround the downtown."
Pfizer occupies four buildings on approximately 23 acres of developed land at its North Middletown Road location in Pearl River. The company sold approximately 200 acres and more than 20 buildings to Industrial Realty Group in 2015 when consolidation of most of the site's manufacturing operations with other Pfizer locations neared completion. Pfizer still retains ownership of over 300 mostly undeveloped acres at the site.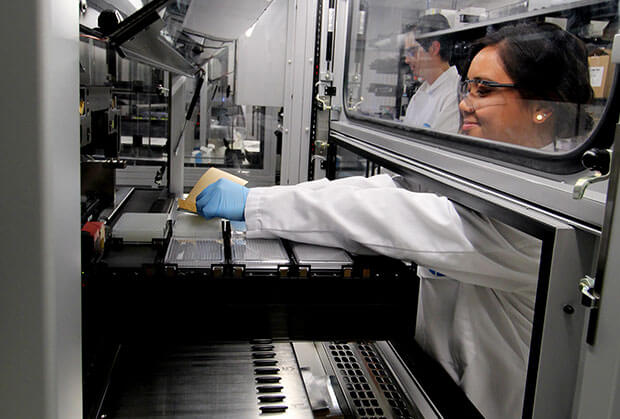 Working with robotic sample-handling system in Vaccine R&D laboratory
A tradition of diversity and breakthroughs
The Pearl River R&D location continues attracting scientists from around the world to do their best work at Pfizer. Among those who made significant contributions to the site's legacy of innovation was Dr. Yellapragada SubbaRow, born in India. He was research director of the Pearl River site during the 1940s, heading a team that isolated and synthesized folic acid, conquering tropical sprue.
"The hundreds of scientists at the Pearl River site come from dozens of countries," said John Sorrentino, Pfizer Vaccine R&D Vice President and Chief Operating Officer. "We have a highly diverse congregation of minds from around the globe. Anyone who can contribute to our success is welcomed, and we celebrate this rich diversity of people at with a variety of cultural events throughout the year."
Diphtheria fermentation, circa 1940s.
In 2011, Pfizer scientists earned the prestigious Prix Gallen USA award for the development of a new generation vaccine used against invasive pneumococcal disease caused by streptococcus pneumoniae. In 2014, a meningococcal serogroup B vaccine developed in Pearl River was the first vaccine to be approved in the US under breakthrough therapy designation by the U.S. Food and Drug Administration to help stem deadly outbreaks of meningococcal serogroup B disease at US university campuses.
Early production of a new generation vaccine used against invasive pneumococcal disease caused by streptococcus pneumonia
A Pearl River-developed treatment for patients with advanced renal cell carcinoma was approved by the FDA in 2007. More recently, on August 17, 2017, the FDA approved the first and only CD22-directed ADC indicated for the treatment of adults with relapsed or refractory B-cell precursor acute lymphoblastic leukemia. Two weeks later, the only approved ADC for newly diagnosed and relapsed or refractory CD33-positive acute myeloid leukemia was approved by the FDA. Oncology R&D scientists in Pearl River significantly contributed to developing both of these therapies.
The Pearl River site's legacy of innovation to advance science, fight disease and deliver products that promote global health spans back to 1907. That's when the first of a number of medical breakthroughs to improve public health was developed in Pearl River.
"Over 100 years ago Ernst Lederle established the Pearl River site to produce antiserum to treat children with diphtheria in New York City," Bill Gruber, Senior Vice President, Vaccines Clinical Research, said. "Since then the Pearl River site has had a rich history of vaccine development to prevent diseases like smallpox, polio and more recently pneumococcal and meningococcal B disease, to name but a few."
Diphtheria antitoxin, early 20th century
"When I speak to groups, I ask how many of them have seen or know someone who has had polio, rubella, smallpox and diphtheria," said Sorrentino. "No people including physicians under 40 ever raise their hand. That's because these diseases have been practically eradicated by vaccines."
Highlights of the Pearl River site's early history include:
During 1915-1918, Pearl River produced the only gas gangrene antitoxin. During World War I, the company received 500,000 orders of tetanus antitoxin and produced smallpox vaccine. The production of smallpox vaccine and a delivery device, a bifurcated needle, contributed to the eradication of smallpox disease.
Already the world's largest blood plasma processing plant when the U.S. entered World War II, the site became an early leader in the production of penicillin. Pearl River contributed medicines and vaccines for typhus, influenza, pneumonia and tetanus to armed forces throughout the war and were awarded the Army-Navy "E" Award in 1943.
Because of the critical importance of wartime medical products from Pearl River, some buildings at the site were built to exceptional standards.
"The blood plasma processing plant was constructed with oversized concrete walls – some three-feet deep -- because of concerns our enemies might bomb supplies of blood products destined for allied troops," Sorrentino pointed out as an example.
Serum capsule inspection during 1940s
Other highlights of the Pearl River site's early history include:
On June 25, 1963, a vaccine produced in Pearl River was the first successful trivalent oral polio vaccine which includes all three strains in each oral dose.
In 1971, a minocycline hydrochloride product developed in Pearl River was introduced as a broad spectrum tetracycline antibiotic.
Centrum®, the world's top-selling multivitamin, was developed and first manufactured in Pearl River in 1978.
In 1988, a mitoxantrone-product developed in Pearl River was introduced. A very potent new class of anti-cancer agent, it proved highly effective against breast cancer, several blood cancers, including leukemia, as well as non-remitting multiple sclerosis.
Among the over 700 professionals at the Pearl River site today are colleagues whose tenure with the company date back to the 1980s. They've seen important evolution at the site during the past 30 or so years, and have also contributed to the continued and exemplary innovation.
Ed Bennett, currently Director of Global Operations, cites the company's commitment to modernize research facilities in Pearl River among the most exciting activities in which he's been involved during the past 30 years.
"Three new buildings were constructed as part of our strategy to upgrade facilities and attract and retain the best talent," Bennett said. "This commitment to research was a game changer, and included some bold investments. Among these were building a cogeneration unit, which was an exciting project for a pharmaceutical company. It still powers our buildings today.
"I appreciate the incredible talent and collegiality of everyone who works here. There are subject matter experts everywhere! We have best-in-class people who are always happy to help. I realize not every place is like here. It's special because of the diversity of people, thought and expertise. It makes working here exciting."
Bennett also shared a story that perfectly illustrates the can-do spirit that has prevailed among Pearl River colleagues during the site's 100-plus years.
"A few times I've been asked to do seemingly impossible things by seemingly impossible dates. My colleagues and I have always have risen to the challenges. For example, I was once asked to build a mass spectrometry laboratory in 10 weeks, which is about a quarter of the time it normally takes. We came back with an expedited proposal in a couple days. The project wound up being completed on budget and on-time," Bennett recalled.
"I performed my first experiment as an intern in a chemistry lab here in May of 1982," Tim Strohmeyer, now Manager of Operations and Logistics, remembered. "I recall being impressed by the knowledge of the research staff and the training they provided me which directly made me focus on becoming a synthetic organic chemist."
After working as a chemist for a decade, Tim transitioned to the facilities group.
"I have experienced a wide range of roles including managing engineering projects, inspection readiness initiatives, intellectual property protection projects, commissioning and decommissioning projects, soft services start-ups, and I have handled preparations for major snow storms and hurricanes. I have been a team member on the planning committees for major events like the 100th anniversary celebration in 2007, Kid's Day, site picnics, etc."
What has Strohmeyer liked most about working at the Pearl River site?
"I am proud of the contributions colleagues have made to improve the health of people around the world," he answered.
Inspired to help patients
For Frank Loganzo, Director at Pfizer Oncology, much has changed in his daily routine at Pearl River during his 21 years at the company. He has contributed to multiple projects, including several that went into clinical development. "But I am fortunate to have worked in the same building all this time, changing laboratory locations just once in 21 years," Loganzo said.
"Sometimes it takes a generation to get products tested and approved," Loganzo said of the extensive, time-consuming work that goes into developing new drugs. "These projects and how they help patients is why I come to work. It's what motivates me to get up early and work long days. Scientific research is a long process, with many studies to make sure we deliver the best medicines to patients."
Loganzo had an academic background before joining the company, and appreciates the emphasis on continuous learning at the Pearl River site.
"We have hosted so many great seminars from visiting scientists," Loganzo said. "I will always remember in November 2010 when Dr. James Watson visited. He gave an inspiring presentation and took photos in the courtyard alongside the DNA artwork sculpture that was inspired by his discovery."
During his visit, Dr. Watson said "now is the time to go for broke" and the "war on cancer is not really a war at all," but that "we all need to work on this problem on Saturdays." It's the kind of spirit that keeps guiding Oncology scientists like Loganzo, who feels the culture among Pearl River employees has remained constant over the years.
"The science and the people are what I like most about working at the site. Our colleagues are so willing to help, even if it's not for their own project. Anyone can ask for suggestions with techniques or to use equipment in different labs. Project teams come together from different departments with shared goals. This helpful culture has remained in place all these years. Our primary focus is our patients."
In addition to working with many highly motivated scientists, Nancy Carver and Helen DiGiacomo, who both started working at the site during the 1980s, count co-ed softball games as among the most exciting activities in which they've been involved. The games were so meaningful for everyone, DiGiacomo recalls. "We had a league commissioner who resolved issues like player eligibility for playoff games. Many of us made life-long friendships with colleagues we met through softball."
"The biggest Pearl River site celebration for many years was the annual picnic. They were like carnivals," recalled Carver. "The Pearl River Saint Patrick's parade on the first Sunday after Saint Patrick's Day has started in our parking lot for as long as I remember. United Way was a big fundraiser then, as it is now.
"When I worked in human resources, I got to meet everybody at the site. In my current position working with infectious disease doctors, I've learned a lot about medicine and the importance of vaccines."
Carver was the first person DiGiacomo met when she started working in Pearl River more than 30 years ago. The two are now Executive Administrative Assistants and work only a few yards apart in Vaccine R&D. Both also grew up in the same Rockland County town.
"Sometimes we don't realize the impact we have on so many lives around the world," DiGiacomo said of the contributions her Pearl River colleagues have made to improving human health. Speaking of the site's attraction to the community over the years, she added, "If you lived in the county, you wanted to work here. It was the place to be. Everyone who grew up here hoped they would land a job at this company in Pearl River. There was a family atmosphere."
Giving back to the community
Long-time and relatively new colleagues are also continuing the Pearl River site's tradition of giving back to the community. Beyond their day jobs, many colleagues have generously given their time to support local charitable organizations for which they are passionate.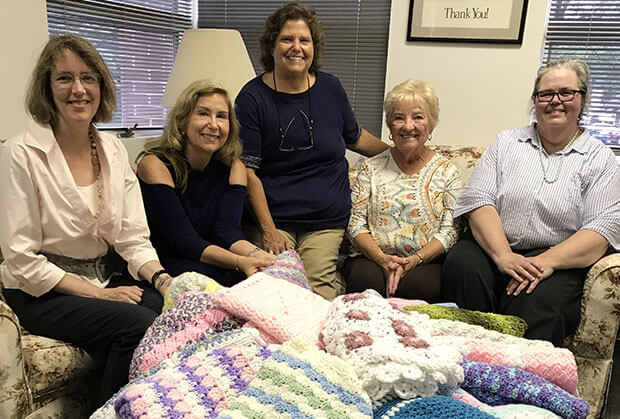 Blankets for babies by Pearl River colleagues support local charitable organizations 
In recent years, Pearl River colleagues have continually donated time and money to the People to People food bank in Nanuet and United Way of Rockland. Dozens of employees participate in United Way's Day of Caring events, and many more contribute food, clothing and school supplies to People to People. Both organizations also receive funds raised by silent auctions held at the site.
Other beneficiaries of Pearl River colleagues' support are the Maria Fareri Children's Hospital in Valhalla, Susan G. Komen Foundation and Leukemia & Lymphoma Society, and Birthright of Rockland County.
The site remains the place to be for scientists who want to advance Pfizer's position as a pioneering innovator focused on science for life-changing impact. Pearl River scientists are contributing to advancing disruptive science and accelerating breakthrough therapies with the goal of delivering transformative medicines and vaccines, and possibly even cures to people in need.
While Vaccine R&D scientists collaborate on advancing innovative approaches to hospital-acquired infections, maternal immunization and cancer vaccines, Oncology R&D scientists are advancing a comprehensive portfolio of platforms, modalities and combinations to turn more cancer patients into survivors. The goal of all Pearl River scientists is to continue a legacy of innovation that has improved the quality of life for people around the world.