Pfizer recently celebrated the incredible network of individuals and partners dedicated to the fight against trachoma, the world's leading infectious cause of blindness, at the Neglected Tropical Diseases (NTDs) Summit 2017 in Geneva, Switzerland. The summit marked the five-year anniversary of the London Declaration: a bold and historic goal to eliminate or control 10 NTDs by 2020, including trachoma.
At the Summit, Pfizer CEO Ian Read spoke on a panel about industry's commitment to the global effort to eliminate NTDs, highlighting Pfizer's effort to eliminate trachoma. The scale-up from the pharmaceutical industry in the NTD space has been huge: in 2009, the pharmaceutical industry donated 353 million treatments for NTDs; in 2015, that number was 1.5 billion. Combined with technological advances in disease mapping, drug delivery and treatment effectiveness, real impact is being seen in the fight to achieve a world without NTDs.
Pfizer has long been a leader in the global effort to eliminate trachoma. For over 20 years, we have partnered with the International Trachoma Initiative to deliver over 600 million doses of an antibiotic used to treat individuals at risk of trachoma, and with more than 100 organizations we are working to help end the suffering and cycle of poverty caused by trachoma.
Like many NTDs, trachoma is both treatable and preventable. Using a holistic approach that incorporates the World Health Organization-endorsed SAFE strategy (which stands for Surgery, Antibiotic treatment, Facial cleanliness and Environmental improvement), millions of individuals at risk of trachoma have been positively impacted by comprehensive intervention strategies.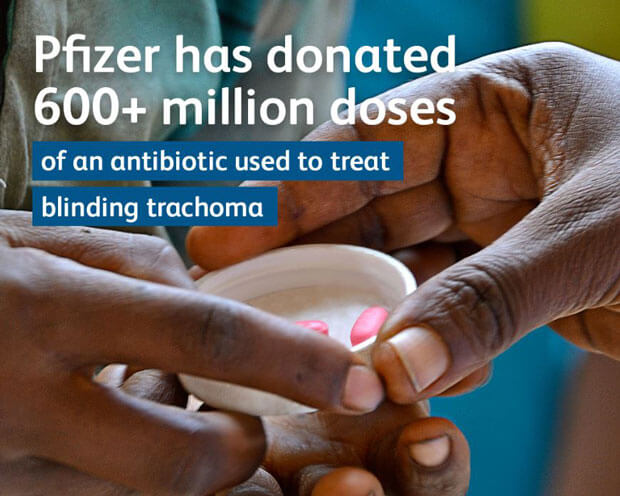 In fact, from 2011 to today, the number of people around the world who require treatment for trachoma has dropped by nearly half. This remarkable progress is a testament to the collaboration between endemic countries, partner organizations, the WHO and donors. Still, we must continue to expand our active network of partners and build on this progress in order to eliminate this disease once and for all.
A world without trachoma and NTDs is within reach.