POSTDOCTORAL PROGRAM
At Pfizer, everything we do is focused on helping people live healthier, longer lives. That means taking on some of the greatest healthcare challenges facing the world today. To do that, we need to hire – and develop – the very best talent. The Pfizer Worldwide Research, Development and Medical postdoctoral training program provides a unique opportunity to pursue ground-breaking research in the areas of disease biology, drug delivery, mechanisms of action, and cutting-edge computation and informatics.
The average tenure of a Pfizer postdoc is 2-4 years. Research progress is closely monitored by our Postdoctoral Program Governance Team to maximize achievements. Each fellow appoints a Scientific Advisory Committee comprised of internal and external members to maximize training and mentorship. The Pfizer Worldwide Research, Development and Medical postdoctoral training program also enhances professional development with multiple on-, off-, and cross-site training opportunities.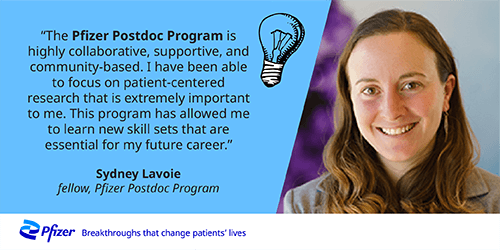 In the Pfizer WRDM Postdoctoral Training Program, you will enhance your research and career training in a culture committed to translating basic scientific research into impactful medicines for patients of all ages and geographies. With over 40 postdocs at nearly a dozen company campuses, our postdoctoral fellows achieve great science in a vast range of research areas, units, and disciplines.
Research Areas

Centers for Therapeutic Innovation (fostering Pfizer partnerships with academic labs in multiple disease areas) 
Clinical Pharmacology
Comparative medicine
Computational chemistry, biology and biomedicine
Data science
Drug safety
Early clinical development (clinical research, human biology, quantitative medicine)
Human genetics 
Inflammation & immunology 
Biotherapeutics technologies (protein engineering, structural biology)
Medicinal chemistry
Pharmaceutical sciences
Pharmacokinetics, dynamics & metabolism
Metabolic Disease & Cardiovascular Risk 
Oncology

Annual Symposium

The annual postdoc symposium is a great opportunity for our postdocs to share and discuss their work with their peers, as well as the Pfizer scientific community. For the symposium, Pfizer postdocs from all locations come together to present their projects in the form of posters or talks. In addition, the symposium features internal and external speakers, and opportunities for professional development. A key aspect of the annual symposium is networking, therefore, several social events are hosted during the symposium.

Work In Progress Meetings

A great chance for postdocs to regularly discuss their scientific progress and get feedback, are work in progress (WIP) meetings. There are different formats of WIP meetings, such as departmental WIP meetings for a large audience and a more intimate postdoc WIP meeting series. This gives postdocs a chance to show their work to the leadership team.

Journal Clubs

A series of journal clubs are available for postdocs at Pfizer. These can be small meetings within the postdoc's scientific unit or large formats for inter-group meetings with scientists from different groups with a common scientific interest.
"Our postdoctoral fellowship training program focuses on cutting-edge science and technologies that aim to create a knowledge base that will allow us to develop the medicines of the future. Our program provides a unique opportunity for promising scientists to publish breakthrough discoveries that directly impact Pfizer's next generation therapeutics. Trainees are encouraged to pursue independent research and obtain first-hand knowledge of the drug development process which will help guide their career development in translating basic research into the best medicines imaginable for patients. Importantly, trainees are exposed to all aspects of the pharmaceutical industry and are mentored by scientific leaders in drug discovery, development, and all areas of the business."
 - Seng Cheng, Sr. Vice President & Chief Scientific Officer, Rare Disease Research Unit; Postdoc Program Sponsor
APPLY NOW
Find the opportunity that is right for you by clicking the link and search for the keyword 'postdoc': Search Jobs