Company Timeline: a Legacy of Innovation
So much has changed since we were founded in 1849. But not our commitment to finding innovations that help people. Explore the milestones along our journey.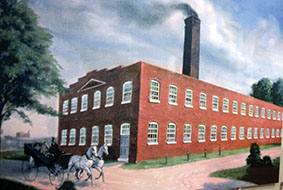 1849
Cousins Charles Pfizer and Charles Erhart founded Charles Pfizer & Company in a red brick building in Brooklyn, NY.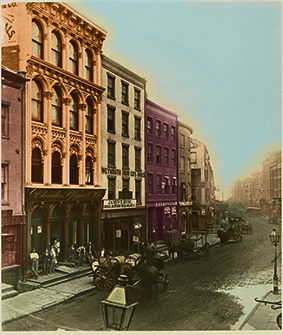 1868
Pfizer buys and renovates a post-Revolutionary-era building at 81 Maiden Lane in Manhattan and moves its headquarters there.
The expansion propelled by the Civil War continues and Pfizer's revenues double.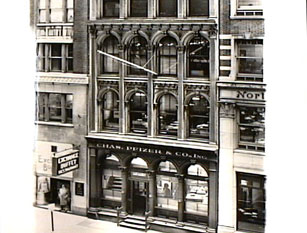 1882
Spurred by America's westward expansion and its own growing number of clients west of the Mississippi, Pfizer opens offices and a warehouse in Chicago, Illinois, its first location outside of New York.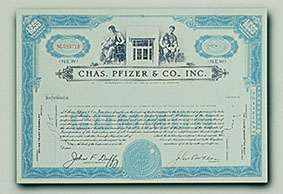 1900
Pfizer files an official certificate of incorporation in the state of New Jersey, with authorized capital of $2 million divided into 20,000 shares of $100 each.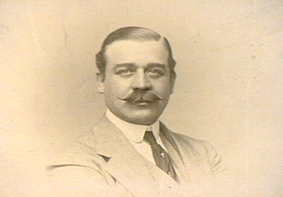 1905
Emile Pfizer was the last member of the Pfizer/Erhart family to be actively involved with the company. He was president from 1906 to 1941.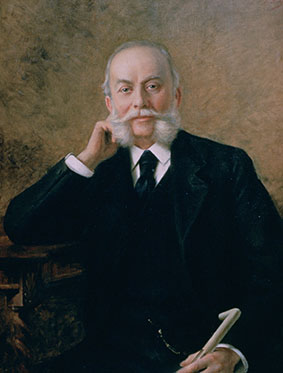 1906
At the age of 82, Charles Pfizer dies while vacationing at his Newport, Rhode Island estate. A tribute to Pfizer in The New York Tribune notes that "by bringing to his task a thorough German technical education, great industry, and determination, he successfully met all difficulties and each year expanded his business." Company sales exceed $3 million.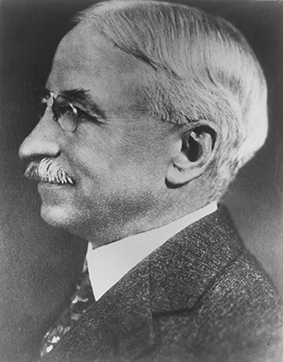 1914
John Anderson, starting at Pfizer in 1873 as an office boy, opened the company's first branch in Chicago within ten years. Later he served as Chairman of the Board, 1914-1929.
The Board of Directors creates the position of Chairman and elects John Anderson to that post. Anderson, who had joined Pfizer in 1873 as a 16-year-old office boy, would remain Chairman until 1929.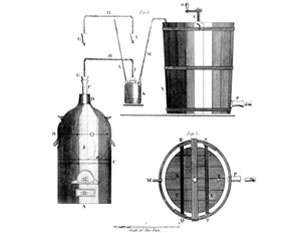 1919
Pfizer chemist James Currie and his assistant, Jasper Kane, successfully pioneer the mass production of citric acid from sugar through mold fermentation—an achievement that eventually frees Pfizer from dependency on European citrus growers.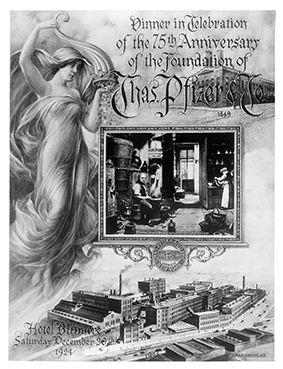 1924
Charles Pfizer & Co. turns 75 years old. A celebration at the Brooklyn plant, which has 306 employees, marks the milestone.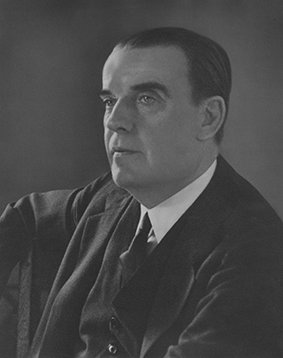 1929
William H. Erhart, son of Charles Erhart, one of the two original founders. He became vice president of the company in 1900 and served as Chairman of the Board from 1929 to 1940.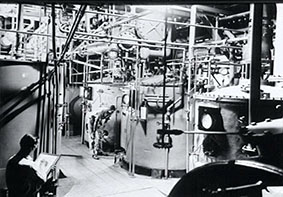 1936
Doctor Richard Pasternack develops a fermentation-free method for producing ascorbic acid, vitamin C. After building a new plant and initiating a 24-hour-a-day, seven-day-a-week production schedule, Pfizer becomes the world's leading producer of vitamin C.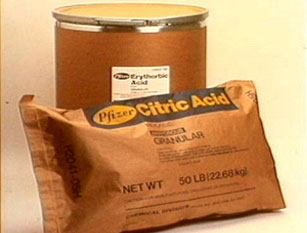 1939
Pfizer succeeds so well in the production of citric acid by fermenting sugar that a pound of citric acid, which had cost $1.25 in 1919, tumbles to 20¢, and Pfizer is widely recognized as a leader in fermentation technology.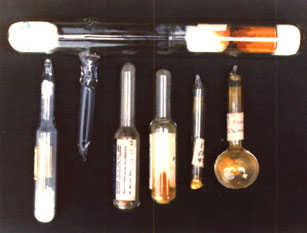 1941
Pfizer responds to an appeal from the United States Government to expedite the manufacture of penicillin to treat Allied soldiers fighting in World War II. Of the companies pursuing mass production of penicillin, Pfizer alone uses fermentation technology.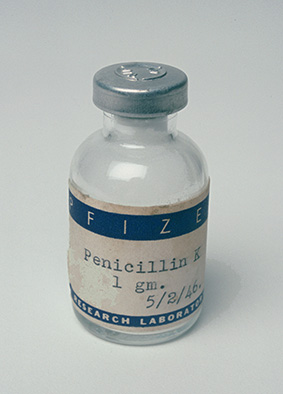 1944
Pfizer is successful in its efforts to mass-produce pencillin and becomes the world's largest producer of the "miracle drug."
Using deep-tank fermentation, Pfizer is successful in its efforts to mass-produce penicillin and becomes the world's largest producer of the "miracle drug."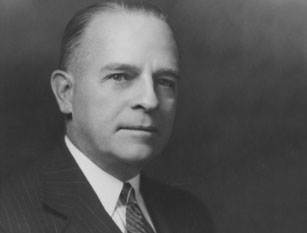 1945
George A. Anderson becomes Pfizer's chairman of the board. John L. Smith fills the office of President.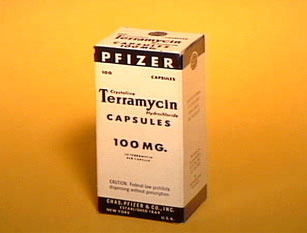 1950
Terramycin® (oxytetracycline), a broad-spectrum antibiotic that is the result of the Company's first discovery program, becomes the first pharmaceutical sold in the United States under the Pfizer label. Pfizer begins expansion into overseas markets and the International Division is created.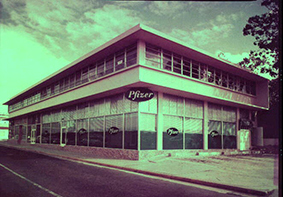 1951
In a major international expansion, Pfizer operations are established in Belgium, Brazil, Canada, Cuba, England, Mexico, Panama, and Puerto Rico. John "Jack" Powers, Jr., then assistant to Pfizer President John McKeen, directs his international teams to "study the economy, establish proper contacts with government officials, learn the language, history, and customs, and hire local employees wherever possible."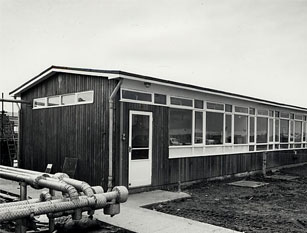 1952
Pfizer establishes an Agricultural Division dedicated to offering cutting-edge solutions to animal health problems. The division opens its 700-acre farm and research facility in Terre Haute, Indiana.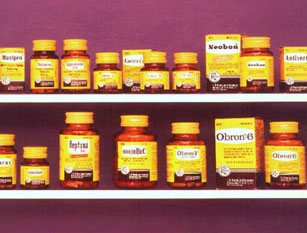 1953
After it's acquisition, J.B. Roerig and Company, specialists in nutritional supplements, becomes a division of Pfizer. Roerig remains an integral part of Pfizer's outstanding marketing division.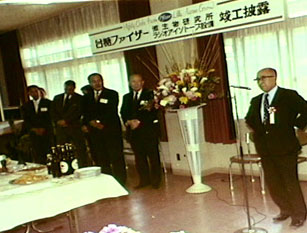 1955
A fermentation plant opens in England, laying the foundation for Pfizer's research and development operations in Great Britain. Pfizer partners with Japan's Taito to manufacture and distribute antibiotics. Pfizer acquires full ownership of Taito in 1983.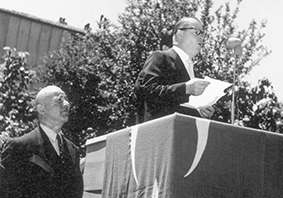 1958
New Pfizer pharmaceutical plants begin production in Mexico, Italy, and Turkey. International personnel increases from 4,300 in 1957 to over 7,000.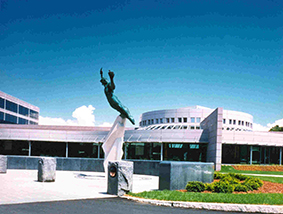 1960
The Company signals its increasing commitment to research by consolidating its medical research laboratory operations in Groton, Connecticut.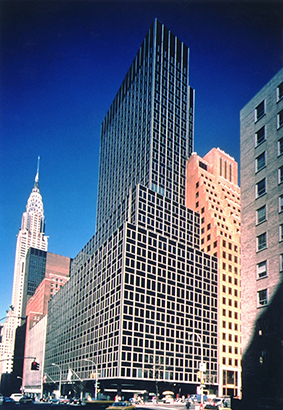 1961
Pfizer begins a decade of substantial growth and establishes new World Headquarters in midtown Manhattan.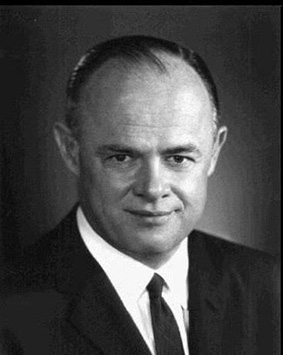 1965
John J. Powers, Jr. President and Chief Executive Officer Chas. Pfizer & Co., Inc. 1966.
John J. Powers, Jr.,is named president and CEO. John McKeen, whom he succeeds, remains chairman of the board, a position he holds until 1968, when Powers assumes full leadership of the company.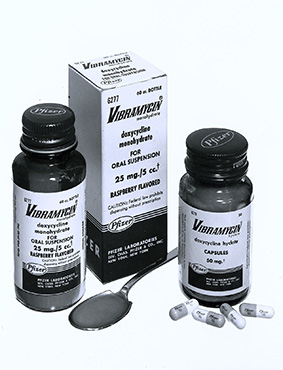 1967
Vibramycin® (doxycycline hyclate), the company's first once-a-day broad-spectrum antibiotic is introduced and quickly becomes a top seller.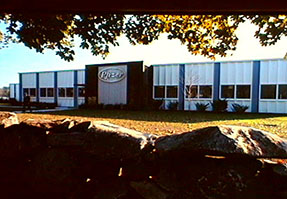 1971
Pfizer acquires Mack Illertissen, a prosperous manufacturer of pharmaceutical, chemical, and consumer products oriented to the needs of the German marketplace.The Central Research Division is established, combining pharmaceutical, agricultural, and chemical R&D worldwide. It eventually grows to include research centers on three continents. In an era of unprecedented advances in medical discovery, Pfizer makes a long-term investment in research that will pay off years later.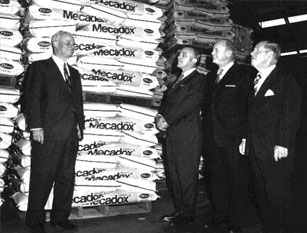 1972
Pfizer crosses the billion-dollar sales threshold. John Powers, Jr., steps down; Edmund T. Pratt, Jr., becomes CEO; and Gerald D. Laubauch becomes President.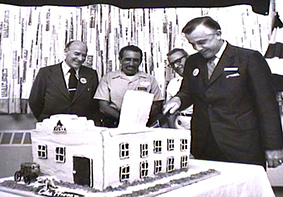 1976
Pfizer introduces Minipress® (prazosin HCI) in the United States, for the control of high blood pressure.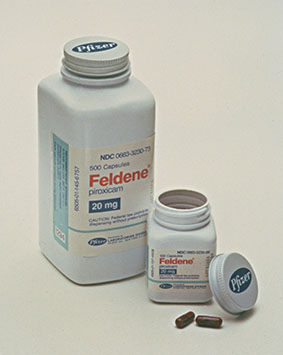 1980
Feldene® (piroxicam) becomes one of the largest-selling prescription anti-inflammatory medications in the world and, ultimately, Pfizer's first product to reach a total of a billion United States dollars in sales.
1984
Glucotrol® (glipizide), for diabetes, is launched.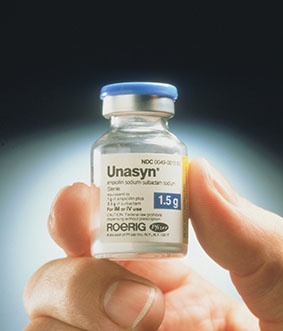 1986
Pfizer introduces Unasyn® (ampicillin sulbactam), an injectable antibiotic.
1986
The Agricultural Division is renamed the Animal Health Division.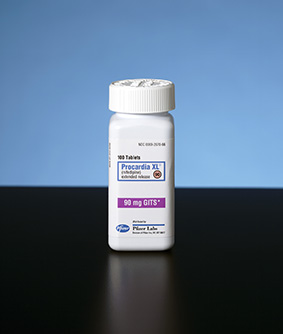 1989
Pfizer launches Procardia® XL (nifedipine) extended-release tablets, an innovative once-a-day medication for angina and hypertension.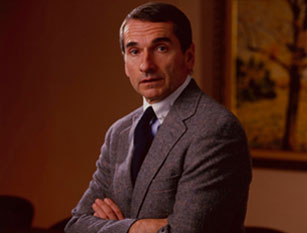 1990
William C. Steere, Jr., is appointed President. A year later, he is also named Chief Executive Officer.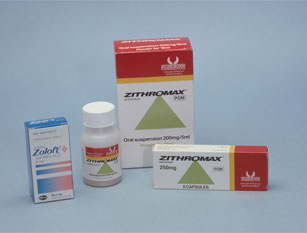 1992
William C. Steere, Jr. becomes Chairman of the Board. His goal is to refocus the Company on its core competencies.
Pfizer has a triple rollout of major new medicines: Zoloft® (sertraline hydrochloride) for treatment of depression, Norvasc® (amlodipine besylate) for control of angina and hypertension, and Zithromax® (azithromycin) for respiratory and skin infections.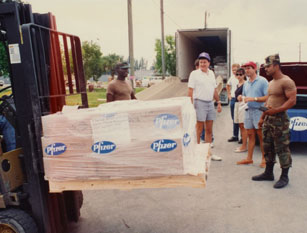 1993
Pfizer's Sharing the Care, the industry's premier drug-donation program, is launched. Sharing the Care provides medicines to more than one million eligible low-income and uninsured patients throughout the United States.
1995
The Animal Health Division purchases SmithKline Beecham's animal health business, making Pfizer a world leader in the development and production of pharmaceuticals for livestock and companion animals.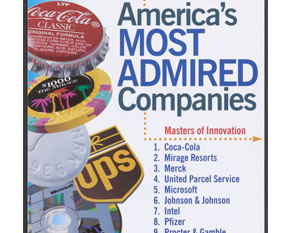 1997
Fortune® magazine names Pfizer the world's most admired pharmaceutical company.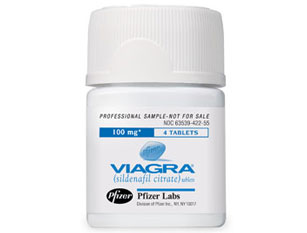 1998
Pfizer's roster of outstanding drugs grows with the launch of Viagra® (sildenafil citrate), a breakthrough treatment for erectile dysfunction.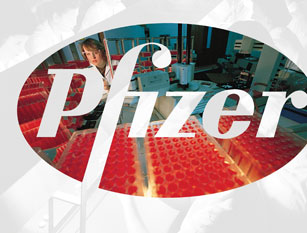 1999
Pfizer celebrates its 150th anniversary as one of the world's premier pharmaceutical companies. Recognized for its success in discovering and developing innovative drugs for human discovery, Forbes® magazine names Pfizer "Company of the Year." Pfizer takes the drug discovery process to a new level of efficiency with the opening of the Discovery Technology Center in Cambridge, Massachusetts.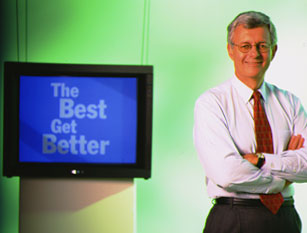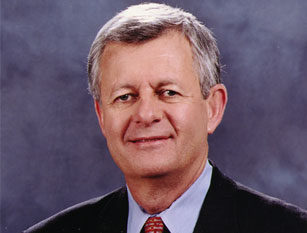 2001
William C. Steere, Jr. announces his retirement as CEO on January 1, 2001, and steps down as Chairman of the Board in April, following the company's annual meeting. Henry A. McKinnell, Jr., Ph.D. succeeds William C. Steere, Jr. as Chairman and Chief Executive Officer.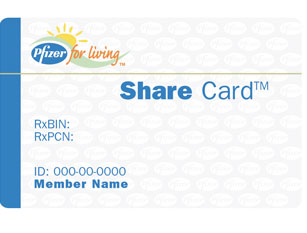 2002
In a major expansion of its commitment to improving health care for low-income Americans, Pfizer introduces The Pfizer For Living™ Share Card Program. The program provides qualified low-income Medicare beneficiaries with access to up to a 30-day supply of any prescription medicine for a flat rate of $15 per prescription. By April 2004, over half a million seniors enrolled in the program and nearly five million prescriptions were filled.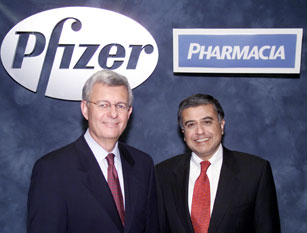 2003
Pfizer invests more than $7.1 billion in research and development.
On April 16, 2003 Pfizer Inc and Pharmacia Corporation combine operations, bringing together two of the world´s fastest-growing and most innovative companies. Learn more about the Pfizer/Pharmacia merger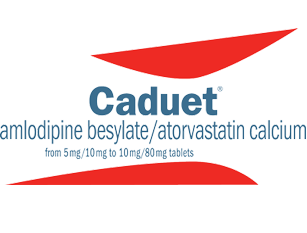 2004
Pfizer Inc is selected by Dow Jones and Co. to be included in the Dow Jones Industrial Average, which is the best-known stock market barometer in the world.
Caduet® (amlodipine besylate and atorvastatin calcium), the first single pill that treats both high blood pressure and high cholesterol, is launched.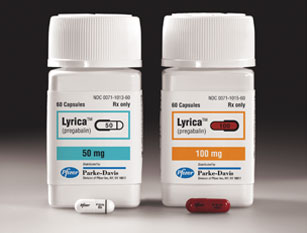 2005
Pfizer launches Lyrica® (pregabalin), the first treatment approved by the U.S. Food and Drug Administration to treat two distinct forms of neuropathic pain associated with diabetic peripheral neuropathy (DPN), postherpetic neuralgia (PHN) and adjunctive treatment of partial onset seizures in adults with epilepsy.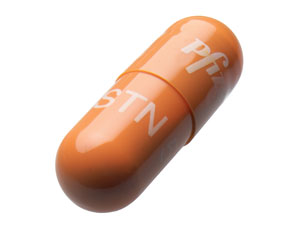 2006
Pfizer's roster of outstanding drugs grows with the launch of Sutent® (sunitinib malate), a new, oral, multikinase inhibitor to treat patients with metastatic renal cell carcinoma (mRCC), or advanced kidney cancer, and gastrointestinal stromal tumor (GIST) after disease progression on, or intolerance to, imatinib mesylate.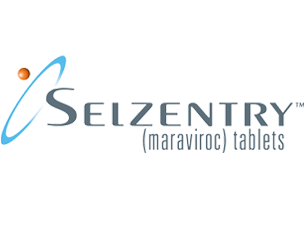 2007
Pfizer launches Selzentry™ (maraviroc) tablets, the first in a new class of oral HIV medicines in more than 10 years. Selzentry blocks viral entry into white blood cells, significantly reducing viral load and increasing T-cell counts in treatment-experienced patients infected with a specific type of HIV.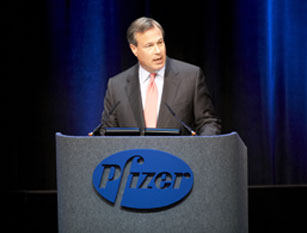 2008
Jeff Kindler, Chairman and CEO of Pfizer, announces the next step in the company's evolution and outlines the company's plan to establish smaller operating units designed to enhance innovation and accountability, while drawing upon the advantages of Pfizer's scale and resources. These customer-focused business units allow Pfizer to better anticipate and respond to customers' and patients' needs, as well responds to changes in the marketplace.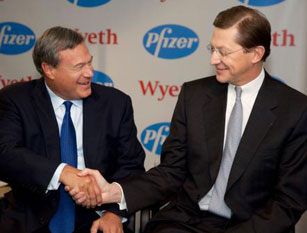 2009
On October 15, 2009, Pfizer acquires Wyeth, creating a company with a broad range of products and therapies that touch the lives of patients and consumers every day and at every stage of life.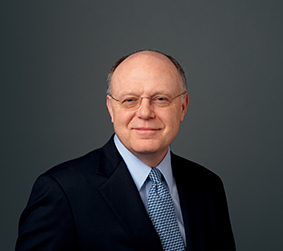 2010
Ian Read joins Pfizer as Chief Executive Officer. Prior to this, he served as Senior Vice President and Group President of the Worldwide Biopharmaceutical Businesses, which he led from 2006 through December 2010. In that role, he oversaw five global business units—Primary Care, Specialty Care, Oncology, Established Products and Emerging Markets.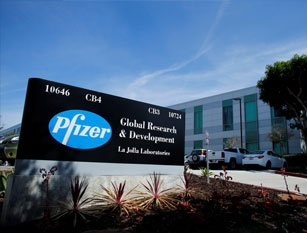 2010
Pfizer announces a diversified R&D platform named Pfizer Worldwide Research and Development, supporting excellence in small molecules, large molecules and vaccine research and development.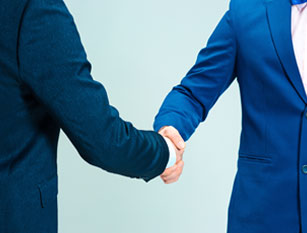 2011
Pfizer Completes Sale of Capsugel Business to KKR.
Pfizer announces that it has completed the sale of its Capsugel business to an affiliate of Kohlberg Kravis Roberts & Co. L.P. (together with its affiliates, "KKR"), following the receipt of required regulatory clearances, including in the U.S. and the European Union.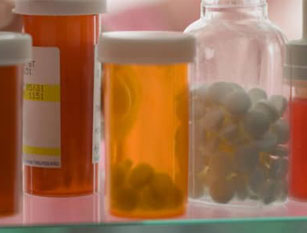 2012
Pfizer's subsidiary, Zoetis™ Inc, files IPO registration statement
Pfizer's subsidiary, Zoetis™ Inc., files a registration statement with the U.S. Securities and Exchange Commission for a potential initial public offering (IPO) of Class A common stock. The offering is expected to represent an ownership stake of up to 20 percent. Prior to completion of the offering, which is targeted for the first half of 2013, Pfizer will transfer its animal health business to Zoetis.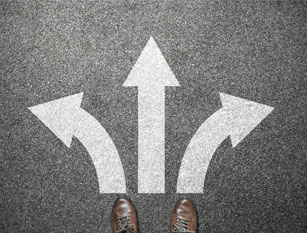 2013
Pfizer announces plans to move forward to internally separate its commercial operations into three business segments, two of which will include Innovative business lines and a third which will include the Value business line. Each of the three segments will include developed markets and emerging markets.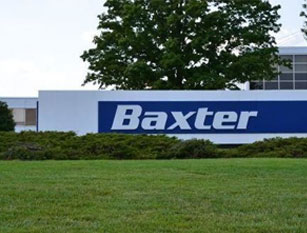 2014
Pfizer announces that it has entered into a definitive agreement to acquire Baxter International Inc.'s portfolio of marketed vaccines for $635 million. As part of the transaction, Pfizer will also acquire a portion of Baxter's facility in Orth, Austria, where these vaccines are manufactured.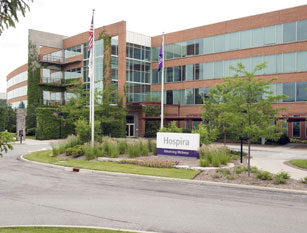 2015
Pfizer announces that they have entered into a definitive merger agreement under which Pfizer will acquire Hospira. This strategically complementary combination adds a growing revenue stream and a platform for growth for Pfizer's GEP business.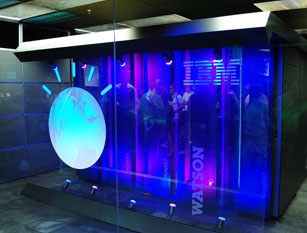 2016
Watson Health and Pfizer announce a collaboration that will utilize IBM Watson for Drug Discovery to help accelerate Pfizer's research in immuno-oncology, an approach to cancer treatment that uses the body's immune system to help fight cancer.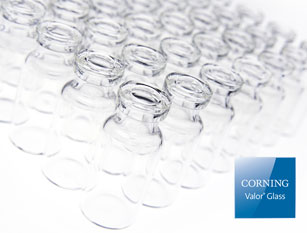 2017
Pfizer and Corning Incorporated announce collaborations that have enabled the modernization of pharmaceutical packaging with the introduction of Corning Valor™ Glass. This revolutionary pharmaceutical glass packaging solution enhances the storage and delivery of today's drug formulations and provides more reliable access to medicines essential to public health.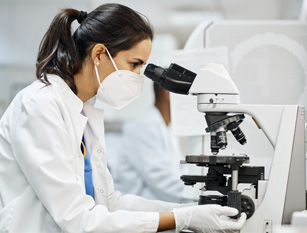 2020-2021
Pfizer leads the world in developing a vaccine and treatment in response to the COVID-19 pandemic and commits to lightspeed manufacturing to expand vaccine and treatment access to people around the world.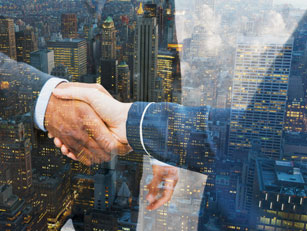 2022
Pfizer acquires several companies:
Arena Pharmaceuticals, a clinical-stage company developing innovative potential therapies for the treatment of several immuno-inflammatory diseases
Annual Review
Pfizer is committed to providing shareholders, potential investors, and the public with a transparent view of our efforts toward fulfilling our purpose: Breakthroughs that change patients' lives. To that end, our annual reports detail the strategic development, operations, and financial condition of our business.
View the 2021 Annual Review
View the 2020 Annual Review
View the 2019 Annual Review
View the 2018 Annual Review
View the 2017 Annual Review
View the 2016 Annual Review
View the 2015 Annual Review
View the 2014 Annual Review
View the 2013 Annual Review
View the 2012 Annual Review
View the 2011 Annual Review
View the 2010 Annual Review
View the 2009 Annual Review
View the 2008 Annual Review
View the 2007 Annual Review
View the 2006 Annual Review
View the 2005 Annual Review
Our Purpose
We're in relentless pursuit of breakthroughs that change patients' lives.
We innovate every day to make the world a healthier place. It was Charles Pfizer's vision at the beginning and it holds true today. 
Our Careers
Incredible things can happen when people come together with one shared goal. The future of medicine is happening at Pfizer, and we're eager to work alongside inspired and inspirational people who want to make things better.Incredible things can happen when people come together with one shared goal. The future of medicine is happening here, and we're eager to work alongside inspired and inspirational people who want to improve health around the world. 
Explore our Careers
To Our Investors
Our ambitions are big and our product pipeline has never been stronger. We're energized and inspired to apply science and our global resources to develop and deliver breakthrough therapies to people everywhere.
To Our Investors