Our Purpose
We're in relentless pursuit of breakthroughs that change patients' lives. We innovate every day to make the world a healthier place. It was Charles Pfizer's vision at the beginning and it holds true today.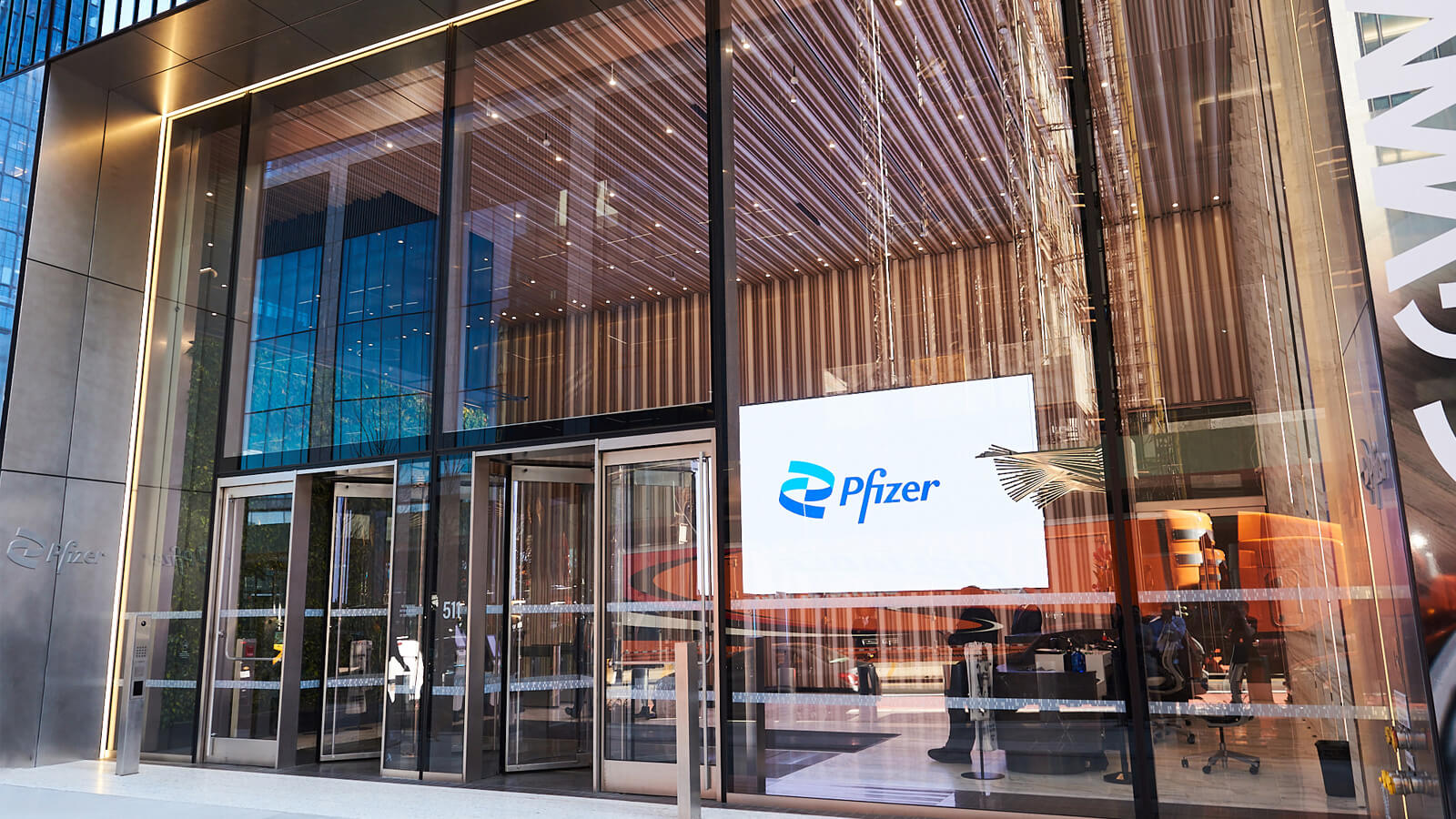 Living Our Purpose
Breakthroughs that change patients' lives
Research confirms what intuition tells us: that purpose-driven companies perform better, are more innovative, attract and retain the best people, and know how to unleash the power of those people. Pfizer's purpose—Breakthroughs that change patients' lives—fuels everything we do and reflects our passion for building on our legacy as one of the greatest contributors of good to the world.
Each word in our purpose has meaning and reflects the value we strive to bring to patients and society
 
"Breakthroughs"
These are the innovations, scientific and commercial, that we seek to deliver every day. All colleagues, regardless of role, level or location, strive for breakthroughs every day.
"Change"
We want to do more than simply improve patients' medical conditions; we want to dramatically change their lives for the better.
"Patients' lives"
We consider not only patients, but everyone they touch—including their families, caregivers, and friends—and everything they love to do. It's an intentionally holistic view.

Our purpose ensures that patients remain at the center of all we do. We live our purpose by sourcing the best science in the world; partnering with others in the healthcare system to improve access to our medicines; using digital technologies to enhance our drug discovery and development, as well as patient outcomes; and leading the conversation to advocate for pro-innovation/pro-patient policies.
Every decision we make and every action we take is done with the patient in mind—and to nurture an environment where breakthroughs can thrive.
Our Values
To fully realize Pfizer's purpose, we have established a clear set of expectations regarding "what" we need to achieve for patients and "how" we will go about achieving those goals.
The "how" is represented by four simple, powerful values—courage, excellence, equity, and joy—that define our company and our culture.

Breakthroughs start by challenging convention, especially in the face of uncertainty or adversity. This happens when we think big, speak up, and are decisive.

We can only change patients' lives when we perform at our best together. This happens when we focus on what matters, agree who does what, and measure our outcomes.

We believe that every person deserves to be seen, heard, and cared for. This happens when we are inclusive, act with integrity, and reduce healthcare disparities.

We give ourselves to our work, but it also gives to us. We find joy when we take pride, recognize one another, and have fun.
Our Bold Moves
Pfizer's Purpose Blueprint 2023
What do you do after you achieve the impossible? You do it again. At Pfizer, we redefine the limits of scientific discovery every day, applying 174 years of life-changing innovations to build a brighter and better future. We've achieved goals that felt unachievable just years ago—and now we're asking, "what's next?"
In March 2023, Pfizer announced a new Purpose Blueprint, outlining 5 new Principles and 15 new Big Ideas that will guide us for the next few years, as we set our ambition to "Change a billion lives a year" by 2027.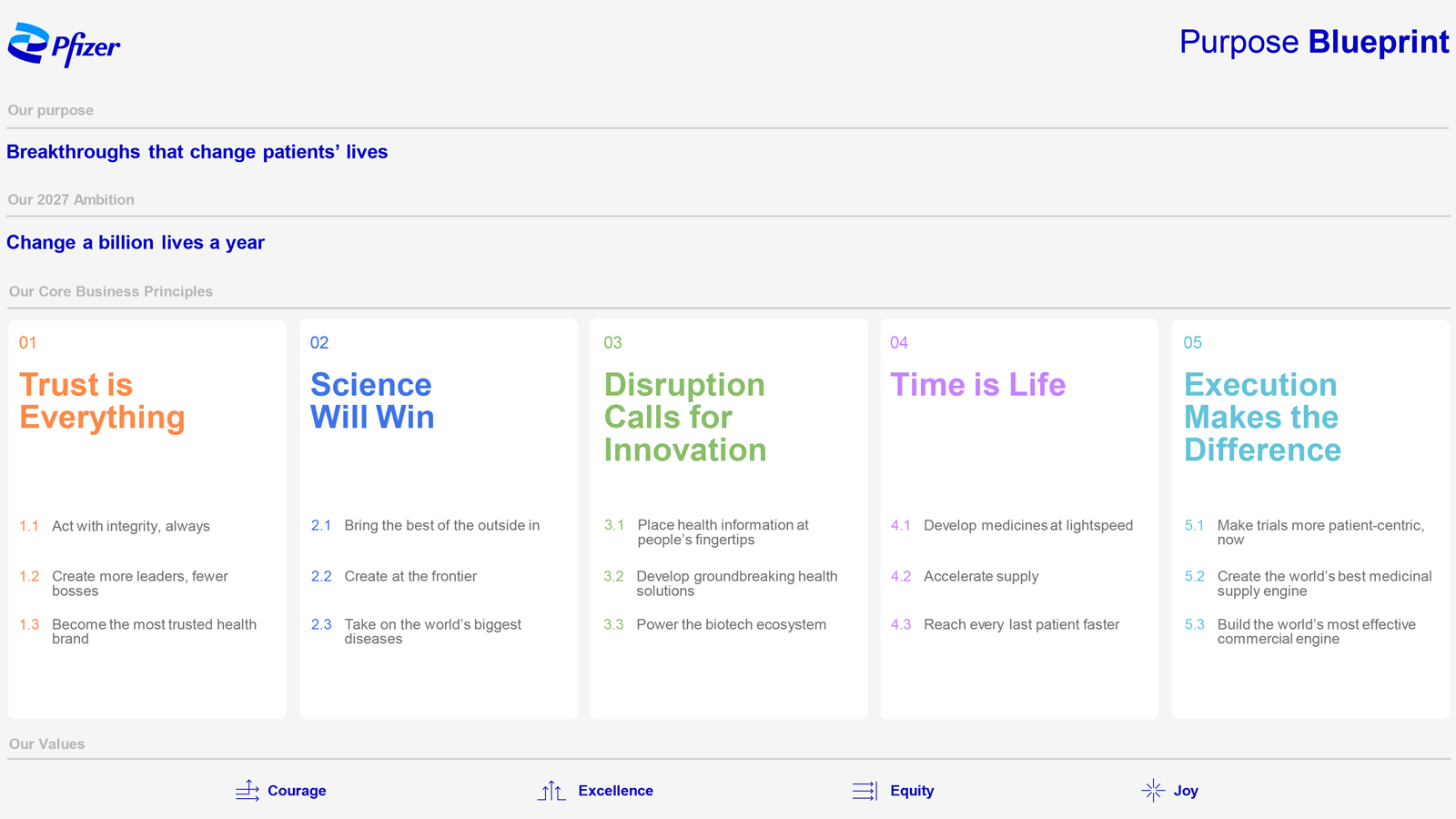 Pfizer's Purpose Blueprint 2019
In 2019, Pfizer announced a commitment to become a purpose-driven organization, establishing a Purpose Blueprint of 5 aspirational Bold Moves: "Unleash the power of our people," "Deliver first-in-class science," "Transform our go-to-market model," "Win the digital race in pharma," and "Lead the conversation." These concepts guided us as we worked to achieve our Ambition: getting 25 breakthroughs in patients' hands by 2025.
Within 4 years, Pfizer had delivered those 25 breakthroughs to patients. In the process, Pfizer facilitated more than 1.3 billion patients being treated,1 had 80% brand awareness with consumers, and was named on ten Best Employer lists, including Fortune and PatientView.
Frequently Asked Questions
What is Pfizer's mission and vision?

Pfizer's mission and vision is better known as Pfizer's purpose, which is Breakthroughs That Change Patients' Lives.

What are Pfizer's core values?

Pfizer culture is driven by four core values: courage, excellence, equity, and joy.

What is Pfizer known for?

Pfizer has developed some of the world's most impactful medicines and vaccines, including a best-selling over-the-counter pain reliever, a popular medicine for anxiety and panic disorder management, an erectile dysfunction treatment, a vaccine to help provide protection against COVID-19, and an oral COVID-19 prescription treatment for patients at high risk of progressing to severe COVID-19.

Is Pfizer a good company to work for?

Pfizer ranked 8th in Fortune World's Most Admired Companies All-Stars (2023), 34th on Forbes Top Employers for Diversity (2022), 24th on LinkedIn's Top Companies: Health Care (2022), and in the top 100 on Glassdoor's Best Places to Work (2022). Read more about our achievements.

When did Pfizer begin?

Charles Pfizer & Company was founded in Brooklyn in 1849 by cousins Charles Pfizer and Charles Erhart, whose first product was an antiparasitic called santonin that treated intestinal worms. They achieved early success by developing citric acid. Read more about Pfizer's history.
The Patients Treated metric is calculated from Pfizer and third-party datasets. Figures may be limited given the coverage provided by external sources (e.g., calendar duration, geographic and product coverage). Numbers are estimates and in some cases use global volume, daily dosage and number of treatment days to facilitate calculations. Methodologies to calculate estimates may vary by product type given the nature of the product and available data. Patients taking multiple Pfizer products may be counted as multiple patients towards total. Numbers include estimated patient counts from U.S. Patient Assistance Programs, ex-U.S. access & affordability programs, product donations and Global Commercial Access Partnerships (this does not include An Accord for a Healthier World). Historical estimates may periodically be subject to revision due to restatements in the underlying data source.