Easing the Healthcare Burden of the Seasonal Triple-demic and Pfizer's Unwavering Commitment to Public Health
Monday, October 16, 2023 - 12:00pm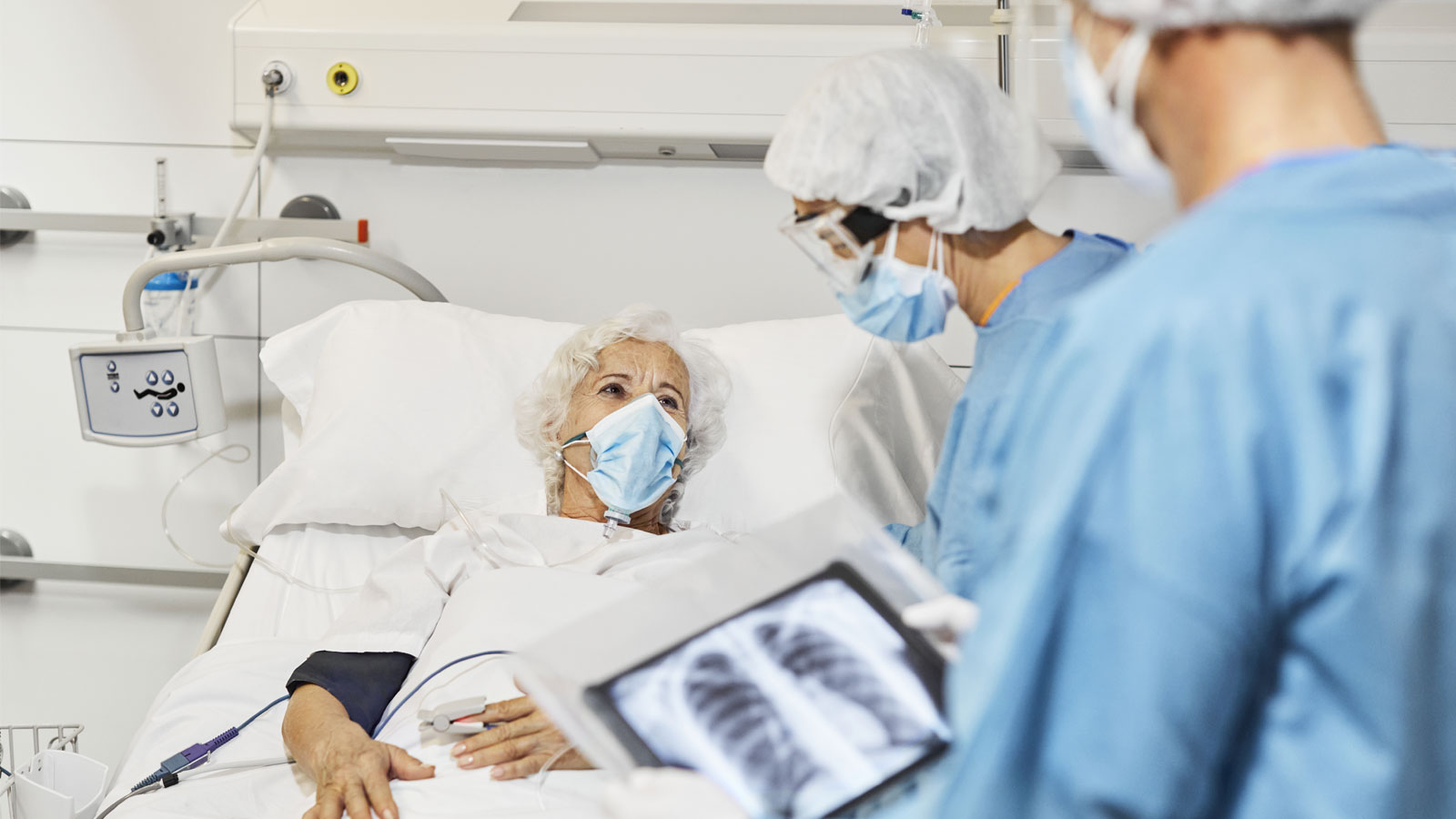 As the cooler fall and winter months approach, we prepare for the potential seasonal increase in cases of certain respiratory viruses including—COVID-19, influenza (flu), and respiratory syncytial virus (RSV). Coined a "triple-demic," the concurrent surge of these three respiratory illnesses not only threatens our individual states of health, but can also place a greater burden on healthcare systems worldwide, diverting resources away from other patients in need. 
In the 2022-2023 season, millions of people contracted one of the three respiratory illnesses.1-5 In fact, flu peaked at a decade-high rate of hospitalizations,6 overwhelming hospital systems. The Centers for Disease Control and Prevention (CDC) expects the upcoming 2023-2024 season will bring a similar number of total hospitalizations from COVID-19, flu, and RSV as seen last year.7 
This "triple-demic" is the result of a complex interplay of factors, each with its own unique challenges. These include: 
1. Common Symptoms: All three respiratory viruses can present with fever, cough, runny nose, sore throat, and body aches. This can make it difficult for individuals to differentiate between the diseases and challenging for healthcare providers to diagnose without conducting tests. Testing is often necessary to provide an accurate diagnosis, which then guides appropriate treatment. 
2. Transmission Dynamics: COVID-19, flu, and RSV all have similar modes of transmission, primarily through respiratory droplets when an infected person coughs, sneezes, or talks. These droplets can enter the bodies of nearby people, leading to the spread of these viruses. Close contact typically seen in indoor settings during the winter months can facilitate transmission. 
3. Virus Variability: Over time, some viruses might mutate, or change, requiring annual updates to vaccines like flu. This unpredictability can create challenges in creating vaccines that are best suited to combat the viruses in circulation that season. 
 At Pfizer, we believe in comprehensive solutions to tackle the challenges of the "triple-demic" head-on. Our toolbox is not limited to preventative vaccines; we also have diagnostic tools and treatments that can help us ease the burden of respiratory illnesses.  
At IDWeek 2023—the annual meeting of key professional groups focused on infectious diseases—we presented data highlighting the real-world effectiveness of COVID-19 treatment, along with results from ongoing early- and late-stage studies from anti-infectives in our pipeline. We also presented data from our robust pipeline of COVID-19, flu, and RSV vaccines. I'm particularly proud of my colleagues across the company for all the work they've done leading up to these presentations.  
Vaccination plays a crucial role in lowering the risk of serious illness. Pfizer has been a leader in vaccine development with proven success in bringing pivotal vaccines to market that help address substantial unmet needs for people of all ages. Our vaccine innovation edge is built on several pillars: our talented teams, clinical development capabilities, a vast manufacturing network, and a diverse vaccine design toolbox. This toolbox allows us to select the right platform technology and the right science for the right pathogen. These strengths enable us to meet the demand for our vaccines and help protect more lives globally. 
Over the last year, we have achieved remarkable milestones, including multiple vaccine approvals and authorizations from the U.S. Food and Drug Administration (FDA) and a continued progression of our ongoing clinical trials. Our extensive teams of skilled researchers, diverse vaccine design platforms, and robust manufacturing capabilities position us as leaders in the field. I am proud to say we vaccinated over one billion people last year alone. 
Here are just a few examples of the work we're doing, which gives me such pride: 
We achieved FDA approval of the RSV vaccine not only for older adults, but also for the protection of infants through active immunization of pregnant individuals 32-36 weeks of gestational age. 
Of the three viruses that are associated with the triple-demic, flu has been the most challenging to bring consistent success. We are encouraged by our efforts to date and have an ongoing Phase 3 clinical trial testing the efficacy of an mRNA-based flu vaccine.  
For COVID-19, we have continued to leverage Pfizer's nimble manufacturing capabilities of mRNA to adapt our vaccine based on the guidance from key regulatory bodies.  
Looking to the future, combination vaccines have the potential to simplify immunization practices against these three respiratory pathogens.8 Our ongoing studies aim to advance potential options for combination vaccines targeted towards COVID-19, flu, and RSV. 
In the coming years, with approvals already in hand and potential approvals on the horizon for our respiratory disease portfolio, we will continue to focus our work on impacting more lives. We remain committed to tackling unmet medical needs and have several programs in clinical studies, evaluating potential combination and standalone vaccines and treatment regimens.  
As a leader in vaccine research and development, I am excited about the road ahead. The future holds immense promise as we continue to push the boundaries of science and develop solutions to address the world's most pressing healthcare challenges. Together, we can look forward to a future where the fall and winter surges of COVID-19, flu, and RSV may have a lower burden on our healthcare system by preventing serious illness with vaccinations and saving lives by bringing new science to advance the latest treatments. 
By Annaliesa Anderson, Ph.D., FAAM 
With more than three decades of pharmaceutical R&D experience, Dr. Anderson serves as Pfizer's Senior Vice President and Head of Vaccine Research and Development. Under her leadership, Pfizer continues to advance the discovery and clinical development of a diverse and robust vaccine pipeline to prevent or treat diseases of significant unmet medical need, including respiratory diseases.  
References 
Respiratory Syncytial Virus Infection (RSV), Surveillance and Research Systems. Centers for Disease Control and Prevention. https://www.cdc.gov/rsv/research/index.html. Last reviewed July 17, 2023. Accessed September 6, 2023. 
Havers, F.  Epidemiology and burden of respiratory syncytial virus in older adults in the U.S. https://stacks.cdc.gov/view/cdc/118594. February 23, 2023. 
The National Respiratory and Enteric Virus Surveillance System (NREVSS). Centers for Disease Control and Prevention. https://www.cdc.gov/surveillance/nrevss/rsv/natl-trend.html. Last updated October 5, 2023. Accessed on October 9, 2023. 
2022-2023 U.S. flu season: Preliminary in-season burden estimates. Centers for Disease Control and Prevention. https://www.cdc.gov/flu/about/burden/preliminary-in-season-estimates.htm. Last reviewed September 28, 2023. Accessed October 5, 2023. 
COVID Data Tracker.  Centers for Disease Control and Prevention. https://covid.cdc.gov/covid-data-tracker/ - trends. Last updated October 6, 2023. Accessed October 9, 2023 
Laboratory-confirmed influenza hospitalizations. Centers for Disease Control and Prevention. https://gis.cdc.gov/grasp/fluview/fluhosprates.html. Last updated September 23, 2023. Accessed October 5, 2023. 
Respiratory disease season outlook. Centers for Disease Control and Prevention. https://www.cdc.gov/forecast-outbreak-analytics/about/season-outlook.html. Last reviewed September 14, 2023. Accessed October 5, 2023. 
Kurosky SK, Davis KL, Krishnarajah G. Effect of combination vaccines on completion and compliance of childhood vaccinations in the United States. Human Vaccines & Immunotherapeutics. 2017 Nov 2;13(11):2494-502.  
Recent Updates and Statements