Helping UC Patients to "Live Fully" with Sunny Anderson
Friday, September 29, 2023 - 04:00pm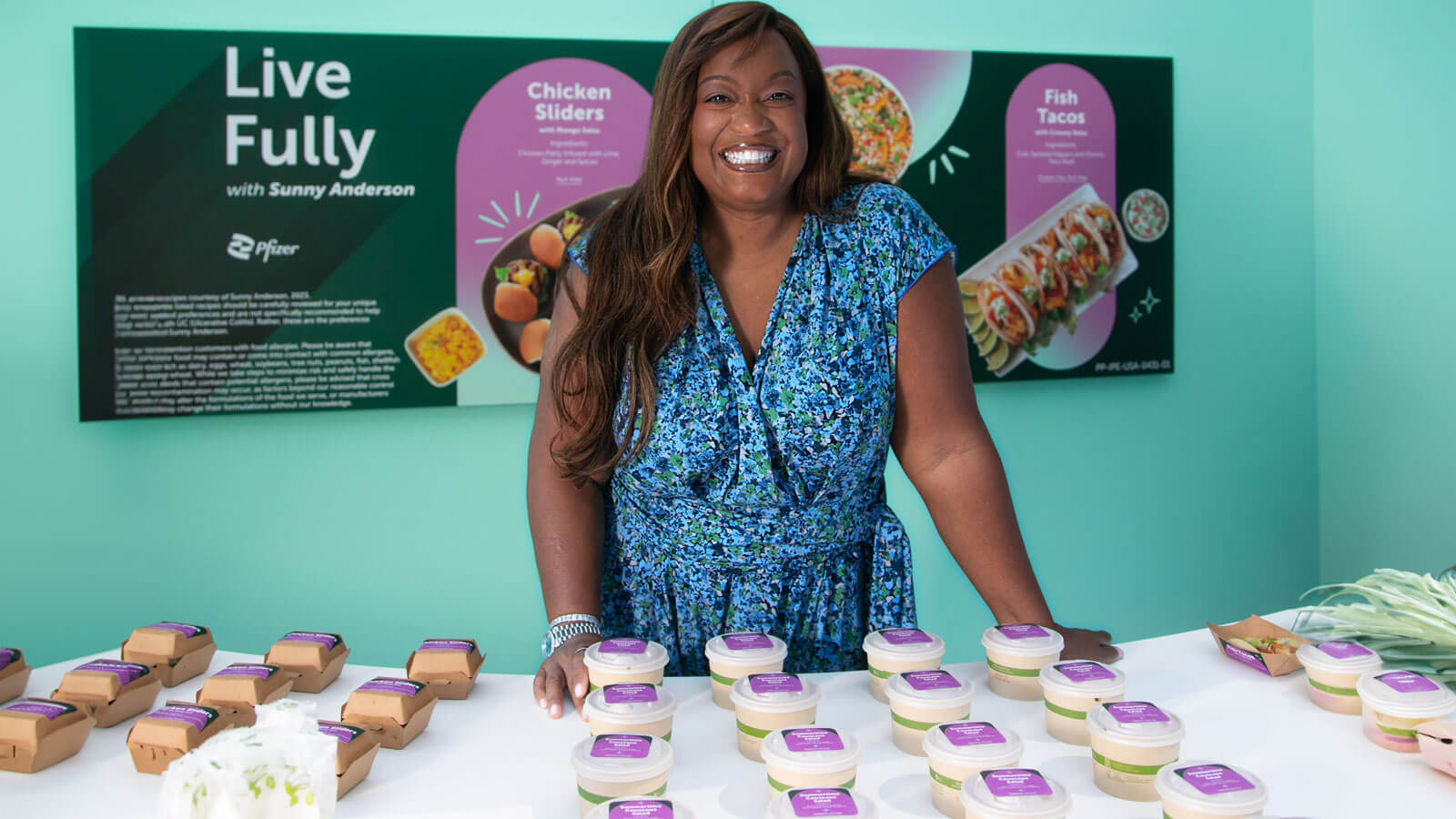 When it comes to understanding certain aspects of disease states and health conditions, there is no substitute for patient experience. That's why Pfizer is so dedicated to communicating with and learning from patients. We are especially grateful for collaborations with patients who use their personal platforms to advocate for and educate the public about the conditions they live with every single day.
We recently partnered with one such patient: popular chef, cooking show host, and influential social media personality Sunny Anderson. Anderson is outspoken about her experience living with ulcerative colitis (UC), a chronic and often debilitating condition that affects an estimated 1.25 million people in the U.S. alone.1 The impact of UC can span beyond the physical symptoms to other aspects of Patients' lives.
Applying her outgoing personality and her expertise as a chef, as well as her personal experience living for years with UC, Anderson helps to create awareness, remove the stigma, and spread health tips for those living with the condition.
"We knew she was someone we wanted to work with. Sunny's willingness to be open and honest about how UC affects her life makes her an ideal partner for Pfizer as we continue to put the patient experience at the center of our mission," says Tricia Ottaviani, U.S. Gastroenterology Marketing Lead for Pfizer. "Sunny is someone who is living fully with UC, and her natural connection to food is so important, because we know that a lot of people living with UC struggle to find foods that work for them."
"I want to make sure others see that living with UC can be just one part of a very full life," Anderson says. "That's why I've teamed up with Pfizer to encourage people with UC to talk to their doctors about the ways UC impacts their overall health and other aspects of their lives."
In August, Pfizer launched "Live Fully", which promotes the idea that UC patients can "live fully"—a mantra for life with UC while that speaks to the way food can make both our lives and bellies full.
"Live Fully is a natural extension of our work on "This is Living with UC", which goes beyond the physical burden of UC to encourage patients to advocate for themselves and take a more active role in their health," says Ottaviani.
As part of "Live Fully", Anderson shares her personal experience with ulcerative colitis to demonstrate how UC can be just one part of a very full life and offers exclusive recipes that work for her.
Earlier this month, she visited Bella Abzug Park in NYC for an in-person "Live Fully" event, where she engaged with attendees and the UC community, sharing tools and resources designed to help patients live well with UC, plus some - delicious recipes that work for her.
More than 700 attendees, including patients and key advocates, had an opportunity to meet and talk to her and try some of her recipes for themselves at a food stand. They could also learn more about Pfizer's "This is Living with UC" app (available for iPhone and Android) and website.
"These tools have the potential to make an impact on patients' daily lives. We've created them to ensure those living with UC have resources that may help to inform their nutrition and diet choices, better understand their pain and fatigue—including tips for healthy sleep and talking with their healthcare provider, and more," says Ottaviani. "And the app puts control in the patient's hands, offering recipes, a food journal, symptom tracker, and more."
"We're determined to help people living with UC dispel the feeling that the condition has to control their life," Ottaviani says. "We want them to know there are resources available to help navigate this difficult disease and ultimately live fully. This is just the beginning."
Recent Updates and Statements