Peering into the Future of Medicine
A Guide to Reading Pfizer's
Product Pipeline Page
By Sachi Fujimori | Aug 2022
At its most basic level, our Product Pipeline page is a summary of the investigational medicines and vaccines that we're currently researching and testing.
But it can mean so much more. 
For one, it's a glimpse into the future. It shines a light into the areas where we've invested heavily in science and technology to bring about potential groundbreaking therapies and vaccines. 
Our Product Pipeline also represents hope and optimism for patients and their caregivers. It could mean new potential treatment options for patients with unmet medical needs. These potential breakthrough therapies could also help patients live longer and improve their quality of life.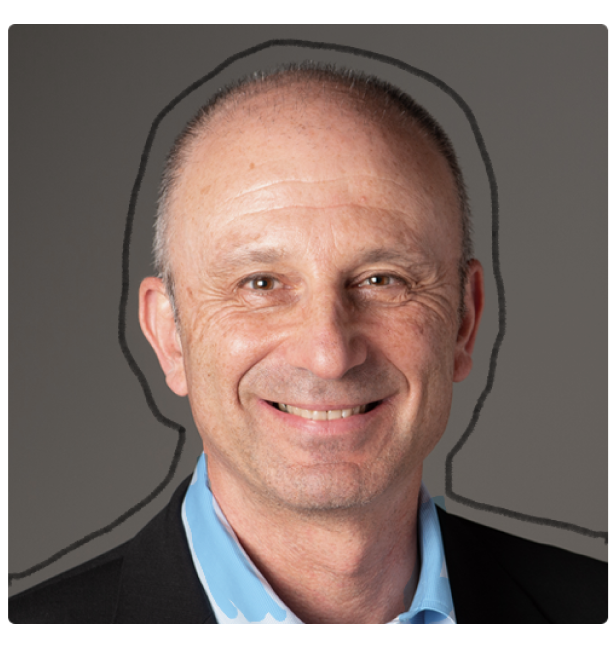 We're in an exciting time for scientific progress, and Pfizer's diverse medicine and vaccine design tools are helping us discover and develop the next wave of potential breakthroughs. We are bold with our ambition and disciplined in our approach, focusing on diseases where we believe our impact can be greatest so we can continue to transform the lives of people everywhere.
For those new to our Product Pipeline, it helps to have a basic understanding of the various numbers, terms, and clinical trial phases included in this summary. Patients, caregivers, and healthcare providers can search this page to see if we're currently developing potential medicines and vaccines related to a specific condition.
Exploring the Pipeline:
A glimpse behind the numbers
Creating medicines and vaccines is a complex process that can be lengthy.
You've probably heard the industry statistics: On average it takes nearly a decade to produce a new medicine or vaccine, and only one out of every 10 of these candidates will make it to patients. But part of the reason it can take so long to develop these new products—and why so many don't make it to approval—is that every candidate must go through rigorous safety and efficacy testing.
Our investigational drugs and vaccines that advance to the clinical trial phase represent those that we believe have the best chance of success. They have undergone years of preclinical development before they are ready to be tested in clinical studies in humans.
Clinical trials are conducted in four phases, each one designed to answer specific questions about the safety and effectiveness of an investigational drug or vaccine.
How to read the product pipeline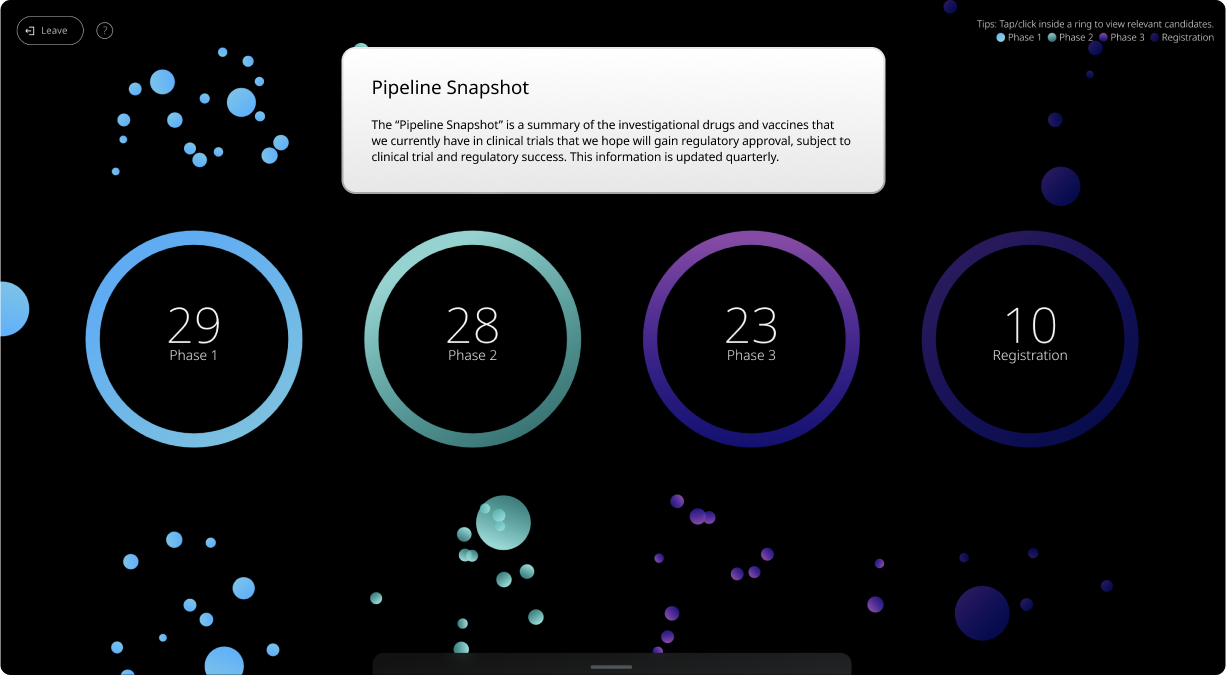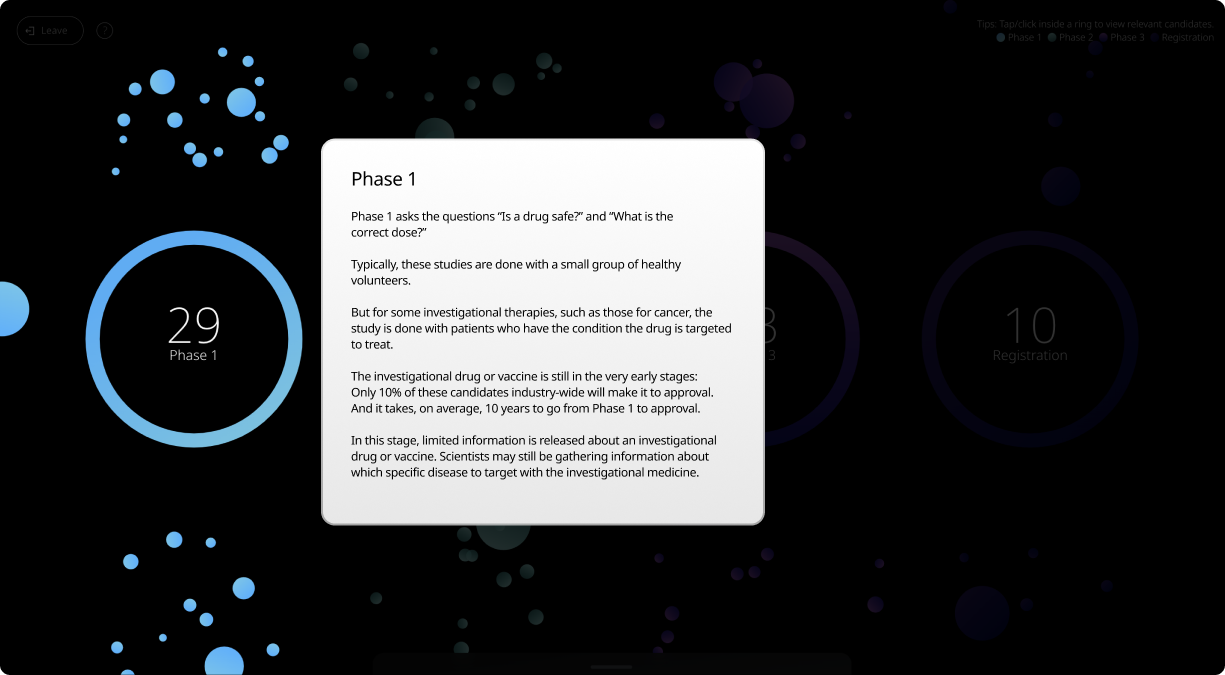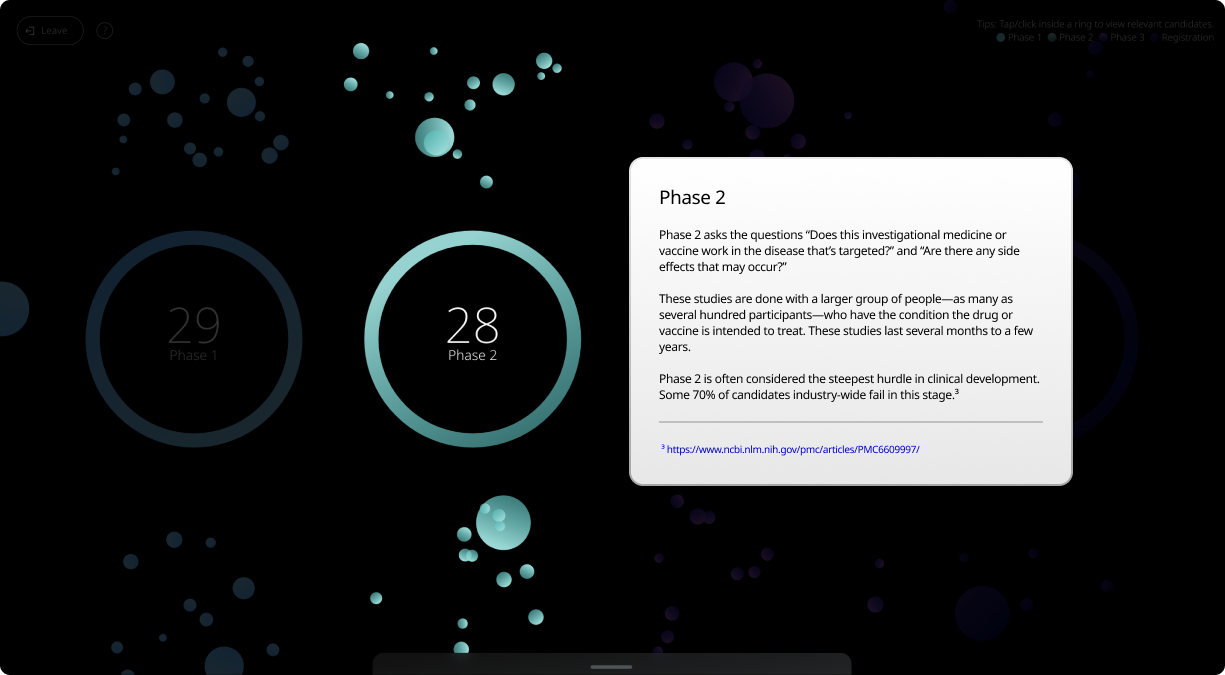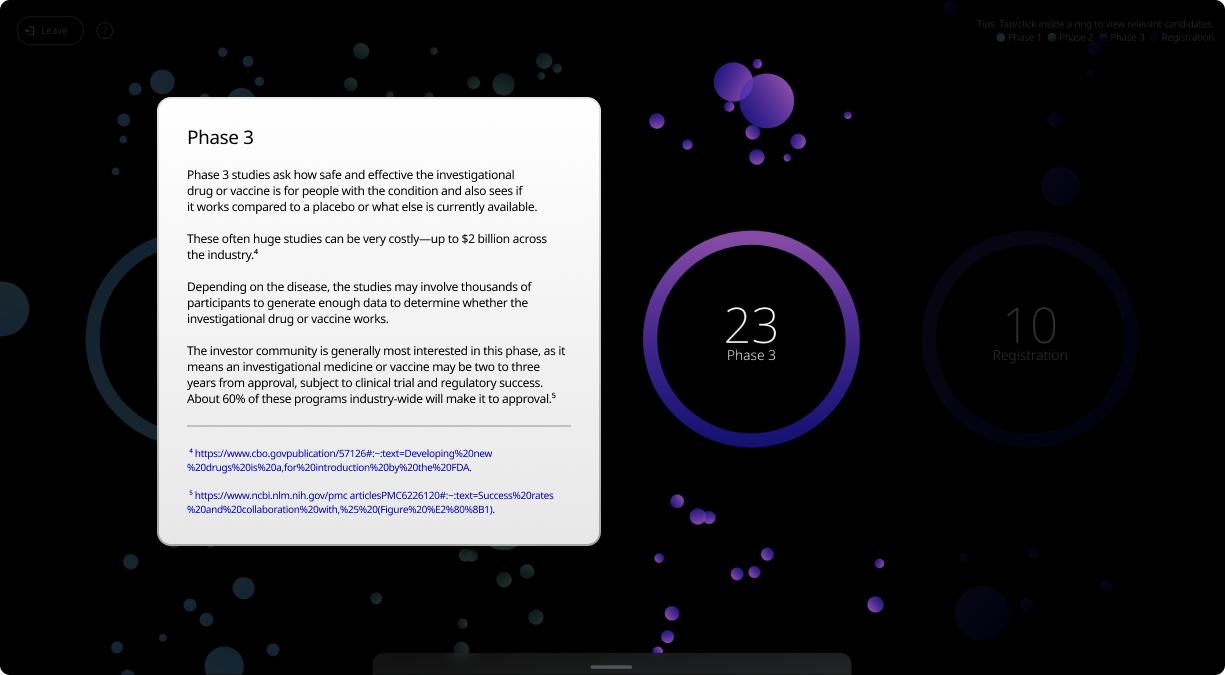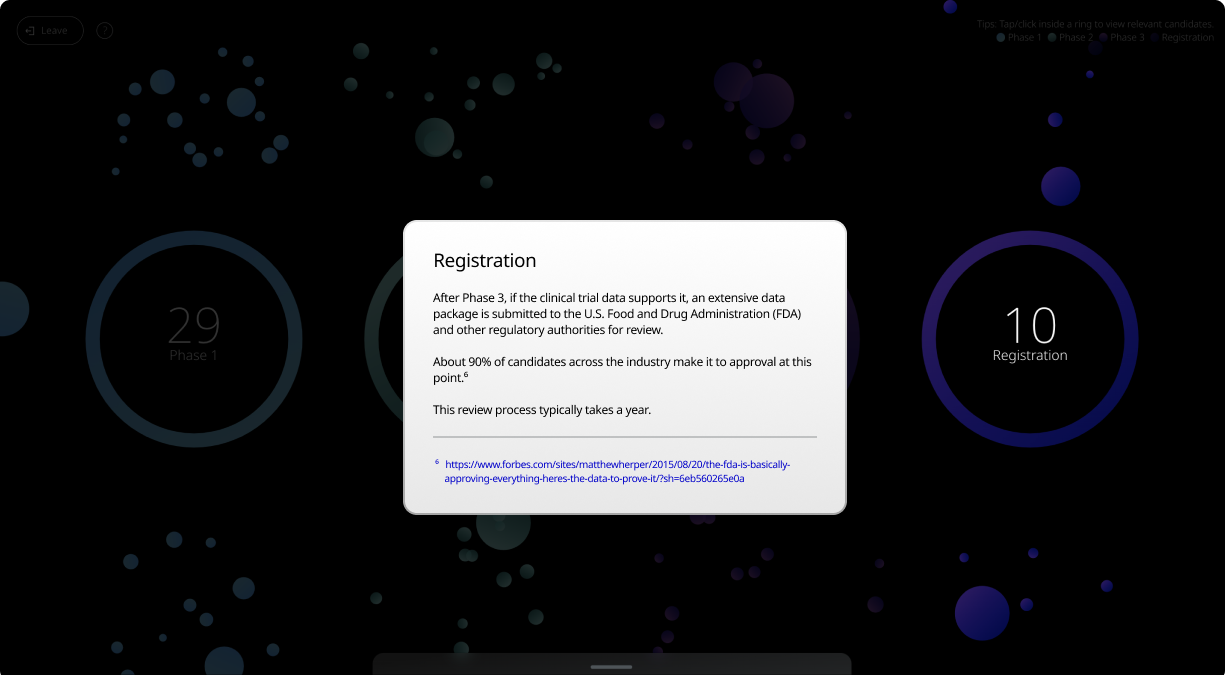 Our Product Pipeline allows you to search for investigational medicines and vaccines based on specific criteria. For example, if you're interested in learning about the cancer drugs that we have in development, you can click on "oncology" in the filter section. Or you can click on the different phases to see how close an investigational treatment is to registration.
How to read the filter options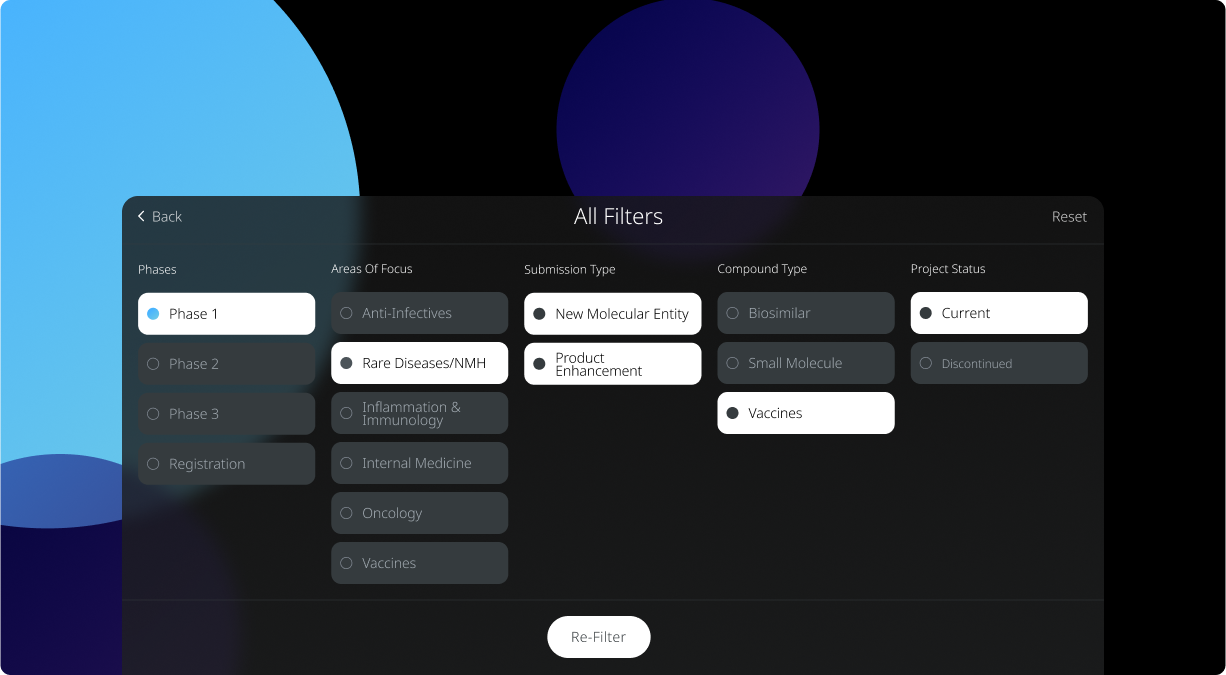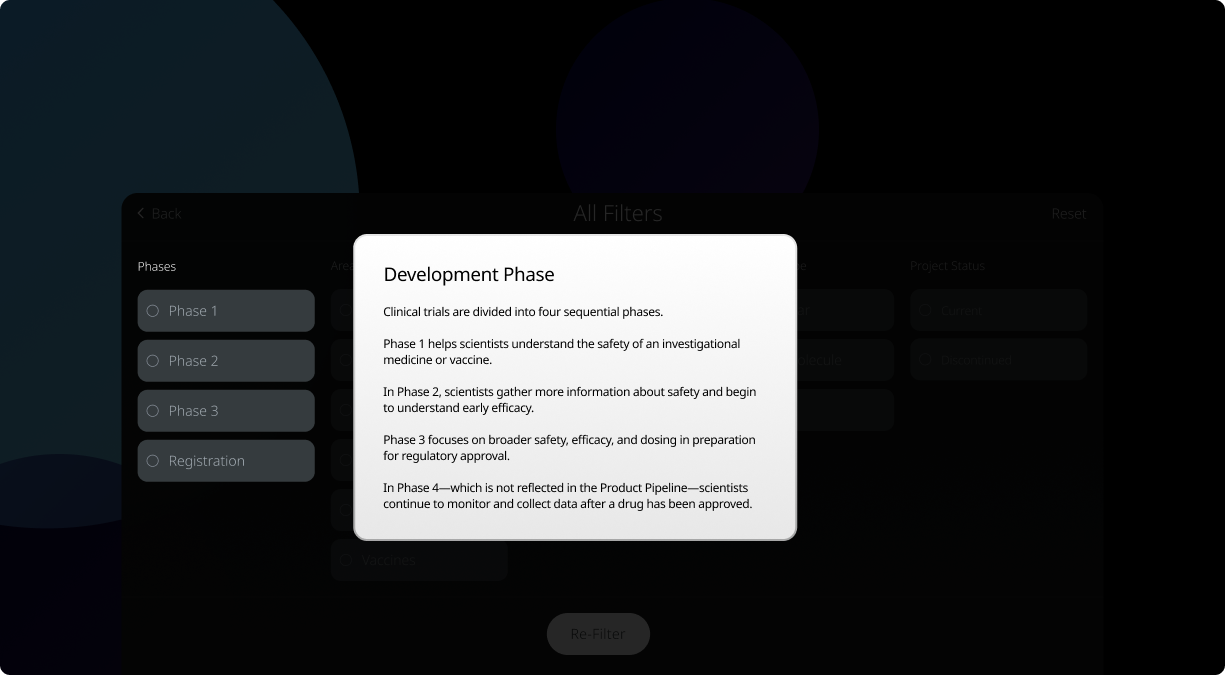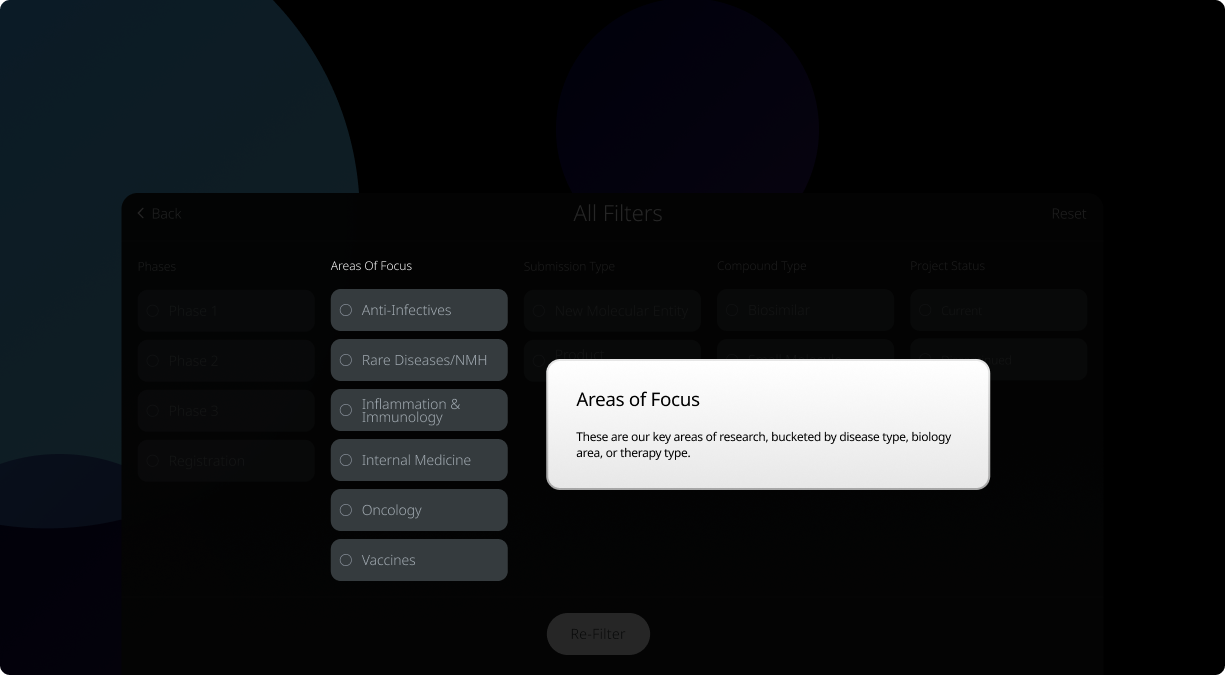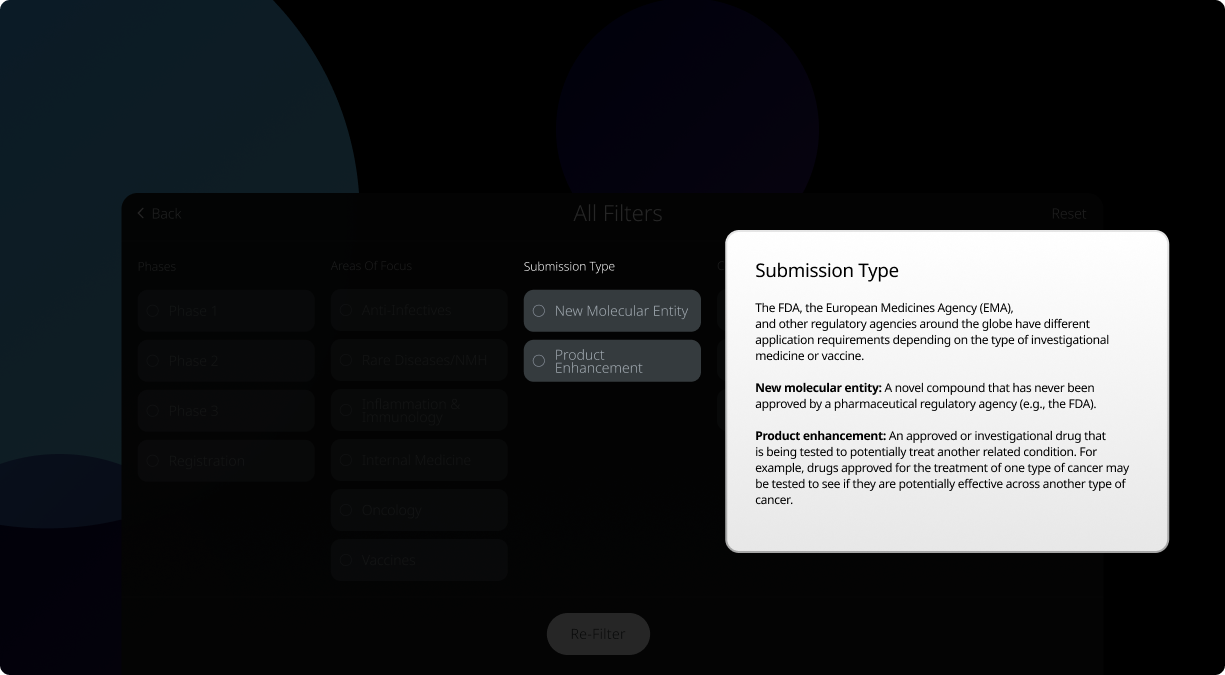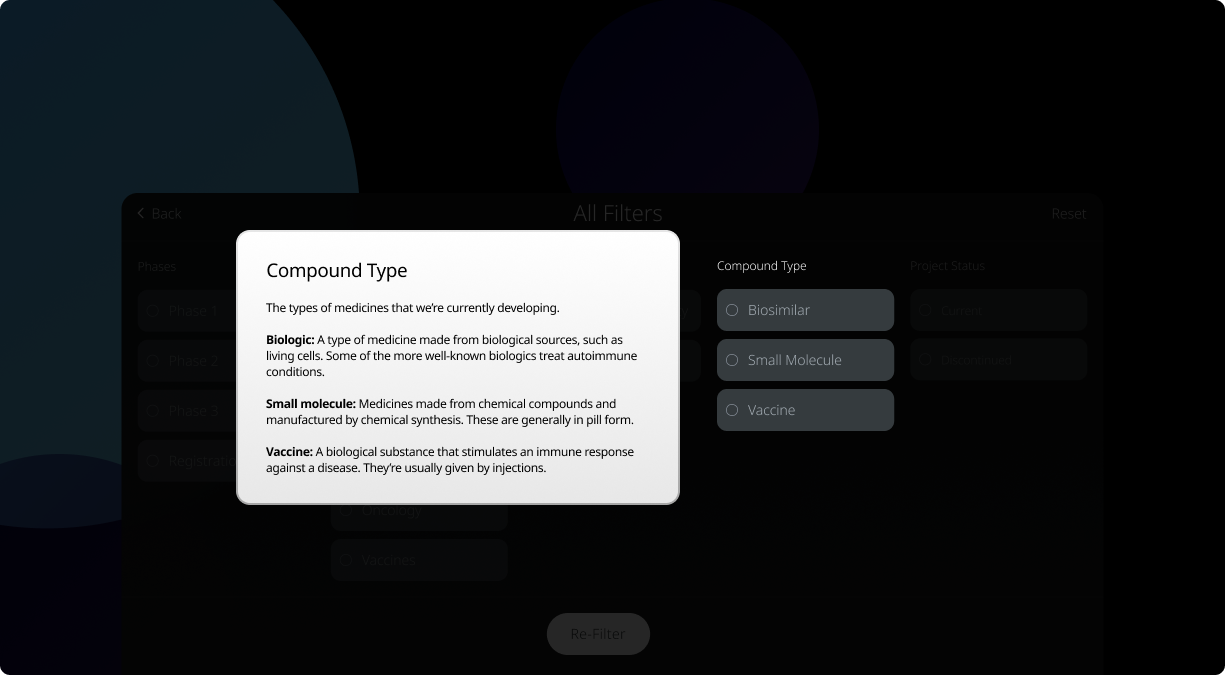 How to read a single entry search result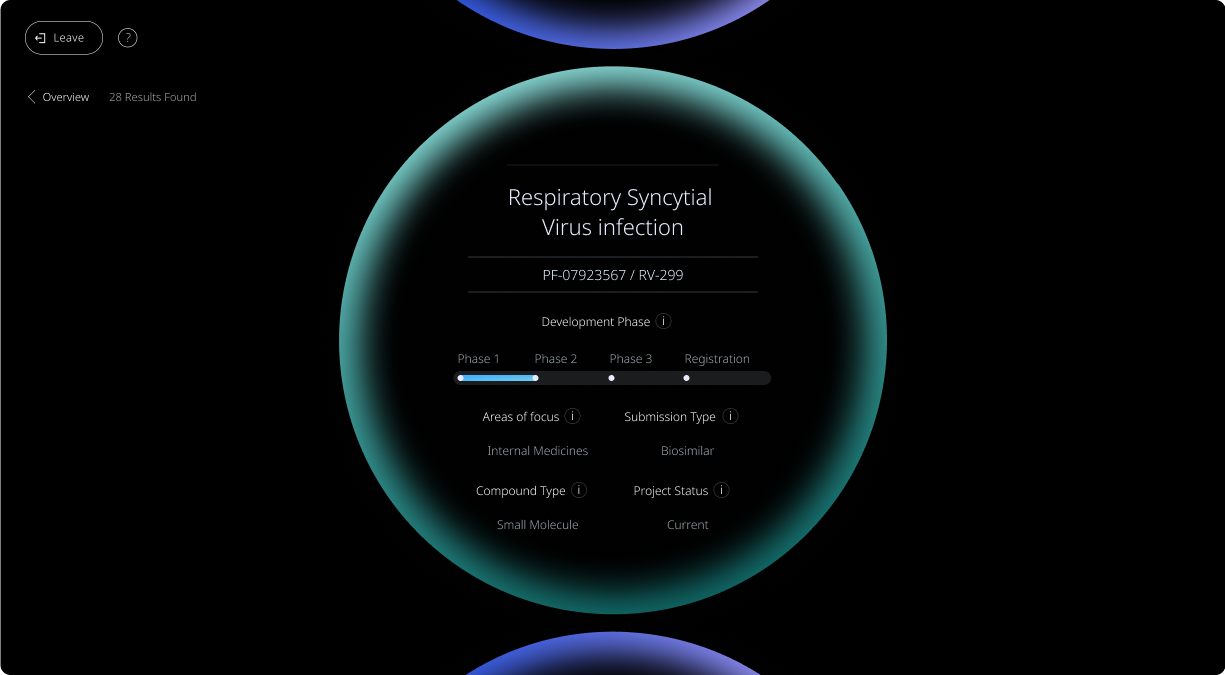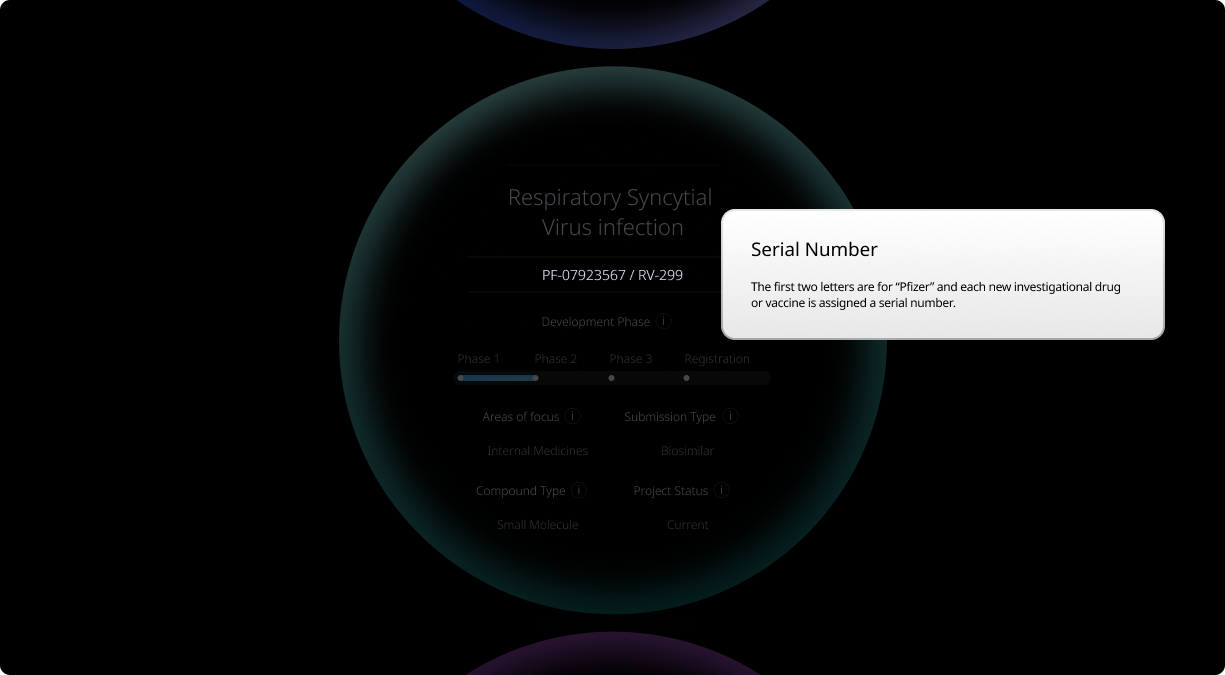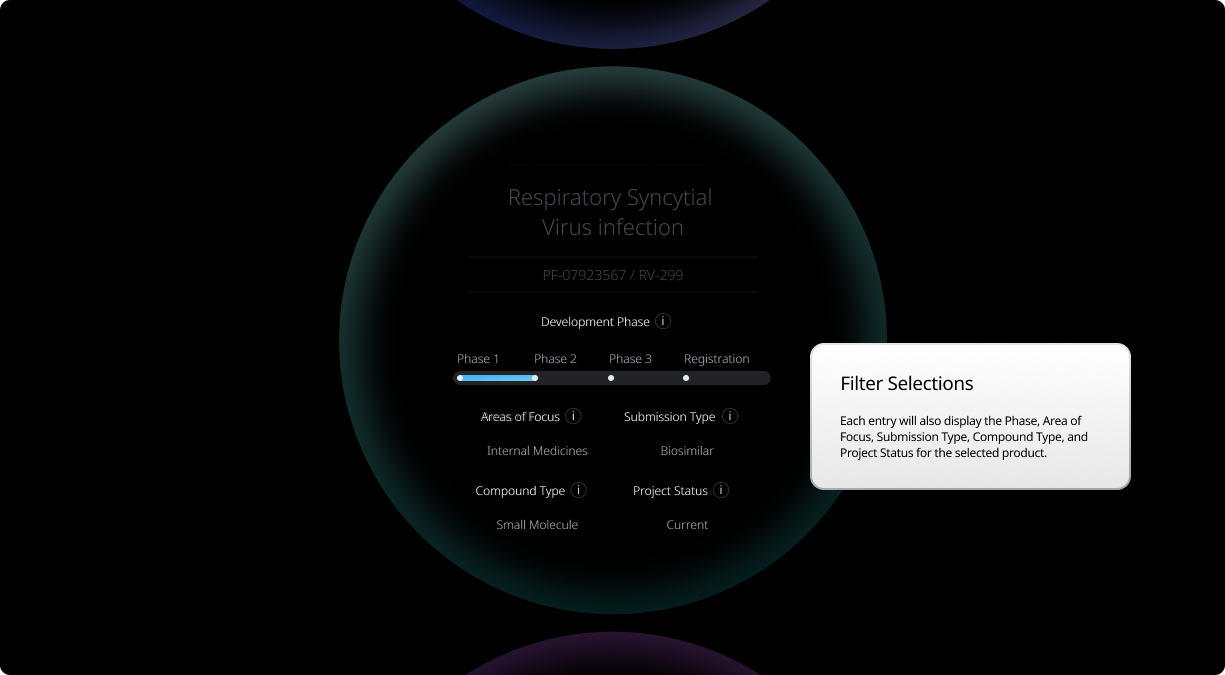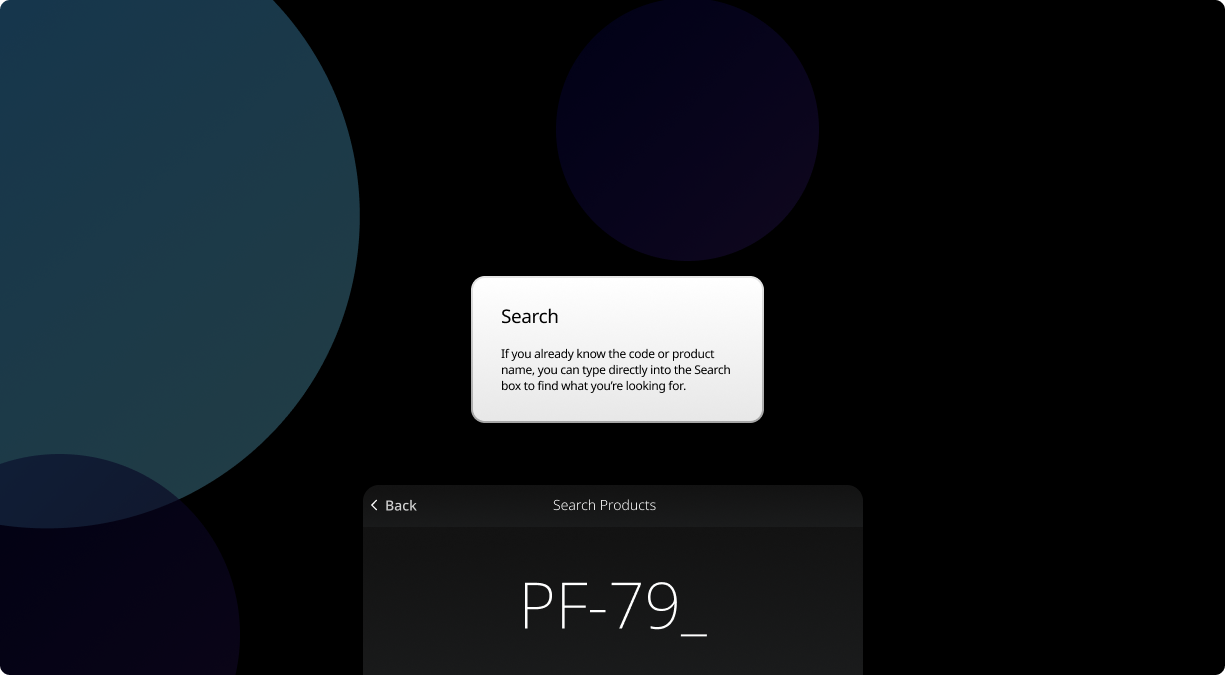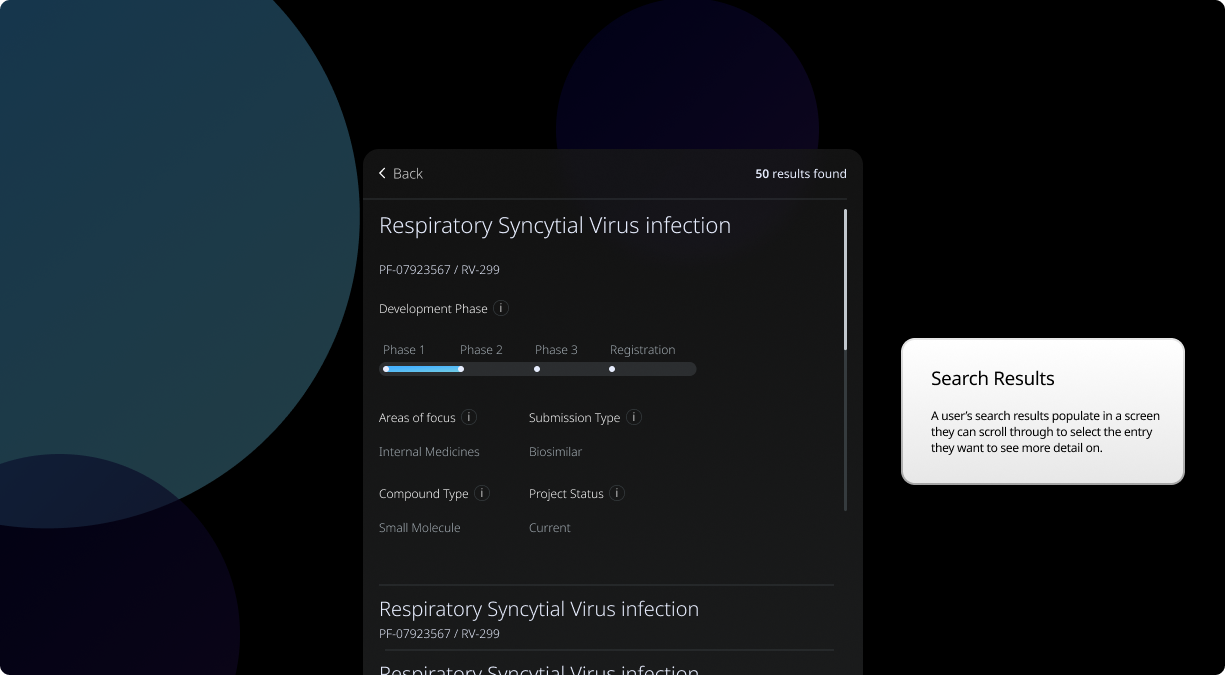 Whether you're a patient, potential clinical trial participant, caregiver, healthcare provider, future employee, or member of the general public interested in our science, we're excited to share our progress with you. Our Product Pipeline is constantly evolving, and we're continuously pushing the boundaries of science to add new candidates to it. This is our commitment to developing transformative medicines and vaccines that improve the lives of patients around the globe.