AMA Foundation Recognizes
Pfizer for Excellence in Medicine Partnership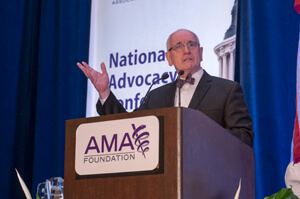 Pfizer's Jack Watters, Vice President, External Medical
Affairs, accepts an award on the company's behalf from
the AMA.
The American Medical Association (AMA) Foundation recently recognized Pfizer's dedication to community service, public health and patient care.
Last month in Washington, D.C., the American Medical Association (AMA) Foundation, in association with Pfizer, presented the annual Excellence in Medicine (EIM) Awards to five physicians and 20 medical students and residents who exemplify the medical profession's highest values: leadership, community service, and dedication to treating underserved patients.
The AMA Foundation also presented Pfizer with an award recognizing the company's decade-long support for the Excellence in Medicine program. This was the first time the foundation has recognized a corporate donor in such a manner.
AMA Foundation President Clarence Chou, MD, cited Pfizer's commitment to "supporting some of our most outstanding physicians and medical students" in her remarks at the ceremony.
"Throughout Pfizer's 10 years of supporting the Excellence in Medicine Awards, we have been able to showcase the great work done to increase access to health care by more than 60 different outstanding physicians, five of whom we will honor here tonight," she said. "We have also provided leadership awards to more than 600 medical students and young physicians over the last 10 years."
The program for the 2013 EIM awards provides additional information on each recipient.