Russian Campaign Helps Children With
Severe Diseases
By Anna Samokhvalova, PfizerWorld Correspondent Network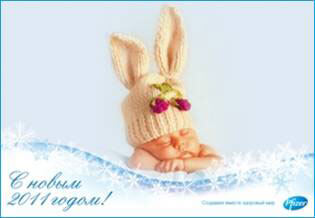 Pfizer ushered in the new year in Russia with a special campaign to help children with severe diseases.
The company decided to donate its New Year's souvenir budget — a holiday tradition in Russia — to charity this year. More than 20,000 stakeholders, including partners, clients and health care professionals, received New Year's greetings cards announcing Pfizer's "Charity Instead of Souvenirs" campaign prior to the holiday.
Pfizer followed up on its promise with a $100,000 donation to the Grant Life Foundation, which helps Russian children with oncological and oncohematological diseases. The funds will be used to purchase medical equipment for the new Federal Scientific and Clinical Center of Children's Hematology, Oncology and Immunology in Moscow, and to provide psychological services for children with oncological and oncohematological diseases.
"Being a company with high ethical values that is committed to meeting the needs of patients and society, we believe this campaign will make a significant impact on the development of Russia's health care system while promoting responsible business practices," said Christian Holmer, Country Manager, Pfizer Russia.
New Year's is the longest state holiday of the year in Russia, with civic and family events that take place throughout the country during December and early January. Pfizer's campaign will continue during 2011.