Environmental Efforts
Recognized at Richmond Sherwood Site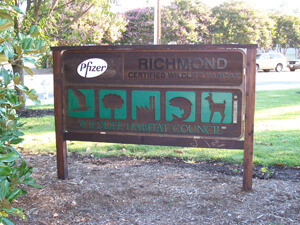 The Virginia Department of Game and Inland Fisheries (DGIF) recently recognized Pfizer's Richmond Sherwood Consumer Healthcare Research and Development site for its contributions to DGIF's Corporate Habitat Program.
The facility is a Certified Wildlife Habitat site and features a butterfly pollinating garden and a rain garden. Colleagues at Sherwood donate their time during lunch, after hours and on the weekends in order to maintain the certification.
"One of the things [Pfizer tries] to promote is giving back to the community, being part of the community," said Chris Day, Principal Scientist, Pfizer Consumer Healthcare. "There are quite a few benefits...just having the wildlife around makes it a nicer place to be. It gets people more involved and builds a lot of teamwork."