Good Dogs are
Good Medicine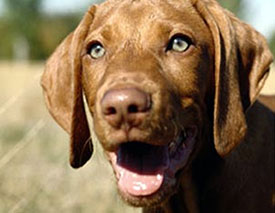 At U.S. hospitals, patients are being treated to unconventional visitors to help provide support, comfort and healing to cancer patients: four-legged friends with wagging tails, wet noses and comforting temperaments.
These "animal-assisted visits," supported by the New York-based Good Dog Foundation, have been linked to positive health benefits that include such varied outcomes as lower blood pressure, decreased loneliness and increased socialization. The Foundation provides its services in 239 institutions in four states, including New York, and it makes more than 230,000 visits a year to patients and clients, in addition to more than 90,000 visits to staff.
Intuitively, researchers think that the human-animal bond provides security, health and happiness. Under a Pfizer Global Health Partnerships grant, The Good Dog Foundation is conducting verifiable scientific studies with the Continuum Cancer Centers of New York at Beth Israel Medical Center to quantify benefits of therapy-dog treatment for cancer patients. This project is led by Dr. Stewart Fleishman and the staff of the Cancer Center.
Cancer treatment often lacks human or personal elements. Some patients become discouraged and do not complete a full course of treatment. Beth Israel's study will look at the association between animal-assisted visits and clinical outcomes in inpatient oncology treatment and outpatient chemotherapy infusion. It will address issues such as drug therapy compliance, pain management, surgical recovery time and tolerance of chemotherapy. The result: a peer-reviewed scientific study expected to provide further guidance for animal-assisted therapy in cancer treatment programs globally.
One hospital patient put it this way: "When the dogs started visiting me during my cancer treatment, it was the turning point. My attitude improved, and my health started improving. It never dawned on me that therapy dogs would be such an important part of my well-being."
Learn more about the foundation here: