Hakan Sakul Receives
'Chairman's Award in Personalized Medicine' from Harvard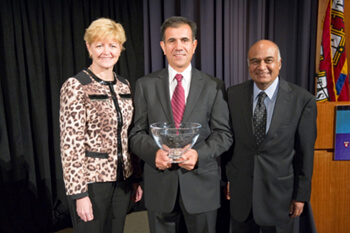 Sakul (center) poses with his award with Dr. Deborah Dunsire,
President & CEO, Millennium: The Takeda Oncology Company (l)
and Dr. Raju Kucherlapati, Harvard Medical School (r)
Hakan Sakul, Executive Director and Head of Diagnostics within Worldwide Research & Development's (WRD's) Development Operations organization, was honored with the "Chairman's Award in Personalized Medicine" at the 7th Annual Personalized Medicine Conference at Harvard University.
The Chairman's Award in Personalized Medicine is given each year to one individual who has made significant and sustained contributions to the annual Personalized Medicine Conferences at Harvard. The award was presented at the conference last month by Dr. Raju Kucherlapati, Professor of Medicine at Harvard Medical School, and Chairman of the Personalized Medicine Organizing Committee. Sakul has been a member of the organizing committee since the inaugural annual meeting in 2005.
After accepting the award, Sakul gave a talk on the companion diagnostics development program for Xalkori, for which he had been serving as the program manager since 2009. He described the collaboration between Pfizer and Abbott Molecular that resulted in simultaneous FDA approvals of Xalkori and its companion diagnostic test on August 26, 2011. Sakul's talk was followed immediately by a presentation by Stafford O'Kelly, President of Abbott Molecular, who shared the experiences of his company related to this partnership.
"The talk on Xalkori's companion diagnostics program was much anticipated, as this program represents the first simultaneous approval of a drug-diagnostics combination for lung cancer and the second — after Roche's Zelboraf which was approved a week before Xalkori — drug to receive such simultaneous approval," said Sakul. "The Xalkori story underscores the value of Pfizer's Precision Medicine approach to research and development and exemplifies how pharma can partner effectively with diagnostics companies to deliver much-needed medicines to patients."
The two-day conference was held November 9-10 and highlighted the current clinical impact of personalized medicine as it enters the health care delivery system and how recent experiences may guide and inform the policies, plans and actions of stakeholders among government, academia and the private sector. Widely considered the premier event in the field, the conference attracts over 600 national and international thought leaders, including policymakers, payers, pharmaceutical and biotech company representatives, technology companies, and business executives. WRD President Mikael Dolsten was a keynote speaker at last year's conference.
The conference reflects a distinctive collaboration of the Partners HealthCare Center for Personalized Genetic Medicine, Harvard Medical School and Harvard Business School. The alliance of these academic enterprises presents an opportunity to address the integration of medicine and business in facilitating personalized medicine.