Historic Veterinary
Teaching Horse Restored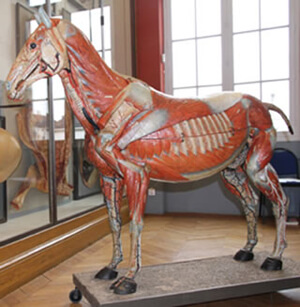 The historic Auzoux Horse, one of the first veterinary teaching aids of its kind, has been restored to its original condition in France thanks to a €50,000 (approximately USD 65,698) grant from Pfizer Animal Health.
The papier-m âché model dates back to 1846 and was initially created to allow veterinary students to mimic a dissection without having to use an actual cadaver, an unpleasant and dangerous choice in an era when it was not uncommon for people to die of complications from a simple cut.
The model is labeled and can be completely taken apart, offering a hyper-realistic, precisely detailed overview of a horse's anatomy, comparable to what one might learn through dissection.
When the first prototype was created in 1844 by physician Louis Auzoux, it was a revolutionary teaching aid for veterinary students.
The restored model is one of the main attractions of the Fragonard Museum at the Alfort National Veterinary School, which has earned the prestigious Museum of France quality label. It is one of the earliest of its kind and was produced during the first attempts to market this unusual object.
The first models sold were commissioned by the French Ministry of War, for the cavalry schools and remount depots, at a time when horses played a pivotal role in daily life, not only in the military but also in agriculture and transport.
The restoration, which was funded entirely by Pfizer Animal Health, began in mid-November 2011 by an internationally acclaimed multidisciplinary team. The work took four months to complete and was carried out at the Fragonard Museumýs workshops in Maisons-Alfort.
The work was performed in two stages: completion of the restoration of the left side, filling in gaps and fixing discolorations, and restoration of the right side and left forelimb.
The newly restored horse can now be seen at the Fragonard Museum.
A dozen model horses by Auzoux can be found in the scientific collections of museums around the world.