'Just 5 for Jeans'
Campaign Raises More Than $50,000 for LIVESTRONG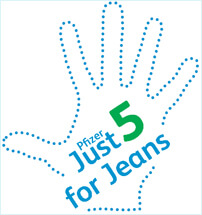 Pfizer Oncology's recent 'Just 5 for Jeans' day invited U.S. colleagues to wear their jeans to work in return for a $5 charitable donation. More than 3,300 colleagues took part in the fund-raising event to support LIVESTRONG, the cancer survivorship organization founded by world-famous road-racing cyclist and cancer survivor Lance Armstrong.
A total of $43,006 was pledged to LIVESTRONG. Although colleagues were asked to donate just $5, many contributed $25 or more, making the donations eligible for Pfizer's Matching Gifts program. So far, $10,000 in matching funds have been allocated to the effort.
"This was a great statement of compassion by colleagues in support of an innovative idea from Pfizer Oncology," said Sally Susman, Executive Vice President, Policy, External Affairs and Communications, who co-sponsored the event with Andy Schmeltz, President of U.S. Oncology. "It is terrific that so many colleagues were able to participate in this worthwhile fund-raising initiative."
Chuck Hill, Executive Vice President, Worldwide Human Resources, said relaxing Pfizer's Business Attire Policy for one day not only brought a sense of fun to the workplace but also got people talking about cancer survivorship.
"If one colleague took the initiative to schedule a mammogram or a skin cancer screening because Just 5 served as a reminder, then LIVESTRONG wasn't the only winner of the day," he said.
LIVESTRONG Chief Executive Officer Doug Ulman expressed his organization's gratitude for Just 5 for Jeans. "We are very excited about partnering with Pfizer on many fronts in the coming months and years," he said. "I just want to say thank you to Pfizer colleagues for all your support."