Making a difference in
Chinese Antibiotics
Pfizer Marketing Director Makes a Difference in Chinese Antibiotics Education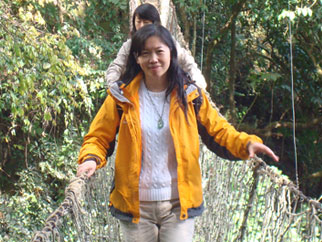 Yanhui Feng navigates a rope bridge in China's Yunnan
Province
Yanhui Feng, Pfizer's Marketing Director for Specialty and Anti-infectives in Shanghai, China, recently played a key role in convincing Pfizer to continue its support of a Ministry of Health initiative to educate Chinese physicians about the dangers of misusing and overusing antibiotics — a serious issue in a country where the population exceeds 1.3 billion.
Launched last year, the program aims to promote safe and responsible use of antibiotics in China. "By providing the latest medical information and guidelines and sharing industry best practices, we hope to reduce the widespread misinformed practices surrounding antibiotics," Yanhui says.
Overuse of antibiotics is a world-wide public health issue as it promotes the development of highly resistant "super bugs," such as methicillin-resistant Staphylococcus Aureus (MRSA) and the recently identified New Delhi metallo-beta-lactamase (NDM-1) enzyme, which are making it increasingly difficult for physicians to treat patients who are suffering from potentially lethal bacterial infections.
Yanhui holds a bachelor's degree in pharmaceutical management and began her career at Pfizer nearly 13 years ago as a medical representative. In her current role, she leads 20 colleagues on a team that is responsible for developing and implementing brand plans to support the growth of five of Pfizer China's antibiotic products.
High Growth Potential
Overall, the pharmaceutical industry is growing rapidly in China with thousands of local generic and branded generic companies, along with large multinational companies, all vying for the same customers. Some of the business obstacles Yanhui and her team face are government-mandated reimbursement limits, volume cap controls and price cuts.
Despite the intense competition and unique challenges in Chinaýs pharmaceutical industry, Yanhui says Pfizer's "broad and distinct portfolio has helped us keep our market leadership position."
China is also in the process of overhauling its health care system, with a target date of 2020 for providing basic universal coverage to all. This carries serious implications for the pharmaceutical business, but Yanhui is optimistic about the future.
"Along with change and unknown challenges, there will be great, untapped opportunities for Pfizer," she says.
Yanhui believes that Pfizer can continue its strong growth in China with improved diagnostic tools, capabilities and services to health care professionals. Physician education program — like the antibiotics campaign she helped implement — are critical to Pfizer's continued success in this market.
"I am very proud of being a part of this program and excited to work at Pfizer during this special period," Yanhui states, "This program puts patients first and I am directly involved in helping fulfill Pfizer's mission in China: working together for a healthier world."