Marathon Effort
Draws Attention to Smoking Cessation in Athens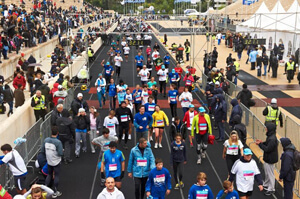 To encourage smoking cessation in Greece, Pfizer Greece and the Hellenic Thoracic Society (HTS) recently teamed up to run a campaign — literally.
Centered around the Athens Classic Marathon, the campaign kicked off three weeks before the annual run in November with a Facebook game, "I run to quit smoking because ..." Users were encouraged to complete the sentence and were then asked to vote for the most liked slogan. The winning entry, which was posted on Facebook, was, "I run to quit smoking because I owe it to my family. I want to live and enjoy them."
Three days before the marathon, the organizing committee hosted an expo where more than 1,000 lung–function tests were conducted to raise awareness about the benefits of quitting smoking.
On the day of the marathon, a group of Pfizer employees braved the cold, damp weather and joined more than 4,500 participants in the 5–kilometer race, which was dedicated to smoking cessation.
The initiative drew widespread media attention throughout Greece, and more than 4,300 visitors checked out the Facebook game.
"The Athens Classic Marathon is a very big event which highlights the value of physical exercise and fitness," said HTS President Konstantinos Gourgoulianis. "To adopt healthier lifestyles, we need to break away from cigarettes, which reduce our ability to be athletic and undermine our health and quality of life."
This campaign is part of a larger tobacco control program developed between Pfizer Greece, HTS, and The Pfizer Foundation through the Global Health Partnerships initiative.
Over the past three years, the joint effort has raised awareness of the benefits of quitting smoking and increased participation rates in smoking cessation clinics across the country.